Are you looking for somewhere spooky to spend your time this fall? Perhaps a scary getaway on your days off? We've gathered some of the most haunted places to visit all across the country. So, get the flashlight and your running shoes; prepare yourself for a scare… these haunted spaces could be right in your own neck of the woods.

EAST COAST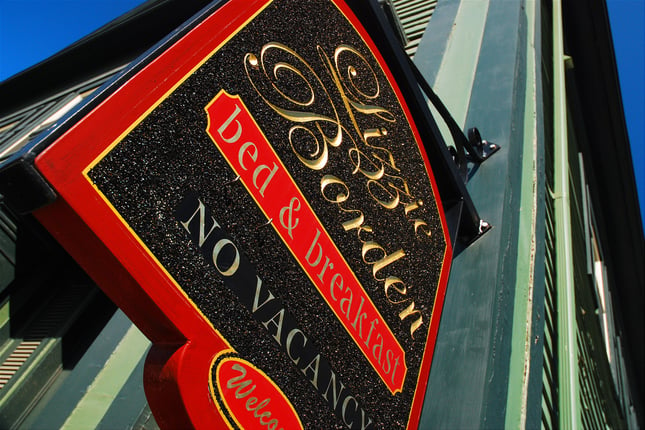 Lizzie Borden House
Fall River, Massachusetts
Most people know the story of Lizzie Borden and her infamous axe—but for those of you who don't—she was the main suspect in the grisly murders of her father and stepmother. The house where is all happened is located only 50 miles south of Boston… and it's a bed and breakfast, as well as a museum. That's right, you can spend the night here. Some people say the spirits of her murdered parents still remain, but the real question is: did she or didn't she do it?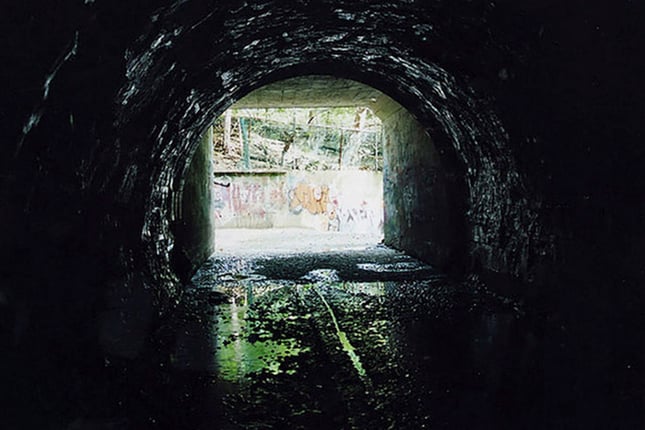 The Gates of Hell
Clifton, New Jersey
This place is actually a storm drain system that leads to underground passages. Located near the Black Prince Distillery, several people have taken its urban legend history to heart. Known as the "home of the devil" the walls have been used for satanic graffiti, murals, and paraphernalia of satanic sacrifices (bones, crosses, tokens, etc.) Perhaps more believable, this network of drain tunnels has known to be dangerous due to its rising water levels during rainy weather. If you do venture to the tunnels, stay safe and don't get lost within its depths.
There is no official website, but here's more info on the location.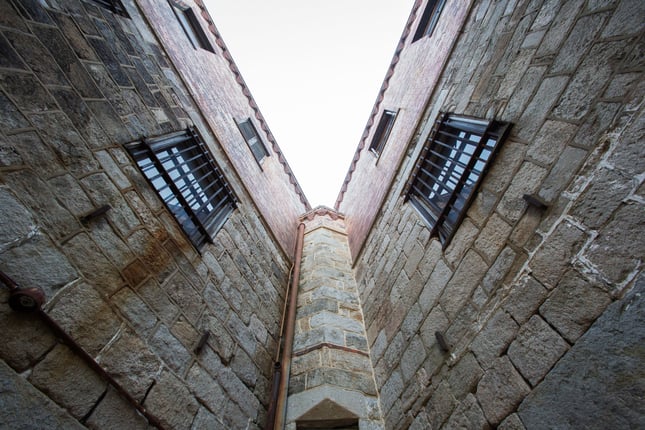 Eastern State Penitentiary
Philadelphia, Pennsylvania
Many ghost stories have been centered at the Eastern State Penitentiary in Philadelphia. In fact, it's been said that this abandoned prison is one of the most haunted places in the country. During its use, this facility was known for harsh punishments, as well as psychological and physical torture. Furthermore, the dismal conditions and appalling torture caused death. Several visitors have witnessed paranormal happenings, including echoed laughter, whispers, shadows, and the sounds of pacing footsteps. Don't get locked up in here.
WEST COAST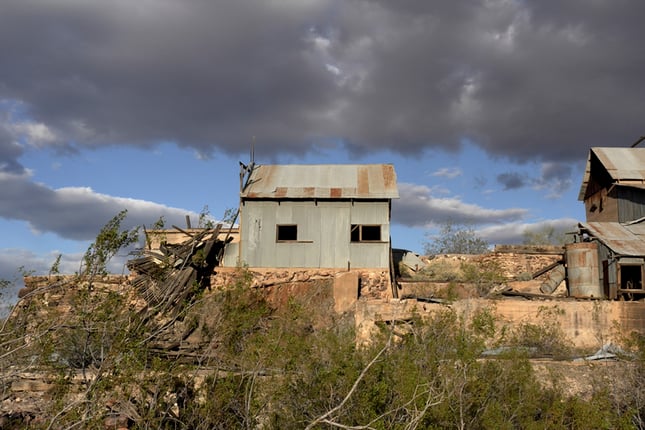 Vulture Mine
Vulture City, Arizona
Known as the most prosperous mine in Arizona history, this place was a literal gold mine. Vulture City was established on Vulture Mine and its gold production. It had a thriving population of 5,000 until the mine closed in the 1940s. Stories say that the 200-year old ironwood tree in Vulture City holds a dark past—18 men died by hanging from its branches for stealing gold. After the mine was closed, the town became abandoned to the living, but still remains home to its ghosts and legends.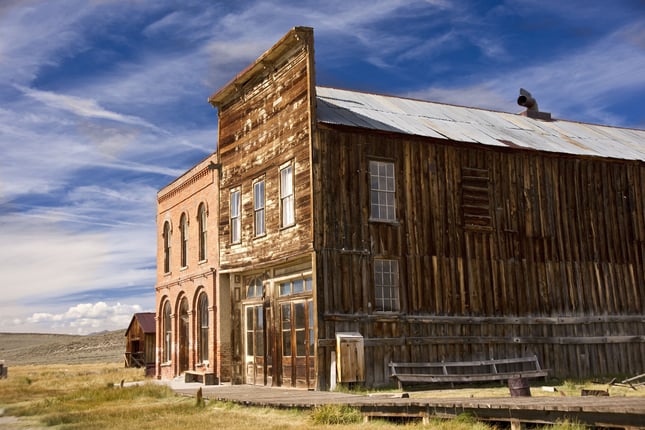 Bodie State Historic Park
Bodie, California
In the same line as Vulture Mine, the Bodie State Historic Park used to be the mining town of Bodie. The rise of gold mining in 1850 created this town, just 100 miles south of Carson City, Nevada. It developed into a vibrant milling town, but in 1942 the town fully shut down, closing its last mine. Now considered an authentic Wild West ghost town, Bodie became a National Historic Landmark, and is now known as Bodie State Historic Park. Nobody knows whether this town is actually haunted, but the eerie structures still sit with stocked shops, set shelves and tables with dinnerware, ready to be used.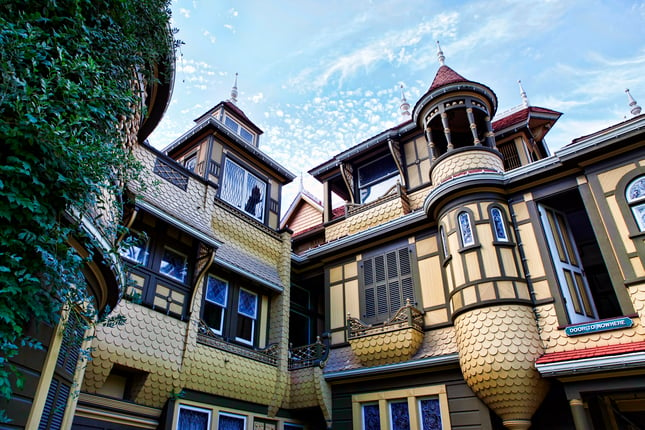 Winchester Mystery House
San Jose, California
This bizarre house was the creation of Sarah Winchester, who funded ongoing construction of her mansion throughout her entire life. She believed that she was meant to build a home for herself and the victims of those killed by Winchester rifles, and that her inheritance was haunted. Thus, she demanded strange additions to the home, with doors opening into walls, stairs that lead to nowhere, and windows looking into other rooms. Go take a tour, but don't get lost in the maze of unexplained rooms and corridors.
MIDWEST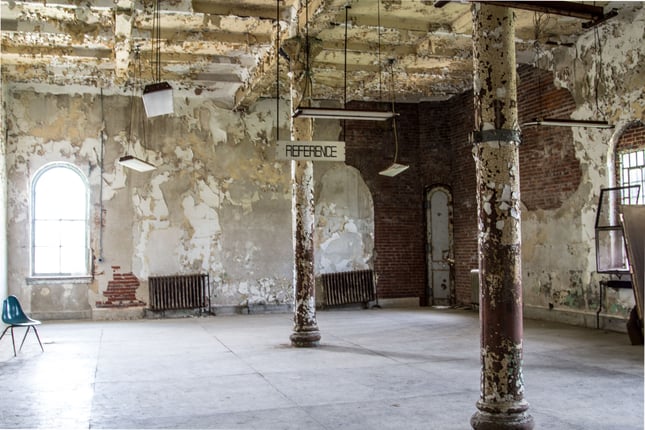 Ohio State Reformatory
Mansfield, Ohio
Known formerly as the Mansfield Reformatory, this prison started as a training camp for Civil War soldiers before being bought by the state to create a penitentiary that would house young, first-time offenders. Unfortunately, it became a cesspool of violence, death and tragedy. Suicides occurred among inmates, and the superintendent and his family were murdered. It remained open until 1990, when federal court deemed it overcrowded and cited it for inhumane conditions. The Ohio State Reformatory has been the inspiration behind the well-known book and adapted film, The Shawshank Redemption, though the grisly things that happened here are definitely not fictional stories.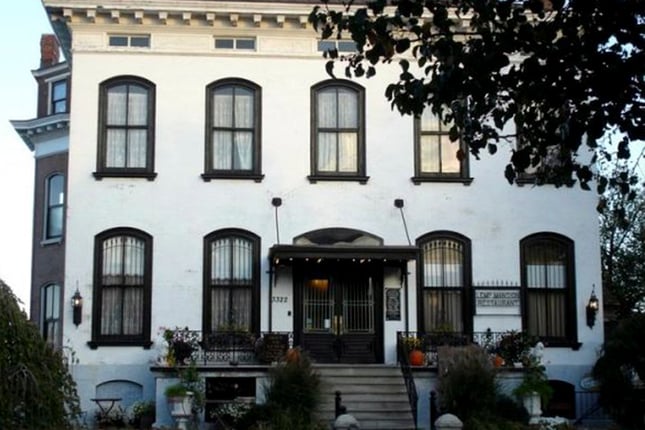 Lemp Mansion
St. Louis, Missouri
This historic home was once the residence of the Lemps, a prominent family in the brewing industry. Though successful, this family suffered a series of bizarre tragedies, as three of the Lemps committed suicide in the home: William Lemp Sr. in 1904, and his two children, William Lemp Jr. in 1922, and Charles Lemp in 1949. It is speculated that their spirits still roam the halls. Today, the mansion is a restaurant and inn.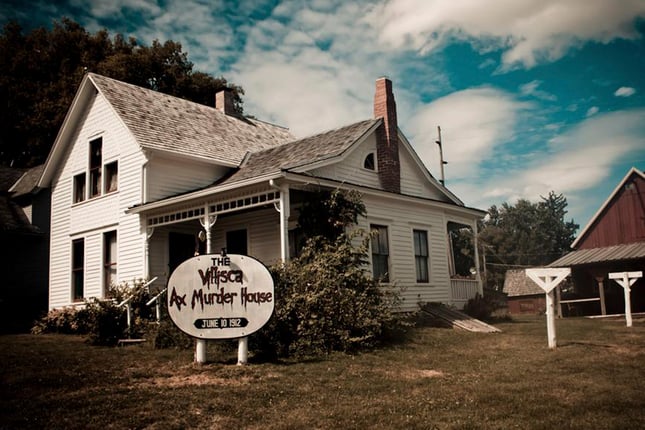 Villisca Ax Murder House
Villisca, Iowa
In 1912, Josiah and Sarah Moore, their four children, and their children's two friends were murdered with an axe in their home of Villisca, Iowa as they slept. The murderer was unknown and never found, though it has come to be known that the killer was hiding in the attic waiting for the family to go to sleep. The home is now privately owned and is named on the National Registrar of Historic Places. Many paranormal sights and sounds have been recorded at the Villisca Axe Murder House. The home hosts Daylight Tours and Overnight Tours to cater to all levels of scary. Do you have what it takes to stay the whole night?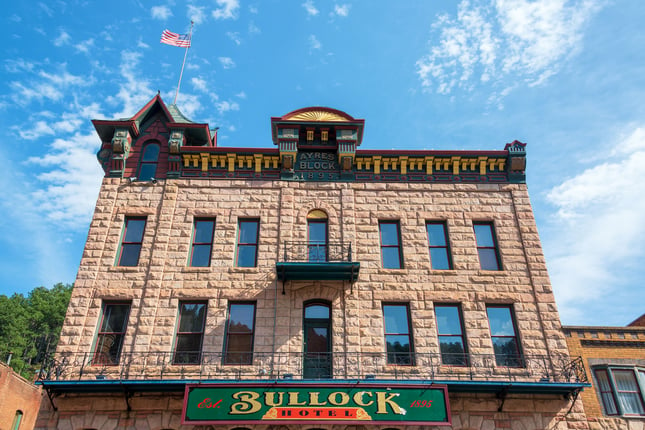 The Bullock Hotel
Deadwood, South Dakota
In the heart of Deadwood sits one of the most haunted hotels in the country. Who roams the halls, you ask? None other than the ghost of Seth Bullock, original owner and proprietor of the Bullock Hotel. During the time of its construction, this hotel became the most sought-after of its time, hosting a 100-person restaurant and quality features of red velvet carpet, brass chandeliers, and a grand piano. The rooms themselves featured luxury accommodations as well. The current staff and guests of the hotel claim that Seth's spirit just wants to make sure they're working hard at his beloved hotel. So, stop in and have a drink with the man. I'll be super impressed if a ghost can pour a nice glass of whiskey.
SOUTH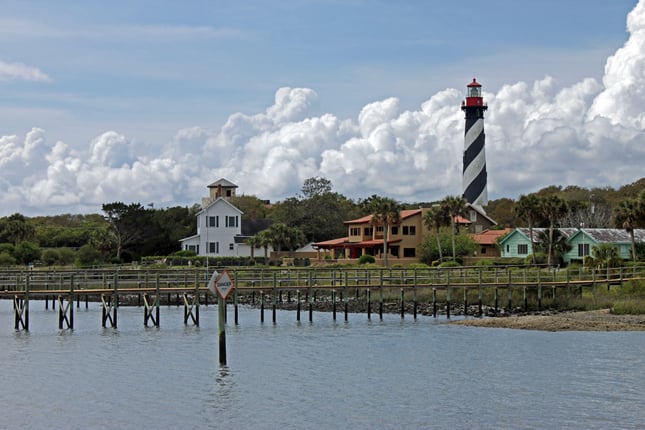 St. Augustine Lighthouse
St. Augustine, Florida
On the north end of Anastasia Island in St. Augustine, Florida stands a lighthouse with a ghostly history. In 1859, the lightkeeper was painting the lighthouse when he fell from the scaffolding; he died instantly. In 1873, four of the foreman's children and their friend were playing on a supply cart that became trapped on a gate at Salt Run; three of the children drowned. Since then, strange things have happened on the property. So, is the lighthouse really haunted, or is it just seagulls playing tricks on you? Take their Dark of the Moon tour and find out for yourself.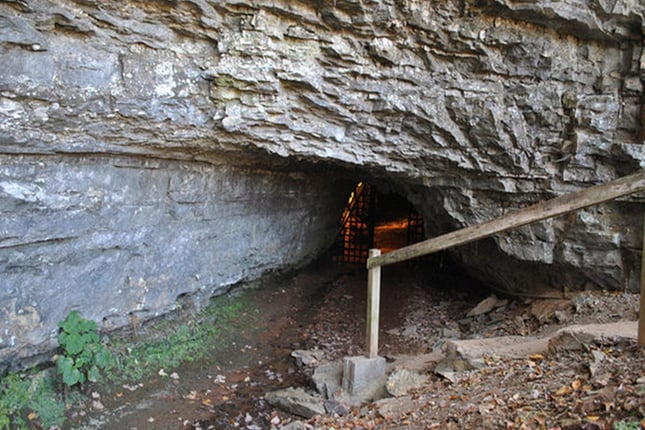 The Bell Witch Cave
Adams, Tennessee
This famous cave was the inspiration behind Blair Witch Project and is said to harbor the spirit of a witch that tortured Betsy Bell and murdered John Bell. Who is this witch, though? It is said to be the spirit of John Bell's neighbor, Kate Batts, who was upset by a shady land purchase deal with him. Rumor has it, she used witchcraft to torture the Bell family. They often heard strange noises at night, and would wake up to scratches, pin pricks, and knocking on the outside of the house. This story became so well-known that it caught the attention of Andrew Jackson, who was afraid of the cave. Be sure to check out the "demon-like" rock formation inside!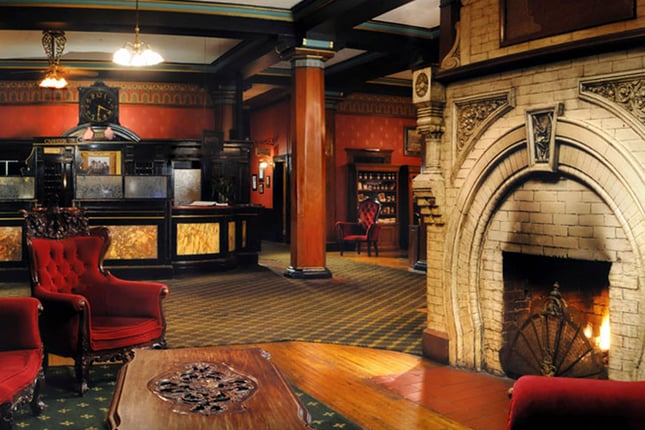 The Crescent Hotel
Eureka Springs, Arkansas
The Crescent Hotel has been many things over the years. First built as a luxury hotel and spa in 1886, then transformed to a cancer hospital and health resort in 1937, and then converted back to a hotel in 1946. After a see-saw past and a fire that nearly destroyed the entire resort, the Crescent Hotel is now home to travelers and ghosts alike. Book a room and find out for yourself.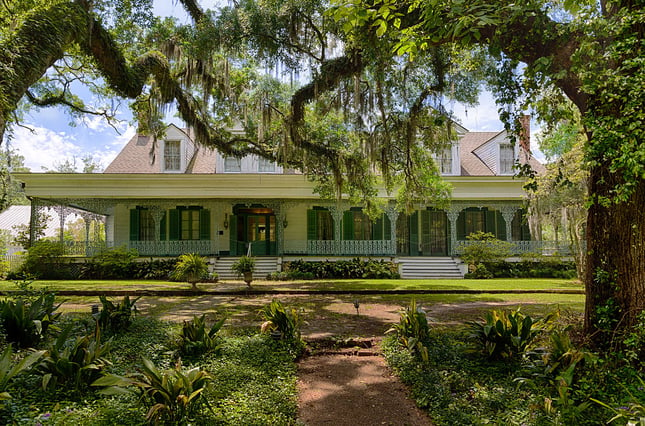 The Myrtles Plantation
St. Francisville, Louisiana
This is a gorgeous plantation surrounded by oak trees, crepe myrtle trees, azaleas, and an interesting history. There have certainly been some tall tales weaved about the home—allegedly, ten people were murdered here—the death that this house has seen is one of mainly sickness, sadness, and common illness. David Bradford built his beloved home and once he passed away, his son-in-law Clark Woodrooff managed the property. Unfortunately, tragedy struck their family. His wife and two of his children contracted yellow fever and died. Ruffin Grey Stirling purchased the property. Of his nine children, only four survived. The Civil War also wreaked havoc on the family, as their home was looted during a raid. One of the Stirling children married William Winter, who later was shot and killed on the front porch of Myrtles. The ghost stories from this home could be a collection of the different residents who lived in the home so long ago. Want to find out? Book a tour or rent out one of the suites and stay a while.
Remember, home is where you haunt, so which chilling place is closest to you? Have you visited one of them before?
And hey, if you get scared—no worries! Read how nurses will save us all from a zombie apocalypse and put your mind at ease.