Winter means: loading up on comfort foods. You want to indulge in some savory winter yummies, but the thought of gobbling up those extra calories might not make you reach for the fork as fast... Don't worry—you can still get your savory fix while putting something healthy in your diet. Check out these delicious winter recipes and get cookin'!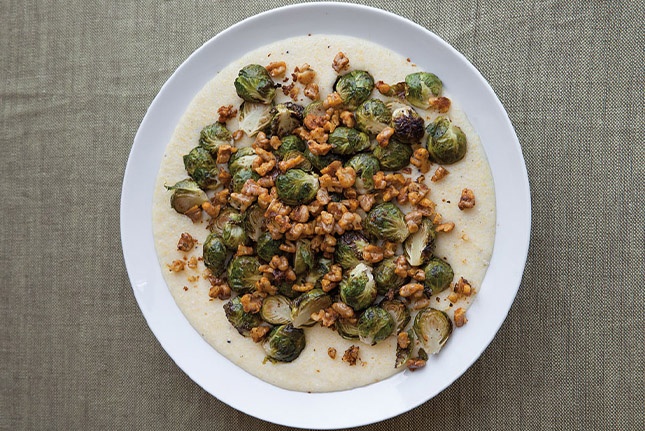 Brussels Sprouts with Cheddar Polenta and Spiced Walnuts
Polenta is one of those perfect winter comfort foods. This savory porridge dish can be altered (not everyone likes brussels sprouts, so...) Try it with roasted broccoli or asparagus instead. In any case, it's one of those healthy recipes that will keep you warm when you're snowed in.
Winter Kale and Wild Rice Salad
This healthy salad is perfect to make in a big batch and pack for work lunches. It's vegan, gluten-free and extremely seasonal with ingredients like oranges and apples. It's a practical dish if you're looking to lighten up your winter calories, but it's also a very pretty dish to look at. Take it along to parties and impress your friends with your very fancy cooking skills. And hey, if you're looking for a wild rice replacement, we gathered up a bunch of quinoa recipes in this post. Check it out.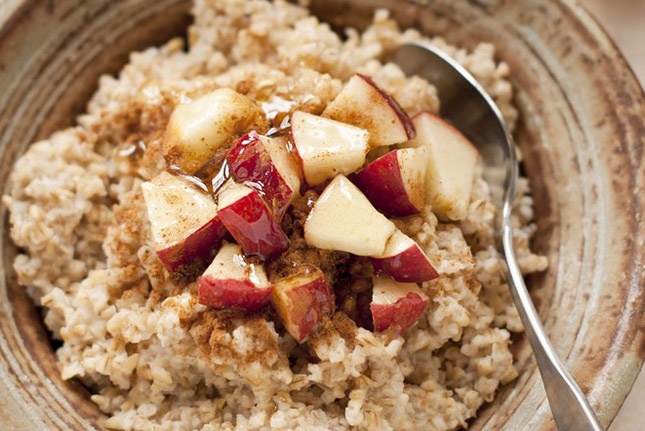 Cinnamon Apple Cake Oatmeal
Oatmeal isn't for everybody. But, oh man... cinnamon apple cake? Talk about a healthy and guiltless breakfast. My favorite thing to do is add a little drizzle of honey over the top. Try it! Try the oatmeal!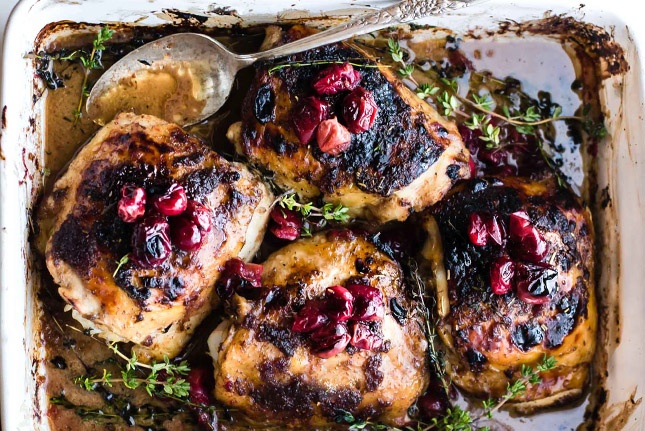 Cranberry Balsamic Roasted Chicken
You know the meal you whip up in one pan and it's super easy, but everyone thinks you're an amazing cook? They give you all sorts of compliments on how much time you spent putting together a great meal, and you just don't have the heart to tell them it took the same amount of time as watching an episode of Friends? This is that meal. It looks incredible. It looks like something the Food Network would roll out at a holiday party, complete with matching napkin rings and placecards. But guess what: it's made in one pan and takes a quick 30 minutes to cook. And then you get to take all the credit for being some sort of magical chef. Win-win.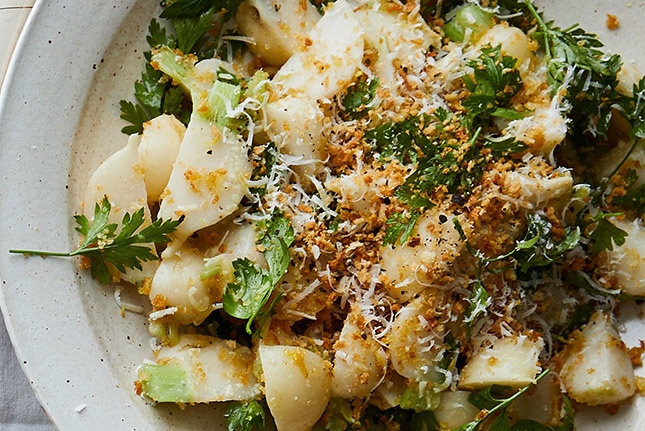 Turnips with Garlicky Breadcrumbs and Parmesan
Oh, I am a sucker for anything with parmesan. You could put it on the rubber sole of a shoe and I'd probably gnaw on it. (Gross... I'm not serious.) But! Turnips aren't really an in-the-norm, everyday veggie. And dousing your veggies in tasty breadcrumbs and parmesan is a good way to enjoy your veggies. Literally everything is made better when it's covered in cheese.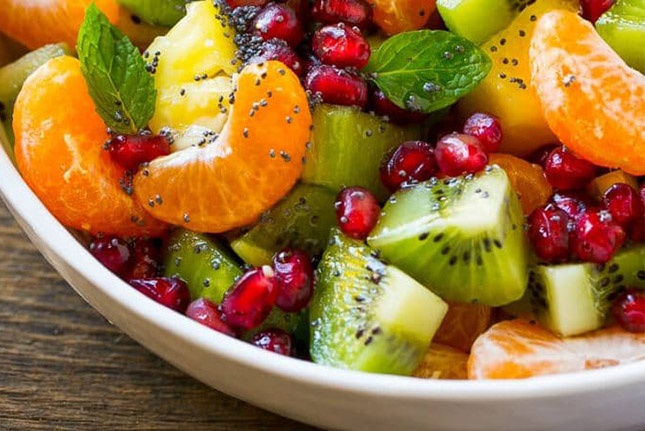 Winter Fruit Salad
A good fruit salad can be the core of any meal gathering, and it's perfect for adding a little sweetness to your healthy lifestyle. I mean, brunch is known for a few things and one of them is having a nice side of fruit to munch on... or to put in mimosas and faux-mosas. This salad is lively and colorful, plus it packs a punch with tasty pomegranate seeds. Eat it with a fork or toss it all into your boozy brunch and make yourself feel better about that morning cocktail.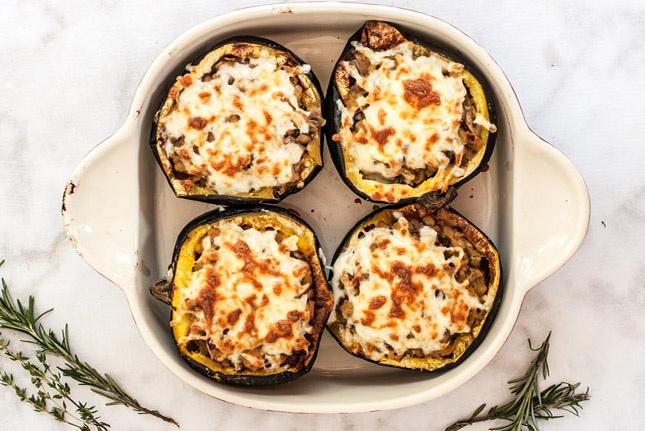 Apple, Mushroom and Sausage Stuffed Acorn Squash
This a nice winter take on those traditional stuffed pepper recipes, but using squash and sausage. By the time winter hits us full swing, I have a hard time coming up with new ways to use up seasonal squash. It sits in my kitchen and stares at me, judgingly. Like, really how many squash recipes can you have, right? This! THIS. Such a delicious go-to for a healthy, quick meal.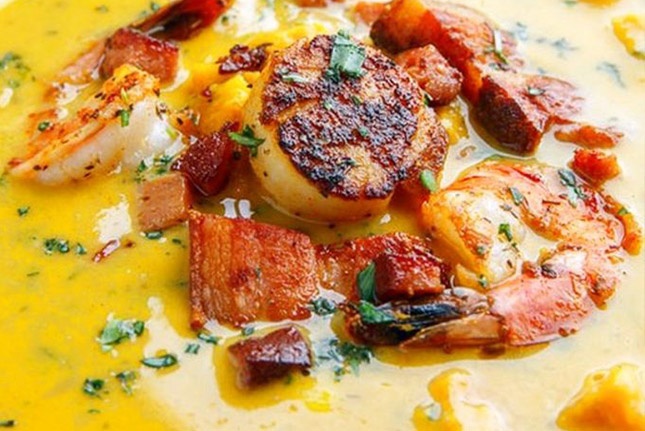 Cajun Seafood Sweet Potato Chowder
What would winter be without a chowder to warm you up? Seafood lovers: get ready. This cajun-style chowder is exactly the recipe you didn't even know you were craving. Chowders are traditionally a little heavy on the cream and butter, but this recipe uses chicken broth (or shrimp broth) and a little oil as a base. Add in a ton of seasonings, and you've got yourself a savory seafood chowder that isn't going to weigh you down.


Try these out and get with the season! What are your other winter go-to recipes?
Looking for more about meal prepping when on contract? We have a blog for that.