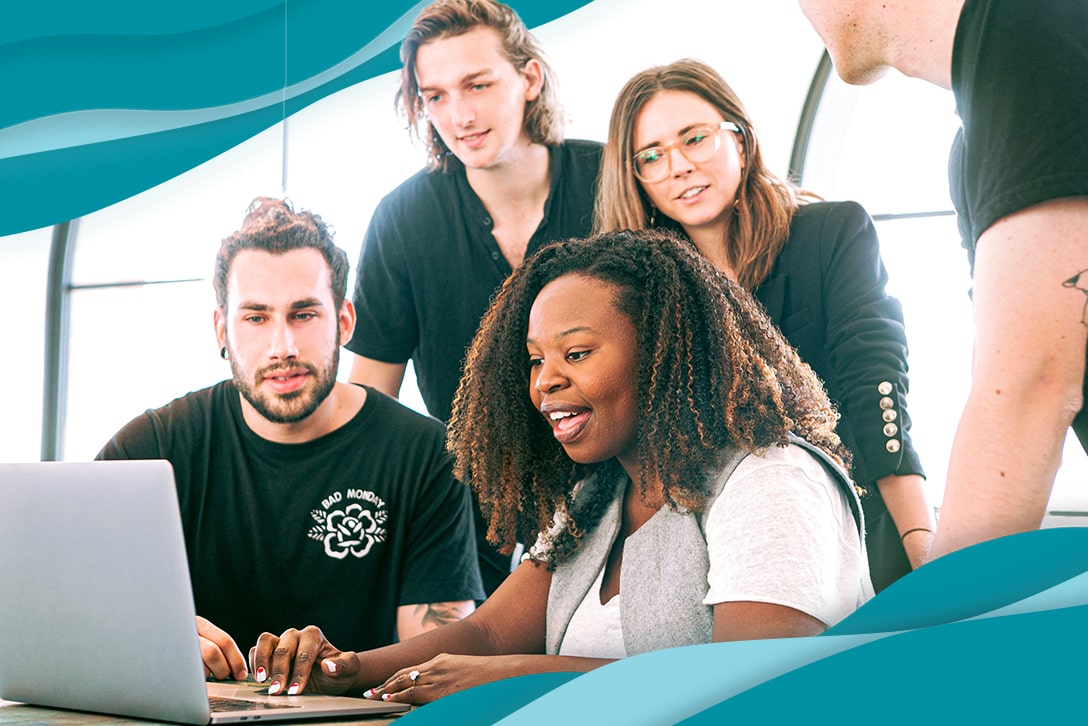 Have you ever felt camaraderie with your coworkers because you're so similar? Sure, it feels good to fit in! Working with like-minded people can feel comfortable, but hiring candidates to "fit in" doesn't do any favors for team collaboration and ideas within a company. Hiring a variety of people from diverse backgrounds and with different opinions and ideas can add value to an organization and the teams within it.
That feeling is known as: hiring for culture fit. Exactly what it sounds like, culture fit is the hiring practice where employers focus only on candidates who fit their ideal mold and who come from similar backgrounds of those already in the organization. Culture fit is hiring people who are like you, who think the same ways you do, and who you'd want to grab a drink with after work.
"The idea behind culture fit is that you want to hire people like you to build a harmonious team—usually people with a similar background and personality," said Fiona Young at HIVE Learning. "This is at odds with building a truly diverse team, diverse not just in inherent demographics but also in subtler dimensions like personality, ways of thinking, and communication styles. That's not great if you want to reap the benefits of diversity."
It's natural to gravitate towards likeminded people that you share interests or experiences with. In fact, culture fit may has been the most popular hiring practice in the U.S. for the past few decades. Now, there's a new sheriff in town—"culture add." Instead of creating a culture of sameness, culture add celebrates the diversity of ideas, viewpoints, and skillsets, in addition to the obvious ethnic and gender diversity.
It may seem like a no-brainer to hire individuals who enhance your business and make it better, but many employers ride the struggle bus on this key hiring practice. With a better understanding of the differences between culture fit and culture add, plus real-life inspiration, candidates can know how to identify culture fit versus culture add in their next job interview.
Hiring for Culture Add vs Culture Fit
What's the difference between
culture add

and

culture fit

?

So, what's the big deal about culture add and culture fit? Well, in short, culture fit promotes a bias towards homogeneity and culture add does not.

While culture fit seeks to retain and hire more of what is already working, culture add highlights ways to gain valuable elements that your culture currently lacks. On one hand, culture fit preserves comfort and familiarity, and on the other, culture add actively looks for people who value an organization's standards, but also bring something different that positively contributes to the company.

"What most people mean by culture fit is hiring people they'd like to have a beer with," said Patty McCord, HR consultant and former chief talent officer at Netflix. "You end up with this big, homogenous culture where everybody looks alike, everybody thinks alike, and everybody likes drinking beer at three o'clock in the afternoon with the bros."

Hiring individuals for culture add is inherently fairer and more diverse than hiring for culture fit. Plus, at least 88 percent of job candidates feel a positive company culture is important when choosing to apply for a job—so why not give the people what they want?

As a leader, look for those people who challenge the status quo, who are constantly asking "why?", and who are passionate about what they do.

"Working with people you click with isn't culture," said Emily Tetto, VP of Talent and Culture for Acceleration Partners. "We hire people who have cultural attributes that align with…the culture, values, and beliefs that make our company a great place to work."

The more people who think differently collaborate and work together, the more cognitive elaboration is achieved, meaning deeper thinking is needed to explain ideas, illustrate their meaning, and connect them to related ideas from others.
Perks of culture add hiring
Everyone has something special to offer and culture add hiring actively looks for those special things that set you apart from others. Culture add puts together people with the same values who come from different viewpoints and backgrounds to create a stronger team. Of course, there are other perks to culture add hiring, too:
Reap the benefits of culture fit hiring, like the fact that employees that are a cultural fit excel in nearly every aspect, they're happier and more productive, plus tend to stick around for longer, too.


Also reap the rewards of a diverse workforce—a more competitive edge in the industry, enhanced problem-solving techniques, plus a greater appeal to the younger workforce. If done right, culture add hiring is a great way for companies to reflect "their desire to ensure all voices, opinions, views, upbringings, etc. are reflected by their staff makeup," said Forbes contributor, Lars Schmidt.


Gain access to even more top-tier talent that may not have previously been considered or available. Plus, culture add hiring eliminates subconscious bias to make sure employers are focused on how to improve the company, not on who they'd like to hang with after hours.
Rather than going with the flow, challenge yourself and your company to be better and make the switch to culture add hiring.
Culture adds make Fusion better
If you know anything about Fusion's culture, then you know that the Fusion fam are a hoot and a holler. But did you know that Fusion hires candidates based on the company's core values: humble, driven, positive?
That way, hiring managers can be sure they add members to the Fusion family who already share the same principles, which we now know is culture add!
"I am proud of the employees we have," said Fusion's President and Chief Executive Officer, Sam Wageman. "From day one, Fusion Medical Staffing has always believed in the importance of working hard and staying true to our core values. It's not 'what' we do, but 'how' and 'why' we do it."
Fusion's culture is more than the touted and ever-popular happy hours and free snacks (although, that's a plus. Thanks, Fusion!) It's about our people, our employees, our travelers, and how we foster positive and productive relationships across the organization and beyond.
With several outreach programs, donation drives, and charity events throughout the year, Fusion's culture of care extends into deep our community. We have a mission to improve the lives of everyone we touch—that includes our neighbors near and far.
"We believe in the importance of social responsibility practices for our company," said Fusion's President and Chief Executive Officer, Steve Koesters. "As well as ensuring that employees have opportunities for community engagement through volunteer opportunities. These events showcase who we are as an organization and our commitment to not only our employees, but also the communities we serve.

"The positive impact we're making on people's lives each and every day is inspiring," Steve continued. "Whether it's our travelers, employees or our communities, as Fusion grows, the impact we have multiplies. And, we are just getting started."
At the end of the day, the workforce hiring process has evolved to be more inclusive and diverse to allow everyone a fair chance. Employees deserve the chance to shine and show off the innate uniqueness that caught the attention of employers in the first place.
Diversity, inclusion, and care are intertwined in Fusion's DNA. With a bright future ahead of us, the Fusion fam is only going to continue to grow. If you're interested in joining the family, check out our internal company job openings!