As a traveler, we know it can be challenging to develop and maintain a working relationship with your dog, and provide a healthy and balanced state of mind for them. Join Fusion and their partnership with Diana of Dog On It: Dog Training and Rehabilitation, and her pup, Ruby. Quarterly, they'll be writing how-to's, videos and (obviously) including adorable pictures of Miss Ruby.
For anyone who has ever had a dog, you know how strong that bond can be. They are your best friend and you want to share every moment you possibly can with them. Dogs come into our lives for different reasons and at the right time. Ruby came into my life and maybe I didn't know why at first, but every day I'm reassured why. I want to tell you the story of Ruby and I, and what we have accomplished. Wherever I am, if I have her by my side, I am at home!
I was living my life with my girl, Sage (my other yellow lab I had at the time) and then, suddenly, a picture of this adorable little yellow pup appears on my computer, looking for a new home. To save you from the details, Ruby quickly became a part of my little family… and exactly what I didn't know I needed. She was the only one that could've been on this journey of mine: starting Dog On It Training and Rehabilitation.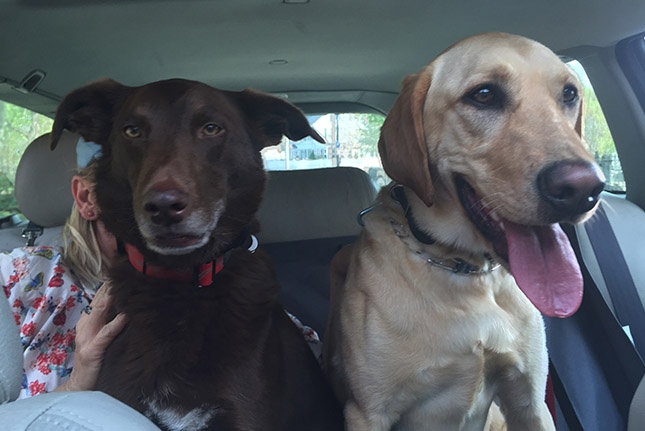 A little bit about Ruby…
This girl lives life to the fullest every day. She loves her tennis balls, and she lives for a good game of fetch—that could last all day! We always make time for our cuddles, tug games and walks every day. She is, and always has been, up for anything I throw at her (pun intended). From new places for our hiking adventures to me taking her to the other side of the country to spend 4 months in a completely new environment, helping me prepare for my new endeavor, Dog On It. No matter what, she trusts that it's okay and just rolls with the punches.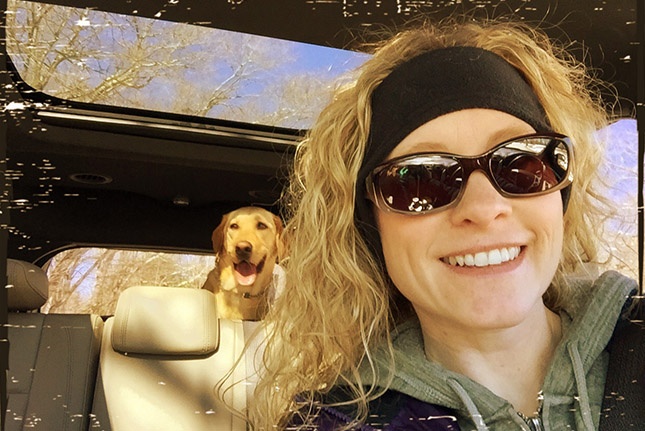 Ruby and I's big trip…
Ruby had a few car rides for our trips to Denver, about 7-8 hours. Now, I needed her to be in that truck for 2 days, for a good 12 hours, and then each night to a hotel neither she nor I were familiar with. She also was not able to go everywhere with me, so there are times I needed to leave her alone in the hotel. She trusted the process and was always just happy to see me when I returned. We arrived to our final destination: a dog training facility where we would be living and working for the next four months. Neither of us knew anyone. There were a whole lot of dogs, new people, strange noises and it just was not the home we know. Those first few days.. (who am I kidding; that first month was tough) but having her by my side every day and night made it possible for us in our temporary home.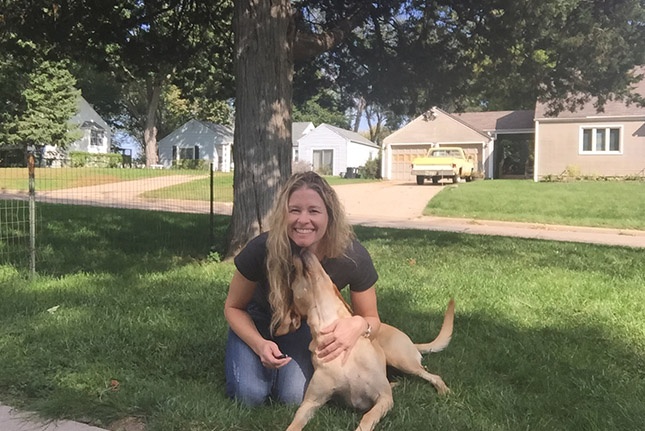 How did it work so well?...
Okay, okay. Here's some of the things I left out about how we made it work. A relationship with your dog is a 2-way street. I talked about everything she did for me, but that does not happen without me giving and providing her with what she needs! For instance, I made sure that at every rest stop I rewarded her for being such a good girl and hanging in there, and, yes you guessed it, that tennis ball made an appearance. Every night when we landed at our hotel, we got out for a walk together. In the room, I worked with her by challenging her mind with some structured play so her mind and body were utilized. I've always taken the time to assess how she was in a situation, and if something made her nervous, I named it and showed her it was okay. We are a team and as many of you know, with a team it takes both or many contributing for things to evolve and have a positive outcome.
I'm writing this while sitting on my couch on a super cold day, and my Ruby is on the treadmill getting some energy worked off. No leash, and I'm on the other side of the room. I sit here with tears in my eyes, so proud of her and grateful for this amazing creature that found her way to me and the beautiful relationship we share. We can't wait to share more with you, and help you and your own pup work through the hard times and enjoy all the good times.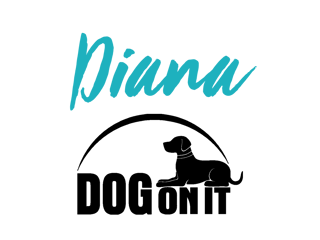 For more information about Diana, Ruby, and Dog On It: Training and Rehabilitation, visit the website below or head over to their Facebook page and say hi (or say woof... you know, if you're a dog and reading this.)