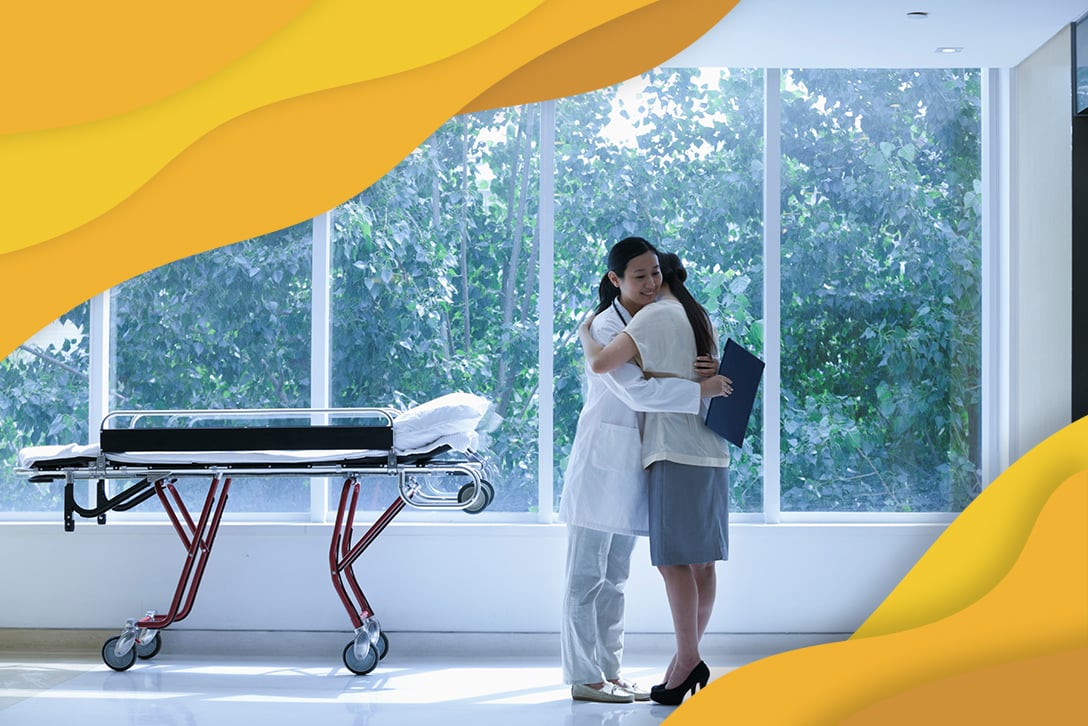 Bedside manners are a crucial part of the professional etiquette of all healthcare providers. Not only can it affect how patients feel in a hospital setting, but it can also significantly impact their recovery. Patients in recovery can bring anxiety, fear, and self-pity upon themselves, needing an understanding professional to provide hope and to calm their fears. The ultimate goal of the relationship between patient and medical professional is to promote a sense of trust and reliability. The ways that healthcare professionals approach patients and their families are crucial; it can have a significant impact on their willingness to learn and comply with their care and treatment. The ability to show kindness and empathy can go a long way in gaining a patient's confidence.
How Healthcare Bedside Manner is Evolving
The rise of telemedicine
The concept of telemedicine is not a new one in the healthcare industry. However, the recent coronavirus pandemic has changed perspectives around telehealth. As more cities and states have been severely affected by COVID-19 and the resulting physical distancing and shutdowns, healthcare facilities have been under an overwhelming burden. Medical professionals are resorting to the latest technologies to offer telehealth to their patients and ensure continued medical help.
What is good web-side manner?
Using telemedicine still demands good bedside manners - or, more precisely, web-side manners. Although the space available for making the first impression via telehealth is very small, its importance shouldn't be ruled out. In fact, during uncertain times, it's more relevant now than ever. Being prepared and communicating clearly with patients is still of utmost importance. Patients still need to be assured and to feel that they are being heard and understood by their healthcare provider, whether in-person or via video call.
Telehealth still requires the queues of in-person bedside manner. Healthcare professionals communicating with patients via telehealth need to maintain meaningful eye contact with patients and earn their trust. Not only will it help foster a positive healthcare professional-to-patient relationship, but it will also allow patients to comply with the advice and instruction given to them in a more effective way.
Bedside manner practices
No one wants a disgruntled healthcare provider, whether in-person or via video connection. The following telehealth practices are considered the best while interacting with patients:
Technology equipment: A deep understanding of how to operate and test relevant technology required for telehealth practice. Healthcare professionals need to be familiar with proper placement of camera, microphone, and speakers, and who to contact for troubleshooting any potential problems.
Physical space: When communicating with patients, telehealth is still a professional setting. The physical space around a healthcare professional on video should have good lighting, clear of distractions, private, and secure.
Preparation: Healthcare professionals need to be fully prepared and well-informed on the patient's medical history, charts, or files in order to clearly communicate with patients via telehealth.
Personal appearance: Once again, telehealth is still a professional setting and as such, healthcare professionals should be dressed professionally.
During encounter: Healthcare professionals should confirm that their patient has a good connection and can properly see and hear them. Next, professional introductions of the healthcare professional, their location, and organization are needed. The patient should then be prompted to introduce themselves and any others in the room. Proceed with explaining the process of taking medical notes and maintain constant eye contact with the camera. Periodically ask the patient if they have anything question or want to add anything. Explain any follow-up procedures or instructions to the patient before disconnecting and ensure they have completely understood everything.
A healthcare professional's bedside manner signifies their personality, medical knowledge, and the ability to communicate with and understand their patients. The healthcare industry will continue to face technological advancements and changes, but the core medical etiquette and professionalism focused on patient satisfaction will continue to be the heart of healthcare. Medical and clinical knowledge doesn't go very far for a healthcare provider if they fail to make their patients feel respected and valued.
Similar to good bedside manners, proper web-side manner will take time and practice, but it is the essence of these changing times. As the world moves towards online platforms, the healthcare industry will too see changes in its traditional practices.