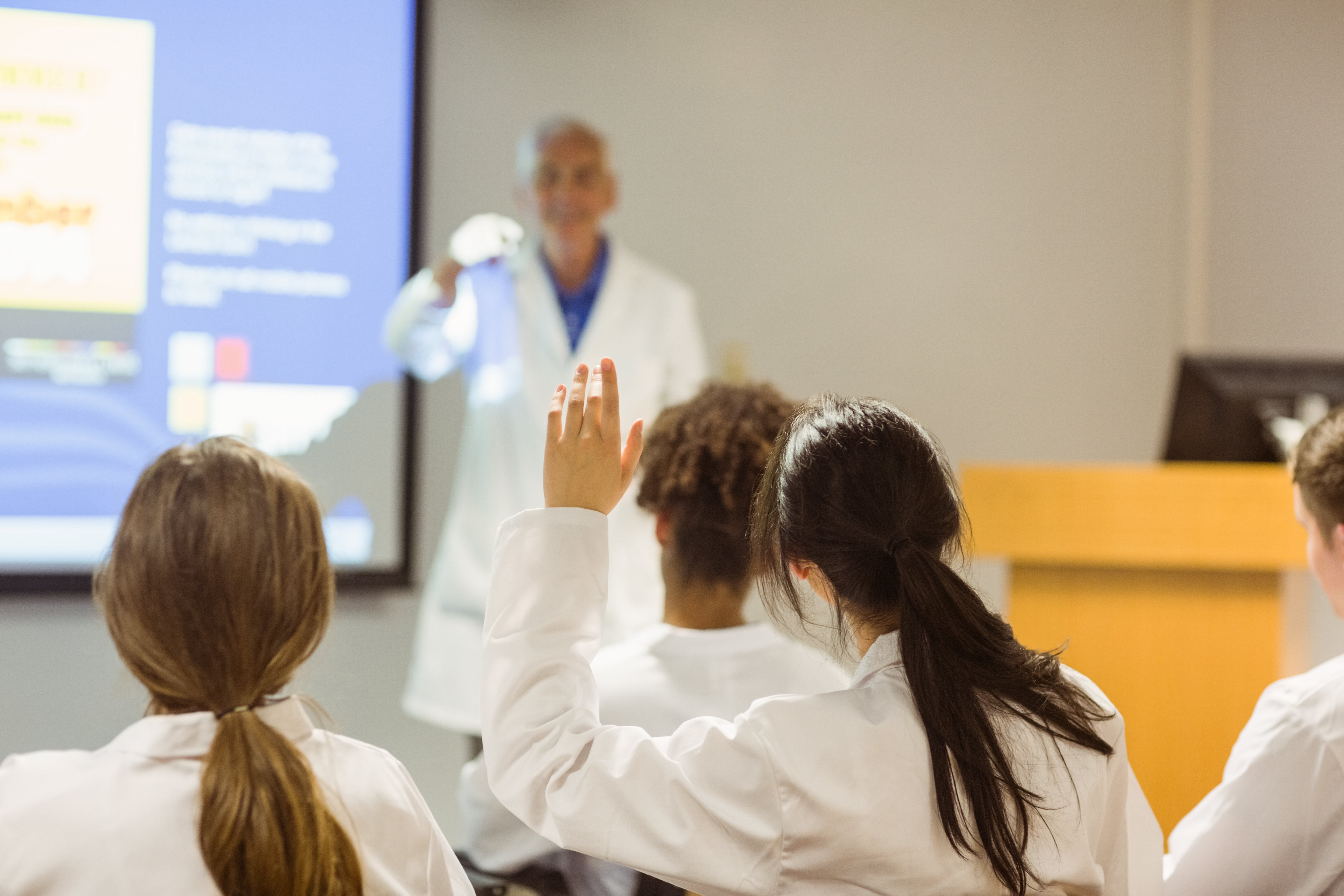 What does the educational landscape look like in a COVID-19 world? The majority of educational institutions have closed their campuses. Most of them have moved classes online and this shifting of classes has impacted med students, especially those who are in the first two years of their medical education compared to graduating med students. Typically, the first two years of med school focus on in-classroom lectures, discussions, and labs. On the other hand, the final two years of med school involve assisting doctors, clinical rotations, and watching medical procedures in person.
How is the Pandemic Affecting Med Students?
How COVID-19 affects med schools and learning environments
For the last couple of years, med schools have been making substantial efforts to transform learning environments by reducing lectures. The purpose is to use technology to enhance anatomy and labs. Med schools have also been focusing on the implementation of active, team-facilitated, and self-directed learning. Many med schools have decreased the basic sciences curriculum to 12 months. At the same time, they have integrated clinical medicine within the 12 months' timeframe and then revisit the basic sciences later in med school.
Even before the coronavirus outbreak, many med schools and faculty in the last few years have begun flipping the classroom in order to provide individualized instructions for asynchronous learning and education anytime or anywhere. The lockdown situation and social distancing is an effective preventive strategy for COVID-19 as we wait for the development of vaccines or any other form of treatment. COVID-19 has caused students of all studies to stop from gathering in educational facilities, classrooms, and lecture halls.
On the other hand, prior to the pandemic, med students including graduating med students participated in small-group interactions, technology sessions – i.e. learning besides ultrasonography, simulations, labs, and clinical instructions in both standardized and authentic patient care environments. Responding to the pandemic, med schools have transitioned their entire curriculum quickly to an online format, which consists of basic sciences, behavioral sciences, and health systems. Small-group formats have been designed for virtual team settings and med schools are now focusing on online clinical skills sessions. They have also transitioned all exams to online settings.
Although the content material update can benefit the online format and the virtual learning seems functional, the results of these transitions or changes will need to be reexamined and assessed for their functionality. Without hands-on learning, how will a med student become effective in their career path?
Med students face challenges during COVID-19
Med schools everywhere are scrambling to adjust their subject curriculums in response to COVID-19. Today, social distancing is considered the new normal for every day interaction, but the medical field requires hands-on learning along with doctor-patient interaction in order to get the full scope of their soon-to-be career.
Currently, hands-on learning and interaction with patients for graduating med students who want to specialize in the field of traveling healthcare presents a lot of challenges. According to the Association of American Medical Colleges (AAMC), there are two primary barriers to hands-on education for med students: a lack of COVID-19 testing and shortage of PPE. Both are important issues that hamper the response to the pandemic.
Many faculties, administrators, and students feel that not being able to participate in the clinical environment impedes the learning environment needed to be involved in a full curriculum and expand students medical knowledge, and is a hugely missed opportunity to support the overburdened health system of the country.
Med schools face more challenges moving forward. Currently, it's not clear when in-person education will resume. Authorities have made efforts to develop and promote methods of remote learning for med students, which include online-based health lectures and telecasting, as well as an increased focus on online resources.
Nonetheless, hands-on clinical learning is very important, as it doesn't lend itself to distance learning. And with different parts of the country practicing different levels of social distancing, no one knows for sure when clinical rotations will be safely resumed. There are many uncertainties, especially for graduating med students who are applying for residency.
According to the CDC, the COVID-19 crisis will significantly affect the job match processes for many med students. Some recently graduating med students have been recruited by hospitals and health centers to work as traveling healthcare professionals, depending on their qualifications. And although this is a great opportunity for young and dynamic health professionals to act as frontline healthcare workers, some recent grads can start traveling in their field right away, while others must wait.
Adding more mixed-bag confusion to it all, med students who have just graduated face both overwhelming job prospects from hospitals in need, while others face challenges in securing a job in certain modalities of healthcare. Overall, research and volunteering opportunities have been cancelled due to the pandemic, leaving many med students in the dark wondering about their career.
What will the future of healthcare students look like?
The coronavirus outbreak has completely changed healthcare learning environments. Med students can't participate or take part in in-person learning environments, because there are higher risks of transmitting the virus to others, even if they are asymptomatic. Medical faculties demand to redefine the culture of altruism and professionalism.
Currently, med students across the country are participating in different ways to care for communities and patients. In many med schools, students volunteer to create educational materials, call centers, and help with other activities, including grocery shopping. At the same time, they adhere to safe travel, social distancing, and supervision.
This pandemic has already caused a shortage of healthcare workers in the U.S, and authorities have stated that they need med students to become part of the workforce and embed in the hospital environment as soon as possible. Likewise, they can work as traveling healthcare professionals.
Additionally, many medical schools and institutions are considering early graduation, having final year students act as residents or volunteers in the clinical environment to supplement hands-on learning that has been squelched due to coronavirus.
No doubt, COVID-19 has hugely impacted every field and aspect of life. Med schools and students are no exception. It seems that in-person learning environments and hands-on medical practices, such as working in labs are not possible until everyone is vaccinated, or a wide-scale protective solution is put into action in order to mitigate the spread. If the health department collaborates with med schools and comes up with sophisticated solutions, like mass-scale COVID-19 testing and the provision of proper PPE, in-person learning could be considered when the virus slows down.