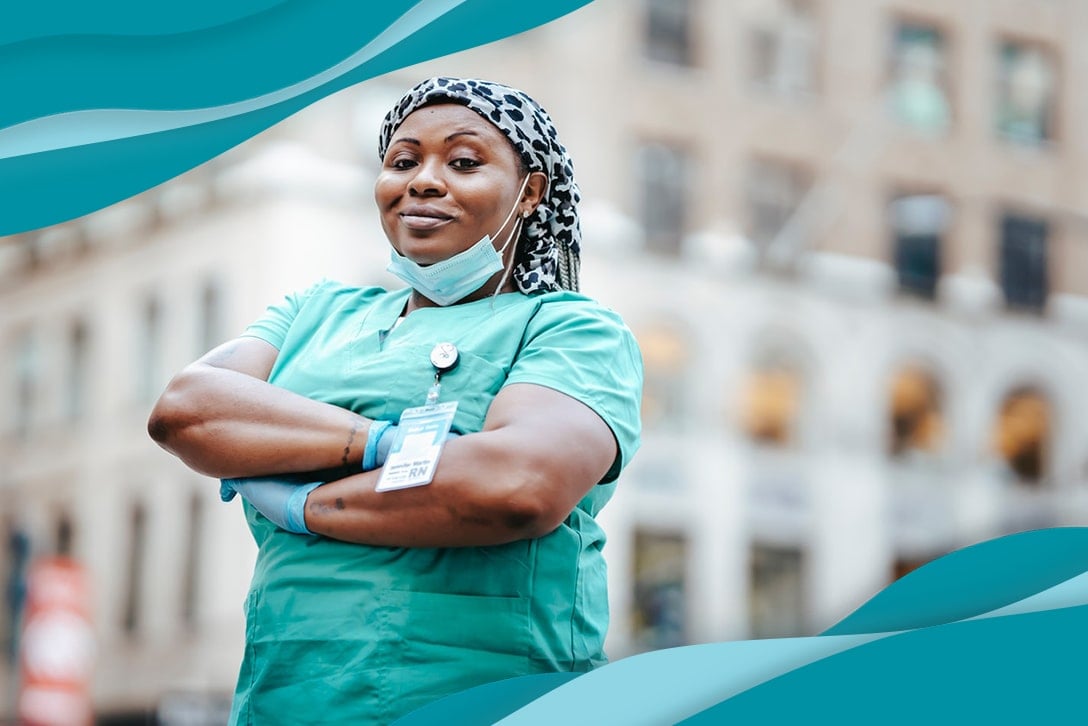 Now is the perfect time to jump into a travel nursing job. Don't believe us? Well, believe the facts, baby. And the fact is, the nation needs you. The decades-long nursing shortage isn't going anywhere overnight, and the nursing workforce needs all the help they can get from professional med travelers like yourself.
How Med Travelers Can Make a Dent in the Nursing Shortage
In case you didn't know, you've chosen a great career. Although they're one of the largest medical professions in the country, registered nurses (RNs) are high in demand and very much needed. As the nursing shortage continues to increase, the U.S. Bureau of Labor Statistics projects a 15 percent employment growth by 2026 with 200,000 new RN positions becoming available each year until then.
So here you are, this super cool professional travel nurse, living your best life healing people and saving lives. But what more can you do to make a dent in the nursing shortage? We're so glad you asked because we're going to tell you!
Timing is everything
Although it may not feel like it, your timing into the medical world is impeccable. As the U.S. continues to experience a growing shortage in nurses, it needs more people like you to step up and take on the unique challenge of patient care.
What's with this nursing shortage epidemic, you ask? Well, it's complicated, but to sum it up, the country has more patients to care for, but not enough nurses to provide the care. The population is aging, plus more people are living longer, and that means the number of Americans with health issues is also escalating. Fun fact: The U.S. currently has the largest number of Americans over the age of 65 years old than ever before!
Not only do the age and health conditions of the country's population affect the nursing shortage, but so does the age of RNs. In fact, the average age of the nursing workforce is 50 years old, so more nurses are reaching retirement age and hopping on that band wagon.
Lastly, because of an increased demand, new and improved safety regulations, and an aging population, today's working nurses are facing more burnout than previous generations. Burnout is inevitable when nurses experience emotional exhaustion, depersonalization, and dissatisfaction in their personal achievements. Burnout is dangerous for you personally as a nurse, but it's also a safety risk for patients. When nursing burnout persists, it can lead to mistakes in patient treatment that can cause discomfort, infection, and in extreme cases, even death.
Sure, the nursing shortage has put a real wrench in this medical profession, but it's also created job opportunities for virtually every nursing division, specialty, and unit. Hop on the helping train and secure your next travel job in one of the RN specialties or destinations most in need.
Nursing specialties in demand
With more than 100 nursing specialties, it can be hard to know which are most needed. Because we're all about efficiency and helping a homie out, we've narrowed it down to the top three nursing specialties most in demand.
Intensive care unit (ICU) RN. ICU nurses or also known as critical care nurses, are an instrumental part of a patient's care team. These medical professionals work with the most acute, unstable patients to evaluate and monitor conditions, administer treatment, and provide constant support.



"Patients admitted to the ICU are considered medically unstable,"

said

travel nursing professional. "ICU nurses require a high level of skill and knowledge, and their considerable talents are highly portable. This makes ICU travel nurses extremely valuable to acute care hospitals facing nursing shortages."



Critical care RNs are one of the "highest-paid nursing specialties" in the country and offers many other perks like the ability to provide focused nursing care to a couple patients at a time, the ability to witness patient recovery, and the ability to work under pressure and use critical thinking skills.

Search for ICU RN travel jobs.

Med-surg nurse. Medical-surgical nurses, or med-surg RNs, represent the single largest nursing specialty in the country because it combines both medical nursing and surgical nursing into one. In fact, the med-surg nursing specialty has been described as "the foundation of all nursing practice" because of their wide range of medical knowledge and patient skills.

Med-surg nurses are the face of nursing for those patients who are preparing for or recovering from surgery, as well as for those being treated for chronic or acute illness. These nursing professionals work with other medical team members to assess, plan, implement, and evaluate patient care plans; educate patients about the procedure they undergo; prepare and administer medications; report patient vital signs; monitor equipment; take action if patients manifest adverse reactions; and provide bedside care.

Search for med-surg RN travel jobs.


Emergency room (ER) nurse. If you've ever been in an emergency room, you've likely seen ER nurses and personnel. ER RNs treat patients with severe medical conditions, trauma, and injuries, and emergency nurses need the ability to assess patient needs and prioritize based on severity and need for immediate attention. Most commonly, ERs see patients who complain of headaches, backaches, difficulty breathing, abdominal pain, upper respiratory infections, strains and sprains, superficial injuries, and chest pain.

Emergency room RNs can expect a surge in job opportunities, job security, and job growth due to the combination of the growing reliance on ER services, the increase of urgent care clinics, and of course, the national nursing shortage.

Search for ER RN travel jobs.
If these top three nursing specialties don't fit your fancy, don't fret! There are more than 100 other specialties to choose from and while each have their own advantages, nurses in each specialty make an impact in the nationwide nursing shortage.
Choose travel jobs based on need
You may have noticed some places have more nurses than others. For example, since many RNs work in urban settings, medical facilities in rural areas tend to feel the effects of the shortage more than bigger cities do. So, one way you can help make a dent in the nursing shortage is by choosing travel jobs based on travel destination needs. You may be surprised to know that the states with the lowest nursing concentration and the states with the highest number of nursing vacancies aren't the same.
Wondering where to head next? Check out these top three states with the lowest concentration of nursing staff:
This is the only state in the country to require by law a specific number of nurses to patients in every hospital unit. Currently, because of the national shortage, it's expected California will need more than 40,000 full-time RNs to counteract the impact of the shortage crisis.

Search for California travel jobs.


In a state that already had one of the nation's lowest ratios of nurses to population, Georgia already had upwards of 11,000 vacant nursing positions with at least 1,700 of those jobs in the ICU.

Search for Georgia travel jobs.


Nevada is predominantly home to older folk with one or more chronic health condition, so it's no surprise that there are nearly 50,000 RNs needed to help alleviate the shortage in the state.

Search for Nevada travel jobs.
Or consider the top three states with the highest reports of nurse vacancies:
"All our hospitals are saying staffing is a big problem,"

said

Lois Richardson, attorney for the California Hospital Association. "We have fewer personnel…and more patients."



Search for California travel jobs.


Texas has been hit hard by the national nursing shortage. While the state was short around 20,000 RNs in 2008, the gap widened to over 70,000 by 2020 thanks to a rapidly growing population and retiring nurses.

Search for Texas travel jobs.


New There are currently nearly 200,000 RNs in New York State, and yet by 2030, there will be a projected shortage of more than 39,000 nurses. New York is home to almost 8.5 million people—and they need you.

Search for New York travel jobs.
When you're in search of your next med travel job, target the most vulnerable parts of the country to see where you can have the biggest impact on the community. Take your career to the places you've always wanted to go and save lives while you're at it.
Reduce the nursing shortage as a Fusion traveler
If you're not already a professional med traveler, you might be thinking to yourself: "Wow, the nursing shortage is serious business! What's the best way I can help?" The answer: Be a med traveler with Fusion Med Staffing.
You have full control over how, where, and when you work as a Fusion medical traveler. And when you need a helping hand or listening ear, Fusion has your back. Whether you're a first-time traveler or a seasoned explorer, Fusion is here to help you meld your medical career with your personal passion in life: Healing others.
And when you're satisfied with your career, you're more likely to provide high-quality patient care. It's science! On the flip side, the opposite is also true—unhappy and unstable nurses can have a negative impact on patient care, as well as the patient's perception of that care.
Fusion invests in you, your career, and your future to give you peace of mind on and off a med travel assignment. That way, you can focus on providing the best care to your patients while we worry about the fine print behind-the-scenes. If there's something the nursing shortage needs most desperately, it's you.
Yeah, the nursing shortage may not be a new phenomenon in the U.S., and it can feel suffocating at times. But it's also the beginning of a new era in nursing. Although we face an understaff of RNs, nursing is still the nation's largest healthcare profession with tens of thousands of nursing job opportunities available across the country.
Sign up to become a Fusion Med Staffing traveler and own your career from every aspect! As you provide top-tier care to your patients, you can take comfort in the fact that Fusion has you covered with your very own travel team and sweet benefits. Travel to parts of the country that need you most and use your medical superpowers to make a dent in the nursing shortage. The RN distress signal is beaming bright in the sky. Will you be there to save the day?