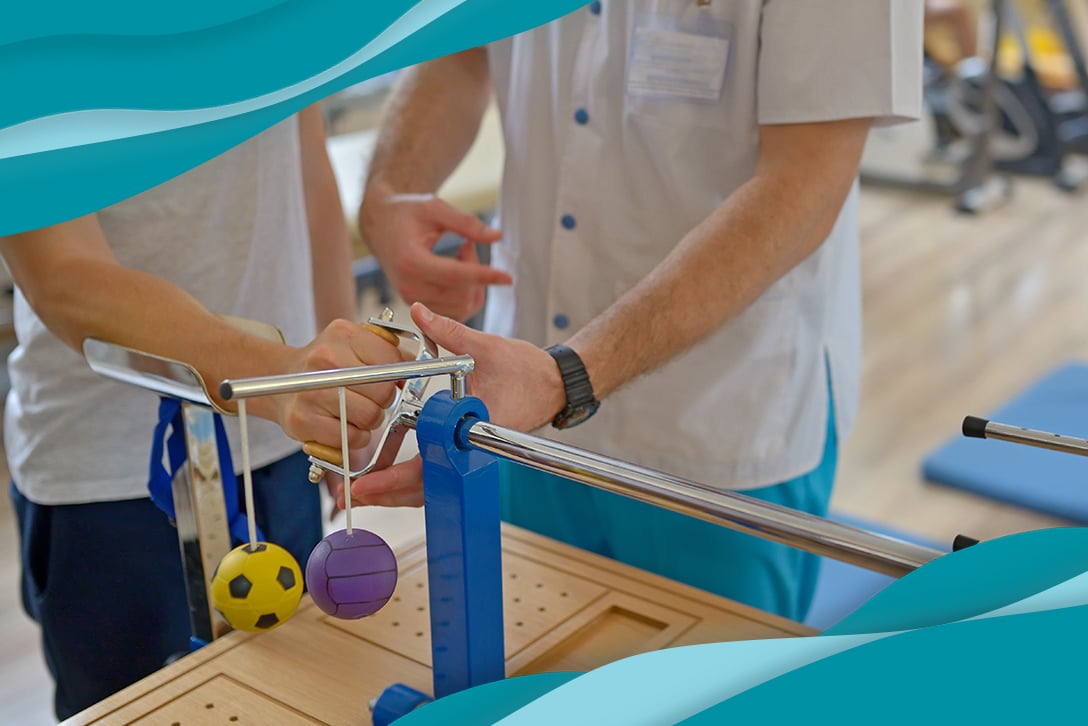 Occupational therapy changes lives every day. When you're working behind the scenes to tackle complicated and often emotional missions, like the young hero Angus "Mac" MacGyver, we think as an OT medical traveler, you have a talent for bettering people's lives throughout your career.
During occupational therapy month, we're talking about becoming a travel OT, showing you the ropes, and helping you understand the skills you need to be the best occupational therapist you can be.
How To MacGyver Your Way Through OT
If you're familiar with our quintessential hero, MacGyver, you know he has a whole host of skills that allow him to be the superstar he is. Well guess what? As a soon-to-be OT traveler, you'll need some essential skills to thrive and become a successful occupational therapist. Don't worry, you're not expected to rappel down the side of a building, or fashion a belt out of dental floss and a penny.
Brush up on those communication and personal skills
As a medical OT traveler, you're spending a lot of your time explaining situations and tasks, while listening to your patients' needs. Sometimes your patient will be a small child or an elderly person; you'll be working with all age groups. They're undergoing physical, mental or emotional disabilities, so communicating will be different from patient to patient. Sometimes you'll need to simplify your explanations or put them in a more clear, concise way. In addition to patients, you're communicating with doctors and other colleagues, so being able to discuss your work in an efficient and confident way is a necessary part of the job.
MacGyver move: You'll need to roll with the punches in the day-to-day. No day is the same and you'll need to adapt to what's happening each day with your patient.
Delve into problem solving mode
Problem solving skills are one of the top skills an OT needs to be successful. Different patients have different—and often changing—needs. Creating a strategy on how to solve all a patient's distinctive issues effectively will help them overcome their obstacles. Ask yourself, "Do the occupational therapy activities I provide support what the patient wants to do? Do they challenge the patient's body and mind?" Adding a little flexibility to the plan helps too. You never know what kind of patient you are going to deal with, and how they will change based upon your treatment plan.
MacGyver move: An OT needs to observe and evaluate their patients and be willing to get creative or modify a treatment plan, if necessary. Using OT resources are a given, but getting creative is another key to success. You're helping your patient come out of a dilemma, resulting in more enthusiastic and active participation in the healthcare programs you've organized for them. For example, turn a regular spoon into a modified, angled spoon for someone who has limited range of motion in their arm. That's true MacGyver creativity!
Always practice compassion, empathy and patience
Becoming an OT requires a big heart. Most of the patients you'll see can have a lot to deal with surrounding their physical or intellectual disability. The reason for these disabilities could be because of a heartbreaking story. It's easy for patients to get frustrated and struggle emotionally with the hard work and reality they're facing, so not only do they need a goal and plan in place, but they need a genuinely warm-hearted and sympathetic occupational therapist who really understands them.
MacGyver move: Practicing patience is easier said than done. Sometimes, OTs might have to deal with frustrated, rude, depressed or stubborn patients. A true MacGyver keeps their cool and keeps it positive always. They help cheerlead their patients into achieving their goals, even on those "off days."
Q&A with our own MacGyver, Lauryn Young
We asked this amazing OT student all about her experience with the field thus far, so you can get some insider information about how to start your career in OT.
How did you decide you wanted to become an OT?
When I was in high school, I thought I wanted to be a wedding planner… things definitely changed. I had chosen to get my bachelor's degree in exercise science, because it opened up many opportunities for possible career paths in the future. I set up observation hours in a pediatric clinic and fell in love with the diversity of occupational therapy and the vast array of populations that are able to benefit from skilled therapy services. I continued my observation in acute care with a more adult population, this is when my heart knew I had found what I wanted to do for the rest of my life. Helping individuals reach their goals and increase independence in activities of daily living is such an integral role to the rehabilitation process, occupational therapy allows me to be at the forefront of those client centered treatment sessions.
What's a typical day look like for you?
I am currently in my last year of occupational therapy school. I am on my final clinical rotation gaining clinical skills with an emphasis on visual impairments and driving rehabilitation. I currently work from 8am – 5pm completing evaluations, treatment sessions and documentation regarding the patients on my caseload. I typically spend my evenings studying up on new diagnoses and preparing for my national board certification exam that I will take upon graduation.
Describe your ideal job and work day in the future.
Ideally at this point in time, I prefer the inpatient rehabilitation setting compared to outpatient. I will hopefully be working with patients with neuro-related diagnoses (traumatic brain injury, stroke, etc.)
How do you and your colleagues help each other out in this field? Studying? Practice?
One thing I have learned throughout all of my clinical rotation experiences is that therapists in general (OT/PT/Speech) are the NICEST people in the world. We all work towards the common goal of improving the function in our patients to improve their quality of life. Everyone is helpful with questions, rare diagnoses or impairments, building rapport and treatment ideas. Support plays an integral role in the rehabilitation process and I have observed this support first hand in many different settings. We also have many learning opportunities throughout in-service lunch presentations, continuing education courses and access to learning materials via online resources.
Hardest part of your educational experience so far?
TIME MANAGEMENT! OT school is fast paced and busy. Currently I'm juggling school, working 40 hours a week at my clinical rotation, graduation projects and studying for boards. Time management is key to keeping your sanity... an occasional glass of wine helps too.
Most rewarding educational experience you've had so far?
Working with patients every day has been an amazing journey thus far in my OT career and I look forward to continuing this in the future.
How do you make connections in the OT world? With colleagues and other people in the industry?
Networking has always been an aim for me. I make note to keep in touch with past mentors and clinical instructors to have as resources in the future. I also belong to the American Occupational Therapy Association (AOTA) which allows me to have contact and access to thousands of therapists across the country.
In general, how does OT help patients improve upon their everyday life?
An occupational therapist's scope of practice includes activities of daily living (self-cares, eating, dressing), muscle strengthening, cognitive training, fine motor control activities, functional tasks of every-day life (laundry, cooking, driving, grocery shopping, childcare.) In general, occupational therapists help their patients achieve their goals in almost any aspect.
Describe how an OT evaluation goes for you. Are there any specific processes you go through to perform the best eval?
Evaluations vary across the different treatment settings (inpatient, outpatient, home health, skilled nursing facility, schools, day programs.) Evaluations also depend on the patient's goals and impairments. I start all evaluations by building rapport with my patient, in order to get a snapshot of their daily life and routine. Then I dig deeper into impairments and goals for therapy sessions.
How do you assess what your patient needs, specifically, and what's important to them in their treatment plan?
Typically, there are a series of questions that evaluations are guided on to help assess goals, strengths and areas of improvement with our patients to ensure we are meeting their needs. As a therapist, it is my job to develop a treatment plan and set of goals that are achievable and client-centered for my patient.
How do you build a good relationship with your patient while you're helping them in OT?
I try hard to establish a good relationship with my patients at the forefront of my treatment sessions. I think the biggest thing is to establish trust. I want patients to understand that I have their best interest in mind and that we are working towards goals as a team.
How do you adapt to a patient who doesn't want to participate in OT or is having an "off day"?
Typically, an "off day" is due to an underlying issue. I will start the session off by asking questions to try and understand why they are feeling off and then modifying and adapting treatment ideas to fit the needs of the patients.
What happens once a patient is ready to transition from OT in a clinic setting to, perhaps a home setting or from OT altogether?
Discharge planning to different settings looks a bit different. If a patient is going from an inpatient setting to home, the therapist is responsible for recommended level of supervision and assistance that they will need at home, resources to obtain adaptive equipment to complete daily activities and plans for future therapy, if indicated.
What is one of your favorite things about working as an OT?
The patients. Everyone is different and has inspirational goals with therapy. I love the process of meeting new people every day.
Describe an impactful "win" story from a patient that is memorable to you.
I currently have a patient on my caseload that is similar age to me, she was in a motor vehicle accident resulting in multiple fractures and broken bones throughout both legs and her right arm. Due to the trauma, she also sustained a stroke on her second day in the hospital which led to paralysis in her right arm. She has been an absolute inspiration to work with every day with her endless determination, positive attitude and immense progress she has been making. She actually gets to discharge home tomorrow with the goal of giving me a high five on her way out of the facility while using her right arm… how cool is that!? I live for these moments with my patients.
What is one of the hardest things about your job? How do you cope with the hard moments?
I think the hardest thing about OT is working with patients that have a poor medical prognosis. Rehabilitation is a hard, slow road. It is definitely hard to continually work with a patient with little to no progress due to diagnosis or health concerns. At the end of the day, as long as we (the patient and myself) jointly tried everything we could, then we know it was our best effort.
What are some of your favorite OT medical resources, research or industry-related materials (journals, books, articles, websites, podcasts, etc.) that help you stay up-to-date on your career and what's happening in the industry?
AOTA, research articles, the Open Journal of OT (OJOT)
This OT month, get out there and succeed. The outlook for Occupational Therapy jobs is expected to increase 24% by 2026, which is much faster than average. If you think you have what it takes to MacGyver your way through the rewarding world of OT while giving yourself the opportunity to travel, search for some of our current traveling OT jobs.
Editor's note: Q&A interview with OT traveler, Lauryn Young, was re-shared from it's originally written format in April 2019.