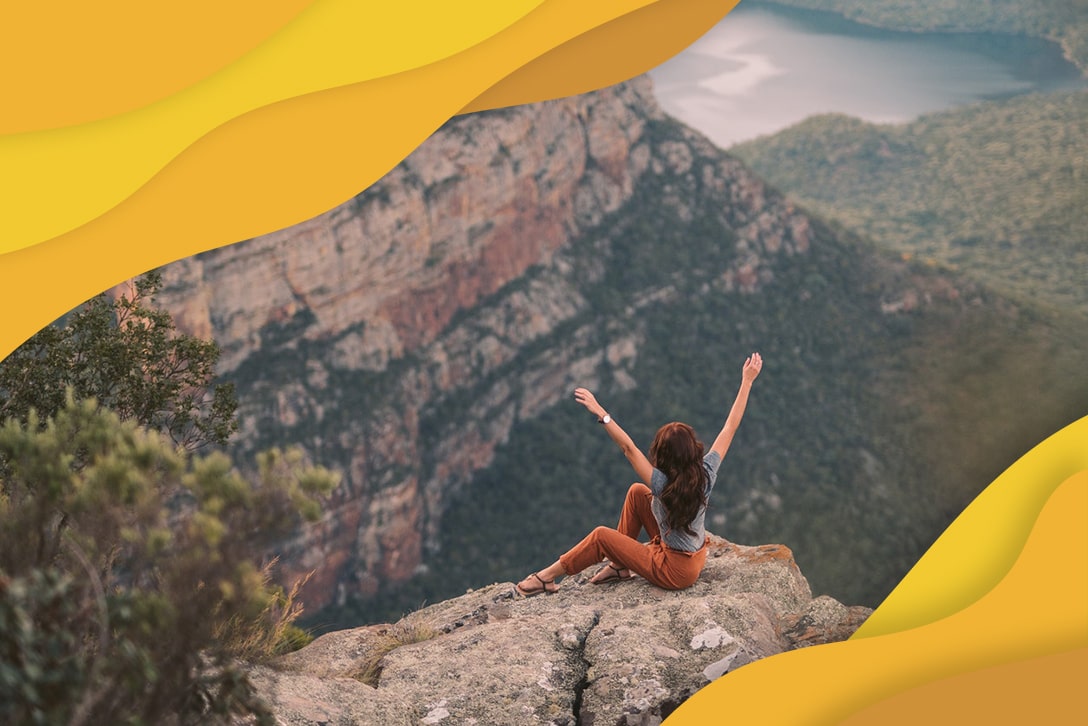 You chose the medical travel life for a reason. Whether your reason is to travel through all 50 states, visit the country's best national parks, or gain ultimate professional autonomy, you've already done the hardest part of the job: Taking the leap.
How to Market Yourself as a Med Traveler to Get the Job You Want
With the hardest part in your rearview mirror, now what do you have to do to land the travel job you want? I mean, you already have the education, experience, and qualifications to get out there and start improving the lives of others! What's next?
The only thing standing in the way of you and your next dream travel job…is you. So, become your best hype person and learn how to better market yourself in order to get the job you want! Here's how.
No. 1: Decide what's important
First thing's first—you need something to work towards. That means it's time to identify what's important to you in a job. When looking for your next med travel job, set a couple of clear objectives to help you narrow down your options. Here's a few things to consider:
Work-life balance. Are you looking for a set schedule or something with a little more flexibility?
Skills and experience. Are there opportunities for professional and personal growth available to you?
Workplace culture. What's more important: A paycheck or a purpose?
You're the only one who can answer these questions and good for you, there are no right or wrong answers! But you'll want to know what's important to you before you embark on the adventure of your next job. Why? Because knowing what you want will help you find and achieve it that much easier. Having clarity on what you want helps you move towards it and inspires you to keep going. Knowing is half the battle, right?
Not sure what's really important to you? We get it! This is some tough stuff to figure out, but we're here to help along the way. Let's get old-school and grab a pen and paper. Good, now let your mind roam free and make a list of everything that you want. Literally everything—the winning lottery ticket, the chance to meet Channing Tatum IRL, the opportunity to practice medicine in a foreign location, all of it. Save this for future you. Revisit it when you lose inspiration or forget what you're working towards. Future you will thank you.
No. 2: SWOT it out
So, you've done some introspection. Now what? Time to SWOT it out! Don't worry, it's not nearly as aggressive as it sounds. SWOT stands for:
Strengths
Weaknesses
Opportunities
Threats
And you're going to analyze each of yours! It may not sound like a walk in the park upfront, but in the long run, doing so will help you take advantage of your opportunities and set yourself apart from competition.
To get started, identify the strengths and weaknesses that are specific to you. Here's the catch: Whatever you list must be within your control, which means you can't say your biggest weakness is not being Captain America. Instead, these would be things like your extensive knowledge on a variety of charting systems = strength or your subpar communication skills = weakness. Whatever makes it on the list should be things you can improve on over time.
Next, think of external opportunities and threats, aka the things that are outside of your control. For example, an opportunity could be working alongside a mentor to elevate your experience and give you an edge on the competition.
Lastly, anticipate your threats. No, not "threat" like a bear chasing with you with a chainsaw. Rather, a threat like another candidate's experience = something you can't control. However, it is something you can work around. Knowing this, you can discover alternative job options that align with your strengths and provide professional growth and development.
Once you completed your personal SWOT analysis, you'll be left with a clear picture of people you could network with, what continued education courses you can sign up for, or which advanced degree to go after, if that's your vibe. A SWOT analysis is meant to give you a comprehensive idea on what you have and what you need, getting you that much closer to your next unicorn assignment!
No. 3: Build your personal brand
Ever heard of a personal brand? It's like a business brand, but just for you! Your personal brand is a mix of your personality, skills, and values. When marketing yourself for a job, use your personal brand to showcase what you stand for, what's important to you, and what you have to offer as a professional medical worker. The best part is you can use your personal brand throughout the job search process to help a hiring manager better recognize your awesomeness.
Job search process
As you peruse open travel jobs, do some market research to understand the mission and values of the staffing agency and medical facility. Do they match what you're looking for? Is it an environment that will enhance your personal brand? Are you passionate about the same things?
Application process
Before you submit your resume for the job, fine-tune it to include an introductory paragraph featuring you! Here, you can tell a story to describe what you're passionate about, highlight your many accomplishments, and emphasize the strengths you identified in your SWOT analysis. Use this as an opportunity to pitch your personal brand and help hiring managers get to know you.
Interview process
As you interview for jobs, stick to your personal brand. Share your story and use it to connect with hiring managers. Let them see your potential from paper come to life before their eyes and impress them with the things only you can bring to the table.
You ever wonder what the difference is between your reputation and your personal brand? Because we do, so we did some digging. Here's what we learned, thanks to the Harvard Business Review:
Your reputation is built from what other people think or believe to be true about you based on your actions and behaviors. Your reputation values credibility.
Your personal brand is how you want people to see you. Your personal brand values what's meaningful and important to you.
You're in the driver's seat of creating your personal brand. That means that only you have the power to change and redefine it.
No. 4: Be your best advocate
I don't know about you, but it can be hard to practice self-advocacy. What is self-advocacy, exactly? In short, self-advocacy is the ability to speak up for yourself, plus the things that are important to you, and be your own cheerleader. In long, the ability to advocate for yourself empowers you to ask for what you want and helps create independence.
When it comes down to it, self-advocacy can be broken down into three key elements:
Understanding your needs
Knowing what support could be beneficial
Communicating these things to others
Like most things, self-advocacy is easier said than done. But, also like most things, practice makes perfect! Once you enhance your self-advocacy skills, all there's left to do is reap the benefits like increased self-awareness, better decision-making, effective problem-solving, and more. Plus, you can use these skills to help land the job you want.
What recruiters look for in a med traveler
When applying for med travel jobs, it's important to market yourself to make an impression on the hiring managers and recruiters. Essentially, you want to show them that you have what it takes to be the best travel nurse or allied med traveler that you can be. So, when you put your name in the proverbial hat, make sure you spotlight the skills recruiters look for in a med traveler on your resume to ensure you catch their eyes. Here's what we're talking about:
Effective communicator
Not only should you demonstrate that you're an effective communicator during the interview process, but you should also make that skill clear on your resume. You can do this through your personal paragraph that we talked about earlier and by making a point of your strengths, background, experience, and other characteristics that make you you.
According to research by Indeed, the most common ways to communicate at work are through written communication like emails, oral communication, nonverbal communication like nodding, and listening. Once you become a master communicator, you can help promote a healthy culture, boost job satisfaction, increase creativity, and more.
Sense of self and authenticity
It can be tough to convey who you are through a written resume or job marketplace profile. Recruiters look for a sense of self and authenticity within applicants—someone who takes their written skills and puts them to use in the real world.
"I want to hire a person who happens to have experience relative to a job and that special someone that brings their skills to life," said Jennifer Marszalek, Chief People Officer at Revolution Global. "Frequently, the best hire is someone with the greatest number of intangible credentials, so I look for a sense of authenticity and self to come through in their application."
An authentic resume is one that portrays an accurate representation of yourself. Use your resume to introduce yourself to recruiters and hiring managers alike to build a genuine connection.
Agility and flexibility
A career in medical travel is an unpredictable one. In addition to starting new jobs every 13-ish weeks, you're also more than likely moving to a new destination, learning new technologies, adapting to a new medical facility, and meeting new people. It's a lot of newness all at once, which may be a lot for some people.
The ability to be agile and flexible will get you far as a professional medical traveler. By improving these skills, you can avoid burnout more effectively, make friends wherever you are, and quickly adapt to your new environment. Sounds like a win-win-win if I've ever heard one.
Of course, listing these skills on your resume won't guarantee you find your dream job ASAP. But hey, it doesn't hurt, right?
Marketing yourself as a professional only has its upsides. By doing so, you get to not only tell others, but even better, show them how valuable you are. Stand above rest and use these steps to market yourself as a medical professional. Before you know it, you'll have all the jobs you want right at your fingertips!