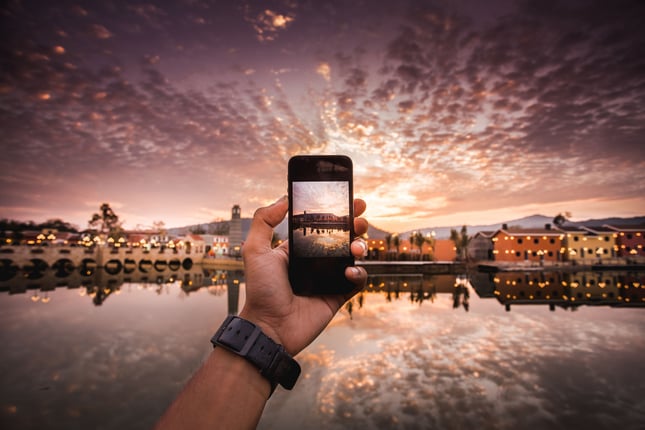 A new travel assignment means new places to go, new things to see, and new pics to take. Need some tips on how to take the best photos while you're exploring? We've got 'em! Now, get snapping, because we want to see some of your adventures!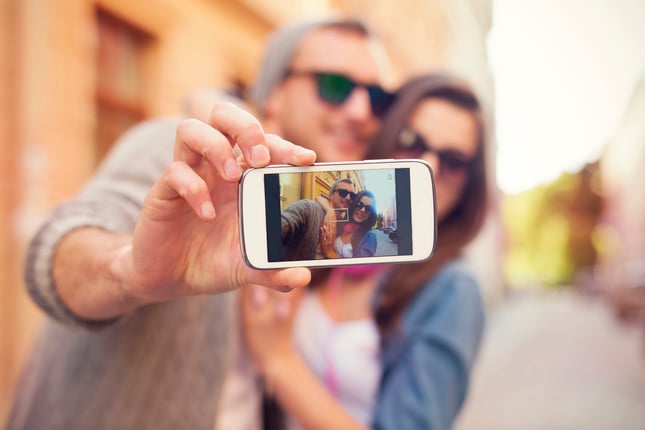 The Selfie
Get lit
The most flattering lighting is from natural light, like from a window. You don't want the sun spotlighting your face so you're all squinty, though. Make sure it's indirect. Use a shade, the sun bouncing off of a wall, or just make sure the sun isn't directly shining through the window where you're taking your selfie. If you're outside, put the sun behind you to block it and snap away.
Avoid the dark
I know, I know… you put your fancy pants on and went out for happy hour. You're looking really on point and you wanna make sure you document it! After all, you didn't get all dolled up for nothing, right? You flip your camera around and get ready to make the perfect pout, but that dim lit corner bar booth isn't doing your awesome self any justice. All you see is a dark blob and maybe an earring or the outline of a shirt collar? Time to relocate! Or add a flash. You can be the judge on that one. Which brings me to my next point…
Know when to flash
Sometimes a flash can be helpful—like when you're in a club or a dark restaurant, or there aren't any strategically placed streetlights at night. Flash is NOT great for mirror selfies. The reflection won't how your face, or your body, or honestly anything… except those water streaks on your mirror. Which doesn't show anyone how great you look, only that you forgot to Windex your mirror this week.
To filter or not to filter
Filters are a great way to enhance your selfie. They can smooth out skin tone and act as natural lighting when you don't have any around. Just don't overdo it. Adding filter upon filter layer can turn your great face into a faded-out ghost of eyes and a lip outline. Showcase all those great features, not just your cheek outlines.
Be yourself
Smile naturally. Don't overanalyze it. Aim the camera straight, instead of angling it from above (MySpace angles are totally OUT, everyone.) If you are trying to capture the most flattering angle, try pushing your face outward from your neck a few inches; kind of like jutting your chin out subtly.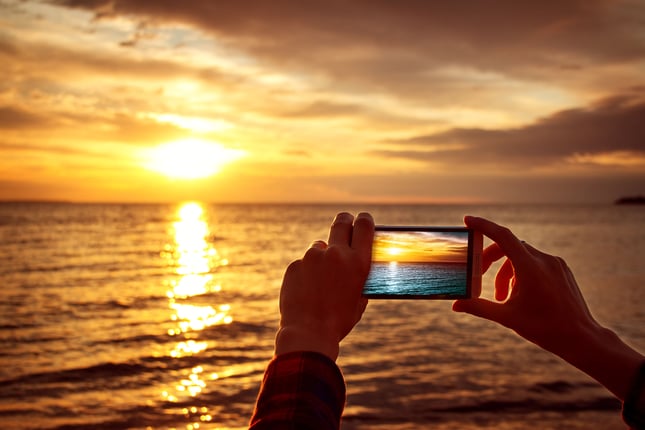 The Landscape
Go wide
Use a wide-angle lens to capture as much of the scenery as possible. Honestly, what's more frustrating than not being able to get everything into one shot? The last thing you need is the square photo feature cutting off that cool waterfall on your left side, while you're trying to capture the awesome mountain on your right side.
Time it out
Everyone knows that sunrise and sunset make for spectacular photos. You could capture a pile of garbage at sunset, and it would look beautiful. Seriously. But, a lot of people think that once the sun goes down, it's time to ditch the landscape/nature photo idea. Not true! There's this little-known gem called the "blue hour", which is right after your prime time of "golden hour" (sunset). It's when the natural light turns violet and blue, and can make your photos truly magical. So be patient and wait it out. You won't be disappointed.
Create balance
You may think you need to center your focal point, but actually—it's more effective to go with the rule of thirds: 2 parts sky, one part land; or vice versa. And capture interesting landscape monuments in the left third or right third of your lens. It creates a natural travel pattern for your eyes. And what can I say, the eye wants what it wants.
Use special features
The landscape feature on your phone's camera is a great way to capture a wider frame without splitting the photo into different shots. Get a tiny pocket tripod you can keep in a bag and mount your phone to when the opportunity strikes. It will help avoid shakiness that your freestylin' hands may cause when using this feature. Make sure the tripod mount has a swivel so you can capture the beauty at a wider range.
Whatever your photo style, the most important thing to remember is to take as many photos as you can, and share them with the ones you love.
Have a cool photo from your travels? Post it to our Facebook! We love seeing the great things our travelers are experiencing!