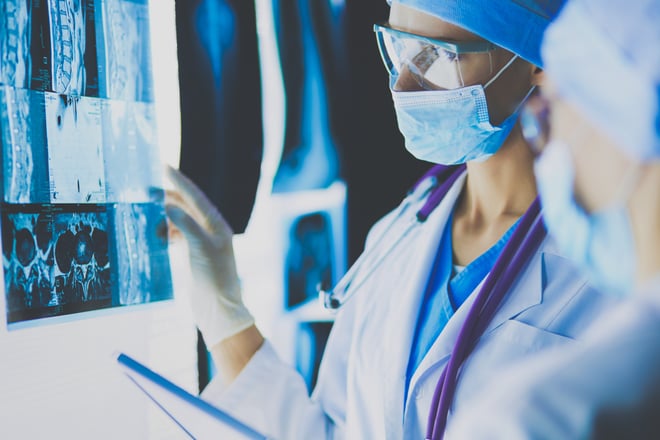 Ringing the bell on all things radiology!
Are you interested in a radiology job? Are you currently studying to be a rad tech? Maybe you just want to know how to climb that career ladder, or find something new an exciting in your field.
We're talking with Chelsea Boring, a superstar in all things radiology. She's gone from tech, to teacher, to recruiter... that's quite a journey! How did she do it? See our interview below.
How did you get your start in radiology?
When I was first considering career options, I had considered multiple career paths, teaching, nursing, family counselor, etc. I finally nailed down one and applied to nursing school and got accepted to UNMC. I just couldn't commit 100% to nursing, so I did some additional research in other healthcare fields and landed on radiology.
In the beginning, what interested you in radiology?
I knew I wanted to be in healthcare in some way. I did research and job shadowing. I loved imaging right away. I found the different imaging methods used to diagnose diseases and injuries fascinating. Getting to see the internal anatomy of the body is also pretty cool.
Word on the street is, you used to teach? What did you teach?
Yep! Sure did! I taught at Clarkson College! I taught patient care, radiographic procedures, angiography and interventional procedures, cross sectional anatomy, pathophysiology and pharmacology for the imaging professional.
When did you start teaching, and what made you decide to do it?
I started teaching in the spring of 2007. I first taught on a part time basis while continuing to work as an x-ray tech, but then was offered a full-time position. I just happened to be in the right place at the right time and decided to jump on the opportunity! I continued to work clinically during my 7 years at Clarkson, where I taught in their Associates of Science in Radiologic Technology and Bachelor of Science in Medical Imaging programs. I was also able to complete both the computed tomography and mammography board exams as well as get my Master's in Health Care Business.
What did you like about teaching?
I loved getting to see the "a-ha" moments... when a concept would click for a student. It's also incredibly rewarding to see my past students working professionally now and to see what they have been able to accomplish.
What made you decide to start recruiting?
I was looking for something different and wanted a change from being in the hospital setting, taking call, working nights, weekends and holidays. I first came on at Fusion as a Compliance Specialist and shortly after Fusion started their Radiology division, it seemed like a perfect fit to be able to use my knowledge and experience!
What is your favorite part of recruiting?
Early in my career I was always interested in traveling, and now it's very rewarding to help imaging professionals get to do it. I love being able to get them a job they are excited about, where they can meet new people, go new places and continue to learn new ways of doing things!
What is the biggest challenge in recruiting?
In the radiology division, we do not recruit new grads at this time, so it can be a challenge to let a potential candidate know that they are not qualified for travel. I wish I could give everyone a job!
Now that you've been through a lot of different aspects of the radiology profession, what is your biggest takeaway?
To jump on any opportunity that comes up, because you never know where it may lead!
Is there anything throughout your professional career in radiology that you would've done differently?
I don't think I would have done anything differently. I am a believer that every experience in life gives you an opportunity to learn and grow.
What would you tell others and what advice would you offer to those who are interested in choosing radiology as a profession?
I always encourage those just entering the radiology profession to take advantage of any chance to learn more and diversify your experience. If you can cross train into an advanced modality, do it! It will pay dividends in the future, especially if looking to travel.