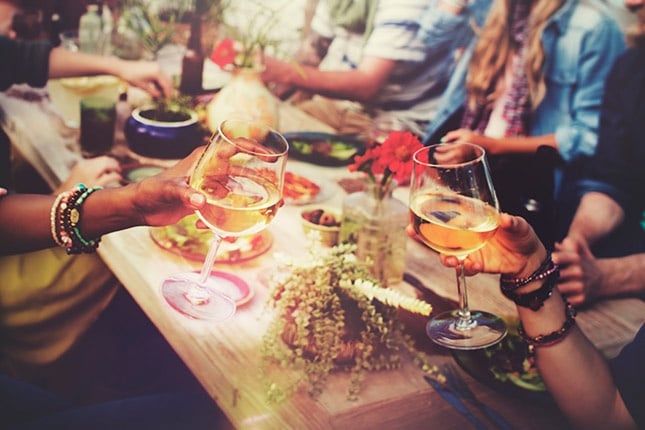 We're all guilty of it. Maybe you just spent a few weeks working nonstop towards a project or promotion. Maybe you've had other obligations taking up all your free time. Life can sometimes get in the way of keeping up with your friends. There's grocery shopping and bill paying and kids and work events. So, it can be easy to let some things slide; it's hard being a good friend. A missed phone call here and there to catch a few quick hours watching Netflix in your sweatpants. It's like—can't we all just SIT DOWN sometimes?!
When you add traveling into the mix, plus a busy medical career, and it can be exhausting to keep up with social obligations and updates. Maintaining friendships and making time for family is important though; these people are in your corner and have your back through everything, so it's nice to reciprocate and show them how important they are to you.
Gather a crowd.
When you're traveling, you have limited time at home or in cities where you're visiting. This means limited time to hang out with several people. Hmm, a conundrum. But, don't worry! You can see everyone at the same time! Try hosting a big dinner party, or invite everyone out to lunch or to a park so you can see everyone in the area in one fell swoop.
Also, get some one-on-one time.
Equally, make sure you balance your big events with small talks with each person. If you can't get around to everybody, don't feel guilty. Sometimes the day can get away from us, so schedule a coffee date or some other form of one-on-one time with friends you didn't get to talk to, or those special besties you want to spend a little extra time with.
Keep it consistent.
It's a lot harder to keep plans when they're random than if they are consistently and routinely planned. Make a weekly or bi-weekly date with your friends. If you're traveling, keep a routine "catch-up" date to talk on the phone or video chat. On a personal note, the majority of my friends and I no longer live in the same city, but we plan weekly days and times to update each other on our lives. I know I can always count on that weekly phone call at 7pm on Tuesdays.
Make a gesture.
Sometimes a small gesture can mean the world. Whether it's a card in the mail just to say hey, or a quick text with a funny meme texted to them. Equally, big life events—happy and sad—will happen no matter where you are. If a friend is celebrating something big (like a birthday or new life milestone) or mourning a loss of a loved one, maybe they'd appreciate a surprise visit. If not, send flowers or a gift to show them you're thinking of them from afar. Making time to show your friends you care can help curb the distance between you.
Get social.
These days, social media can be a communication lifesaver. It's so easy to tap your phone screen and instantly connect with hundreds of people. So, use it to your advantage and engage with your friends and family this way. Post photos of your traveling adventures on Instagram, jot down your day-to-day thoughts on Twitter, stay updated with Facebook, and chat one-on-one through Messenger. There's a whole lot more apps out there to help you stay in the loop too, so get to downloading and adding your friends!
Understand that friendships ebb and flow over the years, and some even falter from time and distance. As a traveler, you have a unique opportunity to make friends in different places you take assignments in, which can easily turn into long-distance friendships to maintain. These tips should help you find time to spare for your old friends and make room for new ones too.
Want more ways to stay close to your family and friends? Check out these tips for around the holidays and kick loneliness to the curb.
Should you travel? Signs the universe is saying YES!
Your recruiters are your friends too! Reach out to them for a new assignment.