*Disclaimer- you may need to grab a few tissues!
We love hearing stories from all of our travelers about their expeirences at each assignment. Both the highs and lows are great reminders of the lives you save each day and how many you constantly impact! This story was shared by one of our L&D RNs. There wasn't a dry eye in the office after her recruiter shared her email. THIS is exactly why we love what we do! Thank you to all of you superheores out there!
"I was working with a laboring mom and it was her first baby. I got her completely dilated and had her start pushing. We pushed for 3 hours. I worked so hard to try and help her deliver vaginally. I pulled out all my tricks, yet baby would not descend. I finally conceded to the fact that this baby was not going to fit. I called the doctor and asked him to come and make the call for us to go to Section. The doctor came and evaluated the patient while she pushed. He looked at me and said "good call Angela, your right, he is not going to fit". He graciously explained to the family that I had done everything in my powers to help her deliver vaginally, but that I had made the right call and was recommending what was safest for mom and baby. The family was very understanding and agreed to go for the C section. At 11:30 last night we started to gather the OR team and get everyone ready for a non emergent section. At this time the baby was not in distress, although he didn't look perfect on the monitor, he was doing OK and had a heart rate of 160. We took the patient to the OR got everything prepped and started the C Section. Just about 12:30 this morning the doctor pulled out a lifeless baby. He immediately handed me the baby and I took his limp blue body over to the warmer. I dried him off and rubbed on him, but got no response. I put my stethoscope on and listened for a heartbeat, but there was none. I looked at my other nurse and said quietly "I have nothing". I immediately started compression's on his chest and she grabbed the oxygen and started PPV. After 1 minute I stopped compression's and listened, still nothing. I restarted compression's and looked at by nurse and said, "keep going". I called for a respiratory therapist, knowing we may need to intubate. After 1 minute 45 seconds had past the baby let out a faint noise and took a breath. I stopped and listened and had a heart beat of 150. We continued PPV for another 40 seconds and finally he started to give us some weak cries. The anesthesiologist called over to me, "are you ok?". I said "we are good, I got him now". Respiratory showed up finally and I explained what had happened. By this point he was improving and we had an apgar of 8. I monitored him for another 12 minutes in the OR then quickly let the mother see him and explained that I needed to take him to the nursery so I can watch him more closely. By 30 minutes of age the newborn was doing everything perfect. He was crying, pink and beautiful. After mom came back from recovery, she looked at me and asked, "what was his apgars?". I gently explained to her what had happened. She cried and looked at me and said, "you saved my baby". I started to cry.
When I left this morning the baby was breastfeeding like a champ and was doing great.
I have never had a night like this. I am exhausted, yet feel so many emotions. Every time I think about what happened I start to cry again. I have been so fortunate to have never had to actually do NRP to this extent on a newborn, but I am so glad we get the training to do what we do.
Thank you so much for placing me at this assignment. I truly feel I was put here for a reason. "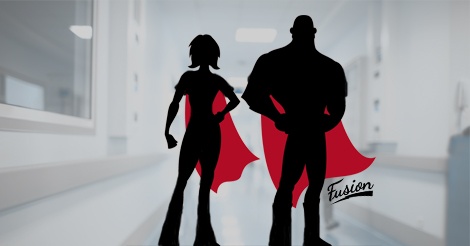 Do you have a story from assignment that you want to share? Email your recruiter today! We would love to hear about a day in the life of a real life super hero! Read more about how traveler has impacted others here!
Should you travel? Signs the universe is saying YES!