"I don't remember ever holding a baby before I became a dad. Ever. I was scared out of my mind the day Kyan was born…… I already had a fear of hospitals and being an only child with minimal experience with kids growing up, made for all kinds of anxiety. I just focused on not passing out," Joe Morlan, Laboratory Account Manager for Fusion Medical Staffing, says with a laugh.
It has been over seven years since Joe and his wife Sharla became parents for the first time. On July 27th, 2010, after hours of labor and pushing with no headway, Kyan Morlan was born via caesarian section. Happiness was immediately met with fear. Kyan wasn't crying. After what felt like eternity, Kyan was diagnosed with an anorectal malformation. More specifically, he was born without an anus. Something that is so rare, Joe and Sharla had no idea what that meant, if it was common, and most importantly: What did that mean for their beautiful boy?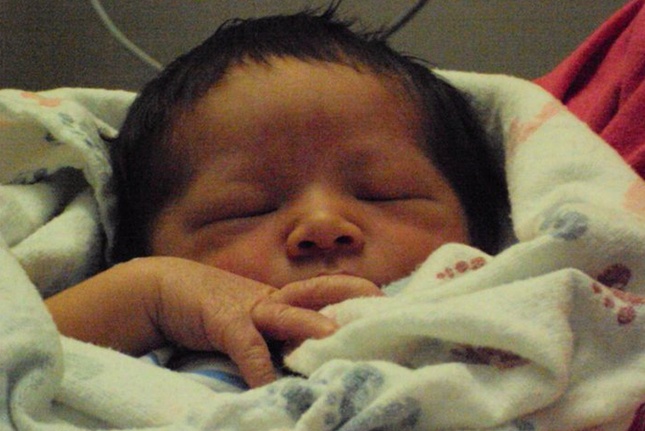 This diagnosis meant four surgeries by the time Kyan was 15 months old. The Morlan's have spent years working with specialists to help Kyan with his rare disease. Kyan's disease makes it hard to control accidents day to day. Joe recalls being frustrated when Kyan was younger and daycares refused to allow him to be in classrooms that were age appropriate, because he wasn't potty-trained.
"I was angry. At the time, we had no idea if he would ever have the capability. We still don't. My son was being punished for something that was completely out of his control. I didn't want him to be held back with his education too. We felt helpless."
Eventually they found a daycare who worked well with Kyan. Years later, things are getting better. Kyan now does a nightly flush routine that takes roughly 45 minutes. This routine makes it less likely for him to have accidents during the day, but it isn't easy and it is most likely lifelong. There are procedures that the Morlan's may consider later, but currently, this is the plan. Having less accidents has made Kyan's self-confidence soar. Joe looks up from his chair and smiles, "He's like a different kid, he laughs and talks more in school. Not having to worry as much during the day has been huge for him."
According to Rare Disease Day, there are over 6,000 rare diseases. The fact that there are often no existing effective cures adds to the high level of pain and suffering endured by patients and their families.
A couple of years after Kyan was born, Joe and Sharla became parents again. This time, a girl. Their daughter, Berklie is almost 5. When reflecting on how her older brother's disease has affected her, Joe responds without hesitation, "It has made her kind. She doesn't know any different. She sits with him every night after his nightly flush routine and watches a show on her tablet with him. She wants to be there and make sure he is okay."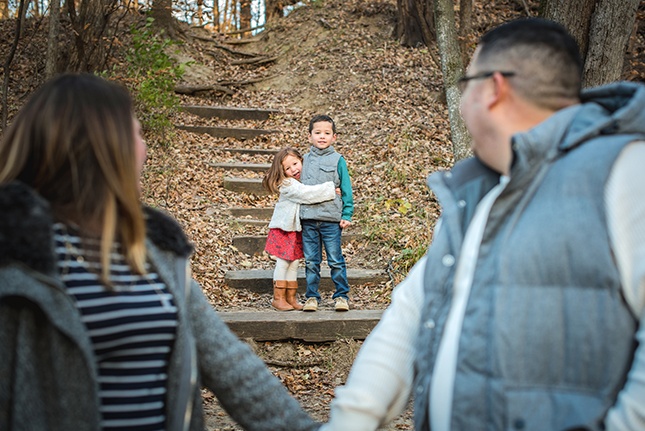 Kyan does not let this disease define him. He has hobbies and loves to do the typical things that little 2nd grade boys do. Sharla loves everything about her little boy.
"Kyan is an amazing kid - a good friend and a great big brother. He likes to play pretend and read to his sister. He has a budding passion for sports, especially baseball. He loves to tell jokes and play pranks on people. He loves sharks. He's goofy and silly and a bit of a daredevil."
Although Kyan has had an uphill battle in some ways, he still knows he has a lot to be thankful for. "The kids know that we are blessed and that we have a lot to be grateful for." Last year for Kyan's birthday, he asked his friends and family to bring gifts that would be able to be donated to 'Project Harmony', a local organization in Omaha that helps children that are removed from their homes due to abuse and neglect.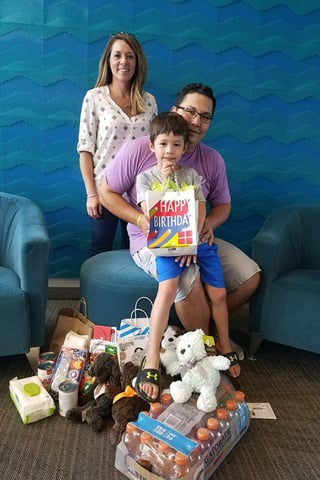 Sharla admits it hasn't always been easy. Becoming a parent for the first time is already nerve-wracking, because taking care of a newborn is something new. Taking care of your baby that requires extra visits to specialists, numerous surgeries and daily maintenance routines makes it that much more difficult.
"Kyan has not always been thrilled about going in for x-rays, or trying a new treatment or medicine or seeing a new doctor, but if Mom and Dad think it will help make his life better, he is willing to give it a shot. Kyan has taken it all in stride. It's been amazing to watch him grow and learn," explained Sharla.
I asked the Morlans a follow-up question:
Q: Having a rare disease diagnosis is hard. Many have never heard of your situation and often judgement is passed by those who don't know or understand what you are dealing with. Why talk about something so incredibly personal?
A: "I haven't talked about this openly before; it's emotional to think about all of it. I had never heard of something called an imperforated anus. Situations like this can happen to anyone. Rare diseases are everywhere. I hope that talking about our family's situation, others will realize that there are tons of diseases out there that you may have no knowledge of." said Joe.
The road is long and because diseases are rare, the ability to diagnose can be delayed.
"The lack of scientific knowledge and quality information on the disease often results in a delay in diagnosis. Also, the need for appropriate quality health care engenders inequalities and difficulties in access to treatment and care. This often results in heavy social and financial burdens on patients." -Rare Disease Day
"Kyan wonders sometimes, why other kids don't have to do the same treatments he does, why his sister doesn't also have to do flush therapy every night. And in the next breath, he will tell you about the plot of the latest Dogman or Captain Underpants book, about the comic book he and his friends are making after school, and about their football game at recess," Sharla details.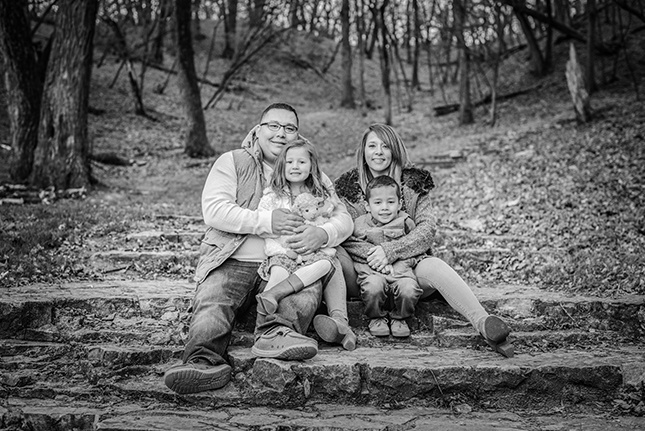 Joe Morlan did reflect on one fact with complete certainty, "I have learned throughout all of this that my wife is an absolute saint. She is the strongest person I know. When I get frustrated and want to fix it all, because he is my son and I can't stand to see him in pain, she is the one sitting next to him, holding him and doing the nightly routine without hesitation."
Follow Fusion's Be The Change page to learn more.