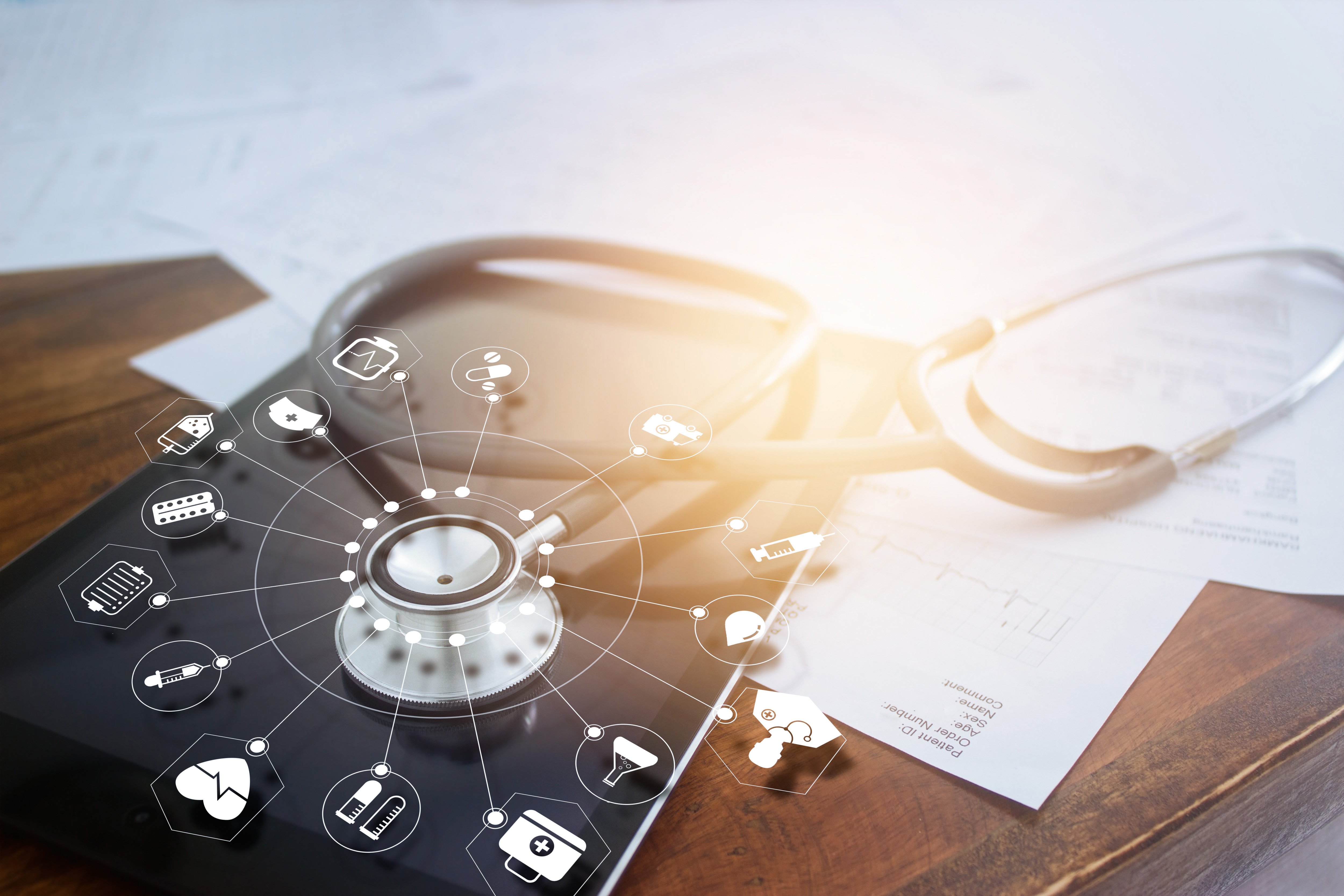 Technology changes lives. In the last half century, an increase in tech innovation has led to huge breakthroughs in the way we live our lives. Technology has helped us accomplish amazing things like landing on the moon and giving us access to a multitude of data and research possibilities in countless different fields.
For example, with the rise of the smartphone, the internet is now literally in your pocket and with you at (nearly) all times. Who would've thought we could have a research archive, news channel, social communication and connection, and the world's largest shopping facility all at the touch of our fingertips. Sure, technology has been great for our personal lives and the way we interact with others. It has also helped us do more than connect with our friends and find the best products to buy—technology has innovated the way we work in healthcare, too.
As tech continues transforming the world one new trend at a time, it helps make the jobs we do easier, more efficient and more accurate. In healthcare, this is huge as patients put their trust and lives in the hands of their healthcare providers. And, at the end of the day, nothing is more important than the quality and longevity of the lives we live every day.
New Tech Trends That Will Make Your Medical Job Easier
Drone Delivery Services
Drone delivery has ramped up in the last few years, but it isn't just for your latest online order or tonight's food delivery. Drone delivery is headed into healthcare.
A new program from UPS called Flight Forward has been running trials using drone deliveries of critical medical supplies. It recently was awarded U.S. Federal Aviation Administration (FAA) approval to expand to 20 hospitals around the U.S. over the next two years. It has proven the need for drone delivery to assist with healthcare operations that require a shorter delivery time and improved efficiency to better aid in patient care. In a press release, UPS CEO, David Abney said, "Our technology is opening doors for UPS and solving problems in unique ways for our customers. We will soon announce other steps to build out our infrastructure, expand services for healthcare customers and put drones to new uses in the future."
Other companies are following suit. Wing, a division of Google's parent company Alphabet Inc., has also received limited FAA approval to make deliveries for both Walgreens and FedEx, which could aid in medical delivery, and Zipline, a Silicon Valley startup, is delivering medical supplies to rural villages in Rwanda and Ghana (how cool is that?!).
Wearable Fitness Tech
According to an eMarketer report, around 25 percent of U.S. adults (56.7 million) use a wearable device at least once a month, and more than half use a smartwatch. Additionally, 3.8 million U.S. children and teens have a wearable device. Fitness trackers have made big waves in tech this last half a decade, but they do so much more than just tell you how many steps to walk.
The advancement in smartwatches has only risen as popularity and demand rise too. Today's average wearable devices not only track steps, but monitor your heart rate, track your sleep cycle, and sync messages and phone calls. Some forms of wearable devices can act as ECG monitors, by tracking your heart's electrical activity and sending reports to doctors. These devices also record other healthcare stats through self-adhesive biosensor patches. Wearable tech can help doctors and other healthcare professionals keep a close eye on the care of their patients while they're out and about in their daily lives and help patient self-monitor their own health, so they know when it's time to come in for a wellness check.
With all the benefits these smartwatches offer and more than 80 percent of people willing to incorporate wearable tech in their day-to-day, this tech trend is not going away anytime soon.
5G Network
With all the capabilities of our internet-driven world, one of the things we hardly think about in our tech-savvy brains is the network we're using. The quality and speed of the network we use every day matters even more when there's a need for telemedicine in remote areas or areas that are under-served. A network with a lag or poor quality is not only frustrating, but the delay in content delivery can decrease the quality of patient care and increase delays.
5G network capabilities can support healthcare organizations by transferring and sharing data faster and more efficiently. A higher quality network makes it easier to transmit large files so specialists can review and advise the care of their patients. It also allows for the use of AI technology, the use of Internet of Things (IoT), and the remote monitoring of patients, so getting much needed care is easier and faster than traveling several miles to the nearest clinic or hospital.
Extended Reality (Virtual, Augmented and Mixed Reality)
We all know virtual reality was initially used as an entertainment tool for the gaming industry. But, extended reality: virtual, augmented, and mixed are not just for entertainment anymore. Extended reality has made its debut in the healthcare market and is expected to reach $5.1 billion in revenue by 2025.
How are healthcare professionals using extended reality? Well, for one, VR/AR plays an important role in training and surgery simulation. This kind of training makes for more accurate surgeries, more skilled surgeons and overall better patient care and recovery. Additionally, VR/AR helps in patient care and treatment. Augmented reality has been shown to help support healthcare professionals during brain surgeries. Virtual reality helps patients who have cancer, depression, autism, and visual impairments.
3D Printing
3D printing is innovative technology used in several industries for prototypes, design work and new product development. In healthcare, 3D printing is beneficial to the medical industry in many departments and divisions. 3D printing helps create designs, prototypes and manufacturing for medical devices and surgical tools. Additionally, it can help surgeons prepare for procedures by replicating organs, bones, and blood vessels that are specific to the patient and tissues for transplant. 3D printing also helps develop prosthetics that are custom-fitted for the patient, ultimately making it more comfortable. Recent tech advancements in 3D printing in healthcare has led to more lightweight, stronger and safer products, as well as reduced lead times and lowered costs for production.
Other advancements in robotics and AI are on the forefront of healthcare technology and should be watched closely. When technology advances, there are more opportunities to incorporate this into our healthcare system provide better solutions to staff and patients everywhere. Healthcare is ever-changing and innovations must be made in order to keep up with the demand for increased improvement and quality for patients.