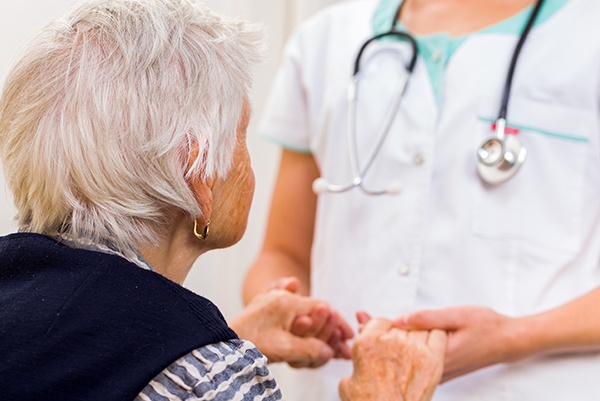 One of this year's healthcare trends is increasing the quality of patient care and customer service. CNA's are leading the charge on this trend, because they spend much of their time helping their patients on a one-on-one level. By developing a good rapport with their patients, they are improving the standard of healthcare directly at ground-zero: the patients we all strive to serve. So what does it take to be an awesome CNA?
THEY GET PERSONAL.
The most important role that CNAs provide is to help patients on a personal level. This can be with basic daily lifestyle activities while they recover, or other activities like housekeeping. As the needs of a patient change, so does the role of a CNA. On a personal level, when a CNA is caring for a person's specific needs, they establish a relationship with them, developing trust and personalized care.
THEY ARE GREAT LISTENERS.
Because of this established trust and personalized care, patients often trust their CNA's with their needs, grievances and, basically, develop a level of friendship. This is great for a CNA, who must listen to their patient in order to provide the specialized care they need. The first priority is to provide a clean environment for their patient to heal and a CAN spends a lot of their time managing these issues.
In addition to physically managing the health and healing of their patients, CNA's listen to their health concerns, document it, and provide this information to nurses and other healthcare professionals involved with the patient, which helps everyone provide the best care possible.
THEY ARE TRIED-AND-TRUE CAREGIVERS.
It takes a specific type of person with a caregiver attitude in order to be a CNA. Not only are they in charge of the physical and emotional comfort of their patients, but they are invested in the health and happiness of them as well.
So, maybe you're raising your hand saying, "Hey, this sounds like me!" That's awesome, because CNA's are true superheroes with a heart of gold to do their job. But, what are the benefits of being a CNA?
The Chance To Make a Difference
Personalized care goes a long way when helping to improve the lives of others. When you work firsthand with your patients, you have direct impact on their well-being. You can positively affect their lives and the lives of their families, which in turn, is very emotionally rewarding. Think about it! You're at the forefront of helping people feel better. That's a huge responsibility that comes with a lot of job satisfaction.
The Chance To Gain Experience
When you're a CNA, you can dabble in a variety of fields, and figure out which specialty suits you best. Not a lot of jobs allow the "try before you buy" method, so this is a huge opportunity to discover what you're good at and what you're passionate about in nursing. You can work in a variety of places—from larger hospitals to smaller practices to traveling—CNA's are needed everywhere. Flexibility doesn't just stop there. CNA's have very flexible jobs. While some CNAs move over to other kinds of work, or keep a standard 9 to 5 job, you also have the ability to set a schedule that works for you.
The Chance To Specialize
Speaking of dabbling, once you decide on your specialty, you can start a more specialized nursing career, if that's what you're looking for. Some tracks include RN, surgery, pediatrics, etc. What are you passionate about? As a CNA, you get to follow that passion path as long as you want.
The Chance To Get That Money
So all of this freedom, flexibility and emotionally rewarding work is wonderful, but you need to get paid too, right? Most people who choose to be a CNA don't do so for the money, but getting rewarded for your passion is really nice. A CNA's salary varies from location to location, but considering the job certification requirements are not extensive, you can definitely make good money with minimal hoops to jump through. Plus, some CNA jobs also give you bonuses and benefits, like health, dental, vision, life insurance, disability insurance, etc.
The Chance At An Affordable Education
Money isn't everything, but these days we're all talking about how expensive furthering your education can be. Good news! Becoming a CNA is actually affordable. Becoming a CNA requires certification rather than a degree, which makes the process faster. Plus, some certifications can be done online, or through community classes, so you're not putting the rest of your life on hold to get educated.
Additionally, if you want to continue your education into a specialty field, some courses allow transferrable credit, so you're not paying for or spending excess time on getting to your goal. As a CNA, it can also be easier to get into other programs. When you have working experience in the healthcare industry, you have an upper hand into getting accepted to these nursing programs.
The Chance At Job Security
Regardless of our economy, we will always need nurses. Who else is going to care for patients in a such a personalized environment? And as we discussed earlier, the demand CNA's is expected to increase faster than average for most occupations, so actually, with science and stats to back us up… WE DO NEED YOU. If that's not job stability, I don't know what is.
Want to be a CNA? The job outlook for CNA's is expected to grow 21 percent from 2012 to 2022, fast than average for most occupations. Salary and requirements vary from state to state, but most states do require a training program and a state test in order to practice. All in all, it's worth it, because great CNA's make a great difference.