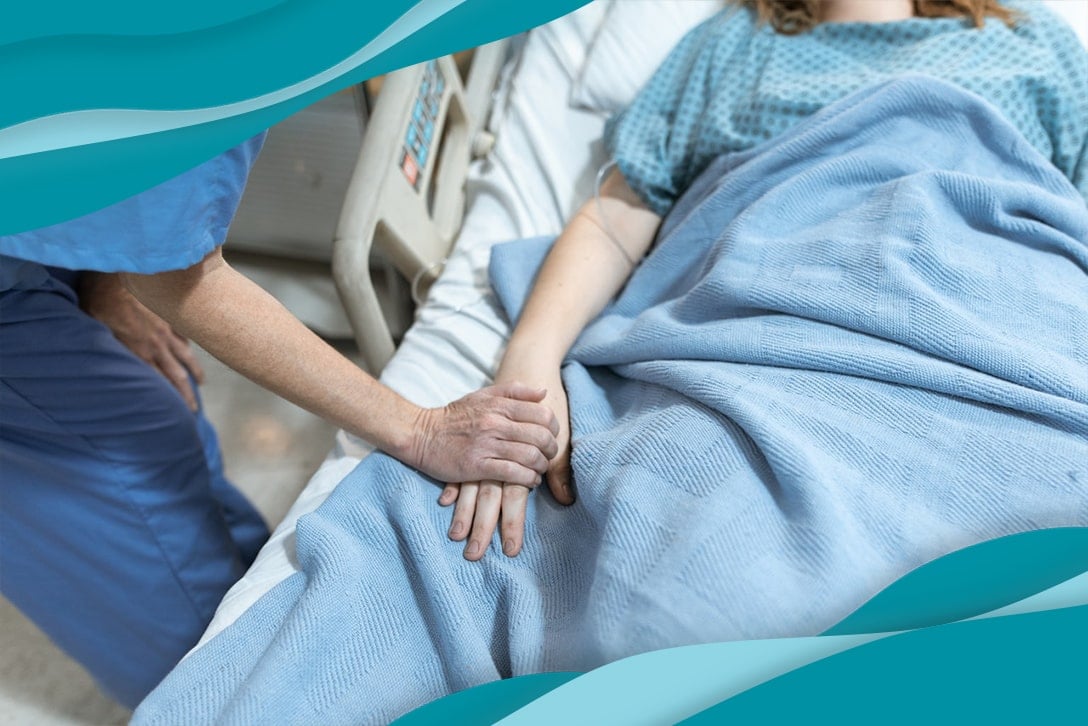 The worst part about the holidays is that very few places are open when you need to pick up that forgotten Thanksgiving pie or those holiday-themed disposable plates. A quick search of "what's open on Christmas" shows that that many of us have had a moment of questionable panic, taking to the internet to solve our problems of a burnt holiday meal, forgotten grocery item, or an unexpected house guest we didn't shop for.
And yet, out of all the closed restaurants and stores, hospitals and other medical facilities are always open. Eternally. Forever and always.
It's like a casino, only those bright lights are bouncing off of stark hospital room walls and not a Vegas marquis. Viva Las Hospital? Well, not really. Nobody is rockin' around the Christmas tree in the ICU or hospice room, because let's be honest, nobody wants to be in the hospital over the holidays, or ever.
But what about those patients that have no choice to spend their holidays in the hospital? You've met these patients as a professional med traveler. Sure, you may be losing out on your holiday spirit when you're scheduled to work a holiday shift, but patients are also missing out on their holiday fun, and to make matters worse, their holiday feast comes from a cafeteria. The bottom line is patients notice you—and they're happy you're there with them.
Patients are Grateful You're Working That Holiday Shift
Each holiday, nurses and allied health professionals sacrifice a little more to go the extra mile for their patients. As you may know from personal experience, many nurses and other healthcare staff put in full or extended shifts to care for patients who are spending their holiday time in the hospital, clinic, or other medical facility providing care. The lives of a medical team are dedicated to helping others, and that means 365 days a year, 24 hours a day, seven days a week.
All I want for Christmas is a fun RN
Holiday cheer may be at a low when you're working in the hospital over the holidays, but your presence is the only present most patients want. Just by being there, you can be a great comfort to someone spending their time cooped up, ill, and just generally not feeling that good 'ole holiday spirit. And even if you're not there with bells on, you're there, and that's what matters.
Can you imagine if you weren't working that holiday shift? Cue the chaos. Although a recent study shows that hospitals tend to be less busy in November and December, it can feel like the trauma doubles between the sick and injured patient load and general holiday blues.
Sickness, accidents, and illnesses wait for no one! They don't exactly take a vacay the way that a lot of people do during these winter months and some of the most common holiday-related accidents involve injuries from sharp objects, falls from a height, and poisonings (no, not in the "Criminal Minds" kind of way). So, folks, be careful when you're carving that turkey this holiday season and stay away from tall heights.
A traveler's gift to perm staff
If you're a travel nurse working during the holidays, or a traveling medical professional in another division, you might be filling in for perm staff. You have an advantage of working where you want and when you want all year, so sometimes taking on that holiday shift for a staff nurse is a trade-off. Think of it this way: You're helping perm staff take time off to spend with their families over the holidays, and in return, you get the privilege of quality time with your patients, making everyone's holiday extra holly and jolly.
By the way, a bonus to working that holiday shift means there's more one-on-one time at work, both with patients and mentors. Even with an influx of hospital patients on the holidays, facilities may not be as heavily staffed in certain divisions. Take advantage of these holiday shifts and shadow a mentor or get some extra learning in your corner. It could be the perfect opportunity to get some one-on-one time with your superiors and schedule hands-on learning with your fellow coworkers.
Spreading ho-ho-holiday cheer far and near
As the famous saying goes, "There's no place like home for the holidays." And staying home is exactly what people are doing, even when they should be hospitalized. In fact, hospital emergency rooms see more on an influx during the July 4th holiday than during winter holidays, nearly double than other days of the year.
Not surprisingly, that's because people tend to deal with fireworks and burn-related injuries during that time but tend to delay their care and symptoms around the holidays, avoiding doctor visits, ignoring symptoms that cause discomfort, and hoping that illness will pass without need for care. It seems like everyone would rather be home regardless of how they're feeling, but for those needing emergency care and for hospitalized patients and healthcare workers, home isn't always an option.
You know how much it can suck to be away from home and loved ones. So how can you give back during the holidays?
As cheesy as it sounds, a positive attitude goes a long way to helping your patients feel happy and cared for when they're unwell and missing out on the festivities of the season. When you give off that holly jolly vibe, your patients feel it, and they'll be inspired to make most of the season with you while you're there.
"Patients are extremely appreciative of the medical and nursing staff that are stuck working [during the holidays]," said Danielle, RN. "No patient wants to be in the hospital on a holiday either, so a smiling face and positive from staff always makes a huge difference, and that in itself can be very rewarding."
Celebrate what matters to you
Sure, you're probably thinking of the holiday traditions you have with your family, and how your holiday shift schedule is throwing a big wrench into your perfect plans. But what if you gave your mindset a makeover?
Instead of focusing on what you're missing out on during the holidays, rearrange your thinking, and make the most of your holidays in the hospital. Start a new tradition with yourself. Decorate the hallways. Bring gifts to your patients and coworkers. Share something delicious in the break room. Your options are literally endless.
By changing the ways you think about where you spend your time and energy, you can shift your holiday spirit into something much more and give back. And isn't that truly what the holidays are all about?
Another way to shift your mindset is to channel your inner child. Kids have this innate superpower that allows them to feel the magic of the holiday season a lot deeper than adults do. Think about what the holidays meant to you as a little one and share that with kiddos in pediatric care. Your care and time go a long way to help them feel loved and special during (and also not during) the holidays. Kids need that magic and hope, and your inner child is there to give it to them.
Life happens unexpectedly and some of that can include illness or accidents. Medical care is essential. Hospitals are essential. You are essential. And so, these crucial needs must be met, day or night, holiday or not, even when everyone else is cozy on the couch, sipping drinks, and sharing stories with their loved ones.
Whether you're voluntarily working that holiday shift this year, or you lost the workplace lottery this time around, your time and efforts are so appreciated by your patients and their families. With a little cheer, working during the holidays is what you make it. Why not make it a season full of kindness and gratitude?