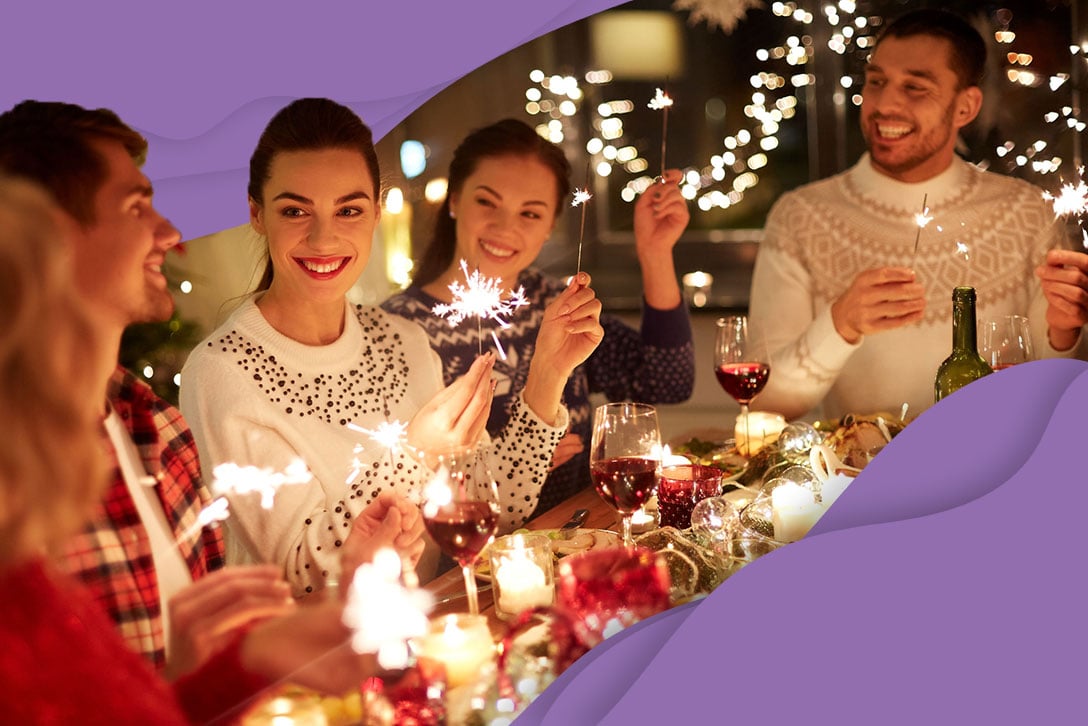 COVID-19 pandemic has been stressful for many people, including the healthcare professionals who are keeping everyone safe. Anxiety and fear about getting infected with a new disease have been overwhelming, causing strong emotions in people of all ages. Children, teenagers, young adults, and elderly people – everyone is worried and unsure about how to behave, especially when it comes to traveling, vacations, and heading home to visit family and friends during holidays…. traveling healthcare professionals are no exception.
Planning Holiday Travel During COVID-19
Public health actions, such as face masks and physical distancing have affected mental health, making people feel lonely and isolated. Physical distancing can increase stress, anxiety, and depression. Even though these standards and protocols are essential to reduce the spread of the virus, there is no denying the mental effects they can have on people as well. Because of this, it's important to cope with stress and anxiety in these tough times and people are turning to vacation plans as a way to do so.
Medical professionals should take a break from work, and it is important for their mental health and career success. Taking time off from work and spending time with family and friends is essential to prevent workplace burnout for medical professionals. They can maintain their mental health given the added stress of COVID-19. Research has also linked vacation time to lower blood pressure and better sleep, improved reaction times, and a longer lifespan.
Challenges in traveling overseas during the pandemic
Challenges to any international travel during COVID-19 include travel restrictions, mandatory quarantines, and closed borders. Foreign countries may implement travel restrictions with little notice, particularly in destinations which were previously low risk.
If traveling medical professionals choose to travel internationally, there may be some challenges entering other countries from the U.S or returning to the U.S. after traveling overseas. Despite the increased toll from the pandemic, locations worldwide are beginning to open again. Airline companies are reinstating routes and more traveling medical professionals are getting on planes easier.
Even though several countries are welcoming visitors, for now, traveling healthcare may look different in many ways. U.S. medical professionals may not have the ability to explore as freely as prior to the pandemic in a world of physical distancing, face masks, two-week quarantine, and closed businesses.
Challenges in traveling throughout the U.S. during the pandemic
One of the amazing perks of being a traveling medical professional is the ability to explore new cities and absorb iconic landmarks, museums, and theme parks. However, as they look to the future while the country reopens, you can expect a much smaller and controlled crowd. Mandatory temperature checks, crew and visitors in masks, and social distancing are all COVID-era "normal."
Vacationing is far from the same thing as traveling as a healthcare professional. However, travelers making plans to visit family and friends during upcoming winter holidays will still face similar hurdles as vacationers.
Airline and tourism travel
Airlines have continued their operations throughout the COVID-19 pandemic, although at reduced numbers. Additional practices that airline companies have adopted over the last few months will shape the future of flights – according to the World Health Organization (WHO).
Moreover, every state in the U.S has re-opened in some way, but their approaches are different state by state. For instance, many states have now lifted "stay-at-home" orders as well as allowed certain businesses to start operating again, which means more halted tourism will also re-open soon.
At the same time, COVID-19 is still spreading around the world. A new report published by Johns Hopkins University highlighted that some 10.5 million new cases and 517,000 deaths occurred worldwide in July 2020.
Similarly, the death toll in the U.S. has passed 130,000 and COVID-19 cases are surging in many states, including Arizona, Texas, and Florida, all of which have re-opened businesses to a degree.
Is it safe to travel in the U.S.?
There is no clear answer to how safe it is, because of the different restrictions throughout the country, but when it comes to traveling in the U.S, experts argue that it all depends on the context.
According to the CDC, the safest way people can protect themselves is to stay home. However, with winter holidays coming up, many people who have been separated throughout the pandemic or due to the nature of the traveler profession are trying to find safe ways to see family and friends. When planning a vacation, "local and short trips are best." This applies to everyone, including traveling medical professionals who are not only planning a vacation during a pandemic but are also traveling to different locations for new travel assignments.
How to travel safely during the COVID-19 outbreak
Some territorial, local, and state governments have requirements, which enforce physical distancing, public mask wearing, and home quarantine for up to two weeks (for people who have traveled recently). According to the CDC, people must take the following steps to protect themselves and others while traveling:
Avoid contact with people who are sick.
Maintain physical distancing – i.e. six feet between you and others.
Limit contact with frequently touched public surfaces, such as elevator buttons, handrails, and kiosks.
Wash your hands and use hand sanitizer, especially if you come in contact with frequently touched surfaces.
Avoid touching your mouth, nose, and eyes. Always wear a mask. Cover sneezes and coughs.
Wash your hands for at least 15-20 seconds and make sure to use high-quality anti-viral soap.
Use sanitizers that contain at least 60-70% alcohol when soap and water are not available.
Follow the new TSA rules while traveling within or outside the U.S.
Carry food items in a plastic bag and place them in a bin for screening while passing through airport security checks.
Personal items, such as phones, wallets, and keys must be placed in carry-on bags.
A lot of travel precautions are not entirely different from the rules of traveling in standard cases, but they do add a level of protection and precaution to you and those around you as we live through this healthcare crisis. Everyone wants a sense of normalcy after such a lifestyle upheaval and seeing those we love is necessary to maintain positive mental health. Planning travel in a vacation or work capacity, and visiting family and friends just require an extra level of thoughtfulness to enjoy.