One morning a few months ago (it must have been the second or so day of my current travel assignment), my new co-worker turned and looked at me - stooped over my new work laptop, at my new desk, at this new and foreign outpatient clinic, in a new and foreign town- trying to sort out the new documentation system, and said "I just don't get why you all do this to yourselves!" He was referring to being a traveler, clearly. He was joking, and we laughed, and I'm pretty sure I shrugged and said, simply, "Well, I love it." Thing is- I do love it. And knew I would get the documentation system within another day or two. And really, my reply to his statement would have been more than he bargained for… most likely an in depth lecture about all the reasons I love travel and all that travel has brought to my life. Oh wait… it's this blog post!
(Well quickly- I am a physical therapist originally from Brooklyn, NY. I completed my Doctorate at Nazareth College of Rochester, NY in 2012. I moved to Denver, CO where I worked a permanent PT job in the acute setting (lots of ICU, trauma, wound care). It's not that it wasn't great. I worked with a great interdisciplinary team, in a great city, at a great hospital. Things were great, and super comfortable. So, after awhile, I decided to travel. And after two years of travel, this is what I've learned).
There are great things about being a traveler! I love:
1. Being able to try a variety of settings with no pressure. In just two years of travel I have experienced nearly every PT setting, without the stress of ever "leaving" a job. And experience in a wider variety of settings actually means a wider breadth of knowledge and expertise than colleagues in permanent settings. I used to think travel jobs always required specific setting experience, and while many of them do, I have found that the recruiters at Fusion have done a great job of pairing me up with a potential assignment so that when "the fit" is solid, the job will train you just to have you there. Have faith that you will learn on the fly and do great, and you will!
2. Getting to see the country, for work- duh! Since beginning travel, my husband and I have lived in 4 places in Colorado, 2 places in Washington, 1 place in Oregon, and are headed to California next. (I am also licensed in Alaska and Hawaii and my wish list continues…) My husband and I are both native New Yorkers, so getting to live all over the west coast is a thing of dreams. Not only are we "exploring" these places, but we are fully immersing ourselves in the day to day and culture of that place, which is the best. There is nothing like driving to the fresh fish market here on the Oregon coast after work, or weekend mountain biking in Fruita, CO when we were living on Colorado's Western Slope. It's the best day-to-day we could have ever dreamed of.
3. Meeting people- how crazy is the feeling of pulling into a town or city where no one knows you, only to drive away months later with a handful of new friends- maybe even some of them for life? We get a thrill out of sharing experiences with others. As goes the famous Christopher McCandless quote in Into the Wild, "Happiness is best when shared."
4. Taking time off between assignments… to, well, travel more. No more are the days of "two weeks vacation per calendar year." That in itself is one of my favorites!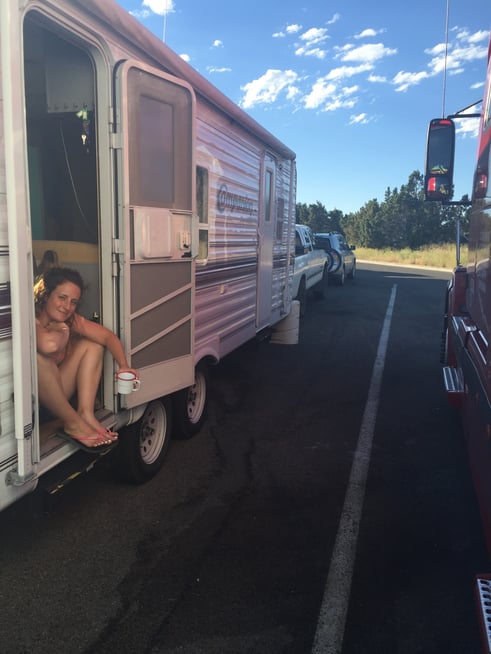 And of course, there are some things that are annoying for travelers! Like:
1. The necessity of learning a new documentation system. That's just a given. Also, figuring out the lay of the land (like which lunch lady gives the most mashed potatoes, or, ah, where the fax machine is)… but usually as long as you take it in stride and think/act confidently, you will be fine.
2. Finding an apartment. This is a real pain for just about all travelers out there. It's not just the apartment though, it's the additional fees for a short term lease, for furnishings, and for Fido, if he's with. Next thing you know, a $900 studio is nearly triple, but at least the stipend is good for it.
3. Figuring out a job for your travel partner-in-crime. I am fortunate enough to travel with my husband, but he is not in healthcare, so there is always some figuring out to do there. In trying to make travel like more do-able for us, my husband and I purchased a 29-foot camper last year. Before taking the leap, we were moving from apartment to apartment, and were feeling homesick. Moving from town to town and using rented furnishings was getting old. I wanted my own bed, and a "constant" living space regardless of where we were living. At the same time, we were not anywhere near ready to settle down somewhere permanently. The camper was definitely the answer to that dilemma. At first, I said I would trial tiny camper-life for 1 assignment only before determining if we wanted to make upgrades to the space. Well, we loved it so much that by the third night in the camper, we were ripping down wall paper and re-upholstering the sofa. Now a year later, we finished all our upgrades and "Kit" is our perfect home on the road.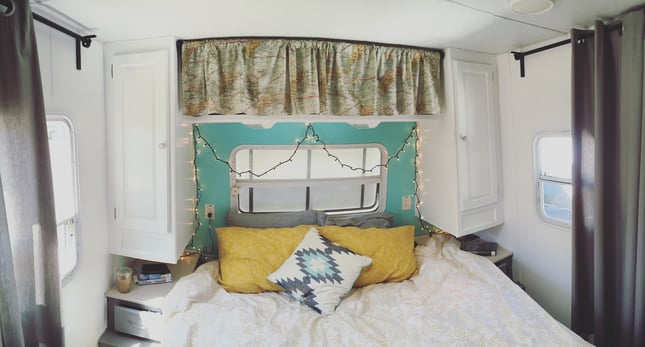 (*disclaimer: finding RV parks and campgrounds near assignments is still a project, but it is still much easier and less expensive than an apartment! And the good news is, if the place stinks when you get there, you can just drive somewhere else, which we have done before).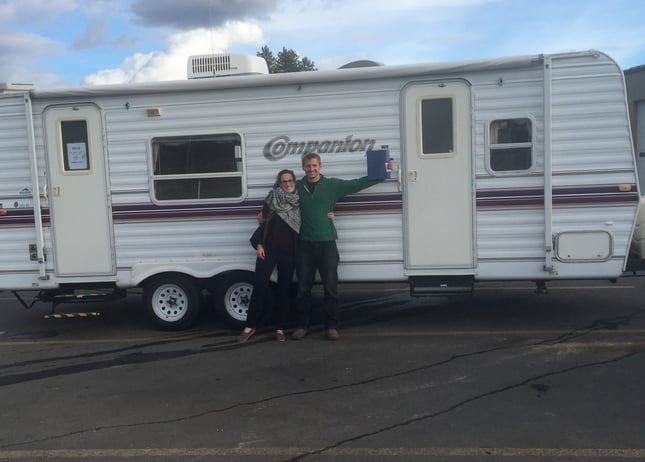 My biggest tip for other travelers is this: Every time you go to start a new assignment, think only of how confident you felt on the last day of your prior assignment. By the time an assignment ends, you know your way around the place with your eyes closed. You have made friends, you know your co-workers well, and you run through your day like a well-oiled machine (in just 13 weeks!). Many of us have even been asked to train or brief an incoming traveler while on assignment, which is a further indication of how well we catch on. Just remember, that's how confident you will be in this new assignment too. It's just a matter of giving yourself a chance, a little time, and a big pat on the back.
Should you travel? Signs the universe is saying YES!
Check out these reads for other tips, stories about travel, and MORE!
How Travel Led Me To My Dream Job!
Top 11 Reasons To Travel (with Fusion)
How to Choose the BEST Recruiter for YOU!