I ask myself every October, "What can I do this month to help celebrate and promote Physical Therapy?" I imagine a lot of other travelers ask themselves the same thing and come to the same usual outcome as me during National Physical Therapy Month - you do nothing. This year my job has been made easier by PTDayofService.com. #PTDOS aims to bring PTs together on October 15th to serve their communities locally and around the globe. While many will be participating in activities that are specific to PT, others will be grouping local PTs together to serve in food banks, homeless shelters, and a great variety of other community programs that need some hands to help. I don't think that it's necessary to find something PT-specific to do this month, just get out and serve in any way that appeals to you in the name of the Physical Therapy profession. If you happen to read this before the weekend of October 15th, you can hop on PTdayofservice.com and contact an ambassador in your area who may have a project you can join.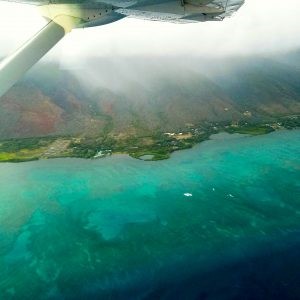 The fish pond we will work on is in the dead center of the picture. There's another, bigger one off to the right with a thinner wall. There's a lot of mangroves filling in the ponds in this picture, which is one of the things we will be working to remove. I know scale doesn't do justice here, but the fish ponds are HUGE.
Here in a rural community in Hawaii, we only have 4 PTs locally. The 4 of us, with our families and staff, will be joining a local non-profit to help restore an ancient Hawaiian fish pond. The fish ponds were unique to Hawaii compared with other Pacific cultures. The fish ponds are lava rock walls built in shallow water forming a large contained semi-circle of ocean. As the tide comes in, water and small fish pour in through the rocks, but the fish are trapped inside, creating a high density area for fishing as they grow bigger. Some of the best fish ponds, like the one we will be working on, were reserved specifically for Hawaiian Royalty to eat from. Should be a great morning of hard work (at least as hard as it gets on a beach in Hawaii), followed by a potluck meal to reflect on our experience.
I'd like to take my usual October question and flip it on its head: Rather than asking what can I do this month to celebrate and promote my profession, I'd like to pose a question that I think any traveler can ask him or herself: "What can I do on each travel assignment to celebrate and promote my profession locally?"Here's a few ideas, some I have done in the past, some I would like to do in the future. Some are specific to National Physical Therapy Month, but others can be done on any travel assignment, anytime.
Change Your Work Desktop
APTA has resources on their website which include PT Month Logos, links to PT Day of Service, ideas to promote #choosePT, and templates to send to local legislators to legally pronounce October National Physical Therapy Month. Find APTA's resources at www.APTA.org/NPTM. Changing your desktop is one simple way to get the word out to co-workers and patients that October is PT Month.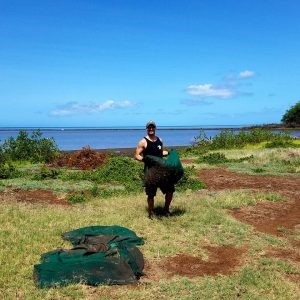 The fish pond restoration is a monthly project, Here I am with a bag of gorilla ogo, an invasive seaweed that we are working to remove. In the background, you can see the wall of the fish pond stretching out in the distance just below the horizon.
If #choosePT is a new phrase to you, let me do my PT month work right now and let you know about it. There is an ongoing epidemic in America of opioid abuse. There is a clearly documented path from the abuse of prescription opioids to using other illegal hard drugs. While there are people whose pain is being appropriately managed by prescription opioids, many others are being inappropriately prescribed these drugs. We in Physical Therapy are uniquely situated to educated and treat people with acute and chronic pain who otherwise would need opioids to manage their pain. The CDC has named Physical Therapy one of the main alternatives to opioids for pain management. This is the #choosePT campaign - choose Physical Therapy to manage pain rather than entering the potentially harmful cycle of longterm opioid use.
Health Fairs
Many communities have health fairs on a regular basis. It's easy to show up, take some blood pressures, screen people for falls, or do a postural analysis - but are those typical heath fair activities too easy? I challenge you to get creative and take it to the next level. As a PT, you could offer free bike fits, set up a mock-office and do ergonomic education, or do functional movement screens - all are quick, offer valuable information to the attendees, and demonstrate a meaningful PT skill.
Write A Letter
Write a letter to the local paper about whatever hot topic is in the air and in your arena. There are always new bills running through congress that affect the care patients will receive in the future. These are great topics to sound off on. Write in and let people know why they should be excited about possible changes in law that could improve their personal healthcare experience - urge them to contact their congressional representatives. Sometimes you get lucky and topics come up locally that beg public input from working healthcare professionals - local partnerships aimed at driving down the cost of healthcare, efforts to stem prescription drug abuse (#choosePT), or discussions in a community about the need for improved elder services. If you keep your eyes and ears open, you'll find all kinds of topics you can meaningfully contribute to by writing a letter to the editor in the local paper.
Make An Appearance on Public Access Cable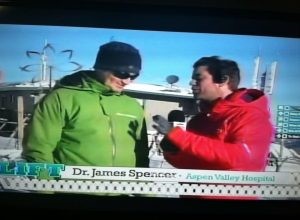 The best screen shot I have of myself on "The Lift" - the daily morning program on channel 82 in Aspen, CO. Me and Tory had a great chat about ski injuries while atop Aspen Mountain. Also, our jacket colors were complementary.
Whatever your role in healthcare, there is some topic that you know forwards and backwards and you love talking about it. Other people find this topic hugely interesting and would love to hear about it. For me, my topic is ski injuries. When I'm working in Colorado in the winter I talk ski injuries constantly for 40 hours a week. Sitting down with the local cable host and talking about this topic for 3 minutes was easy and fun. Pick a topic that's in your wheelhouse, something you know so well that you don't even have to think about it. The right local cable show would die to interview someone who is living locally for a short while and has something interesting to offer on a health and wellness topic - give them a call!
Community Classes
There are classes going on every day in every community. The class might be yoga, tai chi, aging gracefully, CrossFit, a community speakers series, self defense, a workplace safety meeting, or any number of other things - as a health professional, you have knowledge to contribute.
My wife Kate, also a PT, somehow found herself giving injury prevention talks to pregnant women. First, here in Hawaii one summer, she filled in for the regular PT to give the usual talk about potential orthopedic issues encountered during pregnancy. When we returned to Colorado, the local community center got word of her pregnancy talk through a friend, and she did a presentation there as well. So random, especially considering she had no specific experience or expertise in the topic, but I think this is a great example of things we quickly write off common knowledge that is not known at all! People do not know where the ACL is, they do not know to stay relatively active following a run-of-mill back injury or ankle sprain, and they don't know about the orthopedic changes that can occur when pregnant. There are so many people out there who want a little piece of your knowledge in their brain - go find those people!
Volunteer at a Road Race or Triathlon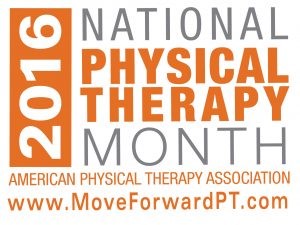 ...but mark my words, DO NOT give massages. Soft tissue mobilization is only one small intervention in the broad scope of PT. There's so much more we have to offer at these races than sports massages - set up a quick footwear consultation booth, offer mini-consults to give home exercise programs for minor aches and pains, or offer a brief injury prevention program. Whatever you choose to do, show off the skills we have as PTs. For a traveler, this particular suggestion might be more along the lines of things to suggest to the owner of the clinic you are working for.
Dust Off Your Elevator Speech
You have a few seconds and one sentence to describe what a Physical Therapist does. Ready. Set. GO! This is the classic elevator speech. I think most PTs do a great job serving their clients in the clinic, but do a poor job of describing exactly what it is we do. In your one sentence, did you mention we are the experts in human movement, did you mention we are the primary non-surgical option for musculoskeletal injuries, did you mention that PTs are educated at the Doctorate level? Probably not - but take some time to think about how you would like to concisely present to a stranger what it is a PT does on a daily basis. It's the least you can do this October.
Happy Physical Therapy Month everyone! Get out there and represent our profession well wherever you are. If we all give one day to PT Month with half of the enthusiasm we greet our patients with each morning, I know we'll accomplish a lot.
Share the ways you will be giving back with Fusion!
Follow Fusion's Be The Change page to learn more.
James Spencer and his wife Kate are traveling Physical Therapists with Fusion Medical Staffing. James normally blogs about the life of a traveling PT at hobohealth.com.