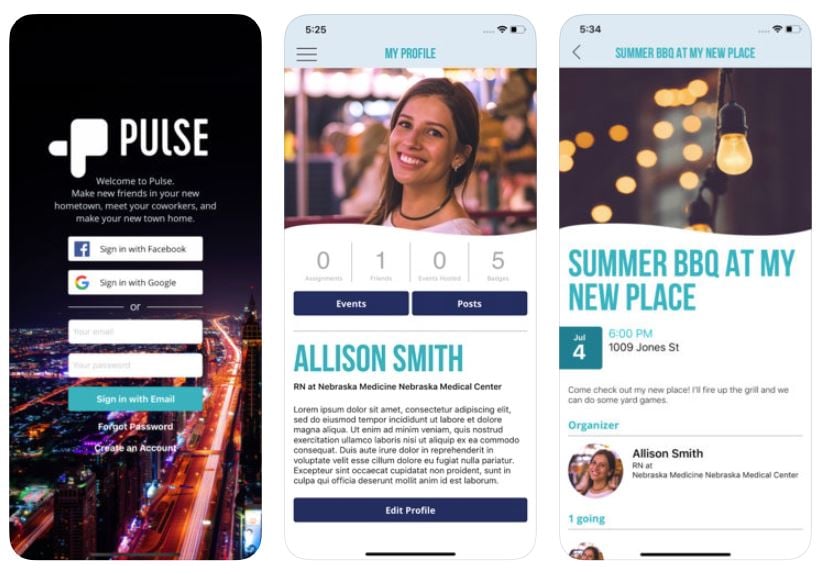 Being a medical traveler creates a busy lifestyle. With long hours, varying schedules, and finding time for yourself and your loved ones, it can be hard to find new friends and colleagues. Not to mention, you're picking up and moving to a new city every 13 weeks. Wouldn't it be great if you had a quick tool at your fingertips to help you connect with fellow medical travelers? We found it. It's Pulse.
Pulse: The 2019 Best App For Travelers
The Pulse App for travelers is a new social app made specifically for medical travelers to connect with one another while on assignment. You can host your own meetup, find recommendations for places nearby, post in your community, chat with other professionals in your field, and earn badges along the way. The more you use Pulse, the more badges you earn!
This app is made just for travelers, so we talked to a few of our own who are already using it to help give us an inside look on what Pulse has to offer.
What are others saying about Pulse?
"I've gotten to talk to someone who works in a different unit than I do and now we see each other at work and say hi! I literally tell all the travelers I meet about the app, because it really has so much potential." - Abbie Yoder, RN
Using Pulse
When first clicking into the Pulse app, you're automatically directed to their events page, where you can view events that you're already part of or explore different events. To do that, you can toggle between coworkers, friends, and nearby, or use the search bar at the top to search for specific keywords or event names. Additionally, if you want to host your own party, there's a plus icon at the top right that allows you to create your own events too: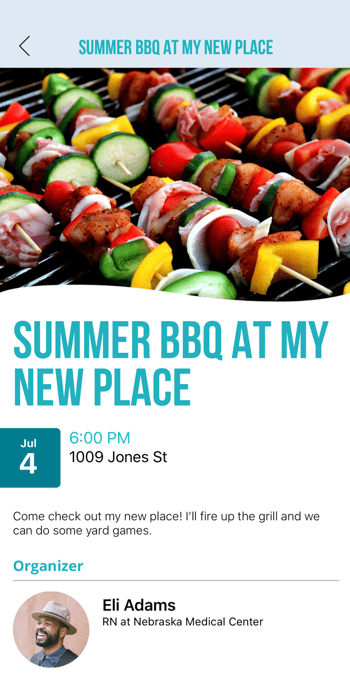 So whether you are looking to start a sand volleyball team, meet with travelers for a cup of joe, or host a BBQ at your new digs, Pulse can connect you with other like-minded traveling healthcare professionals. See events in your area or host your own and invite friends and colleagues. Invite your co-workers, friends, or other nearby travelers to join in your adventures!
My Profile
Your profile section shows assignments, friends, events hosted, and badges right below your profile picture. You can edit your profile, add a paragraph about yourself, change your job title and location, or change your picture. You can also see which events you're hosting or have hosted, as well as posts you've made.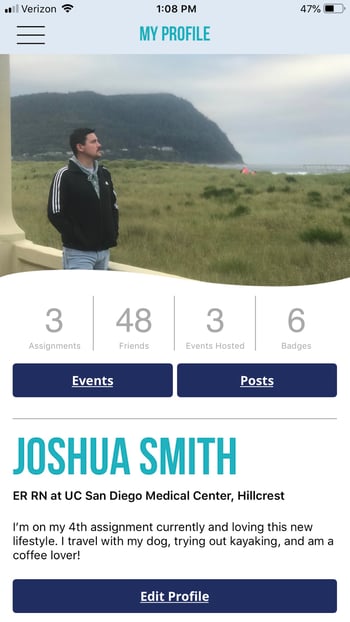 Posts
Similar to other social apps, this section allows you to post questions, thoughts, updates... anything! You can make your post visible to coworkers, friends, or everyone on Pulse. Your audience can then respond to your post accordingly.
Recommendations
In a new city and have no idea what good eats are nearby? Maybe you're looking for a gym or park close to your new hospital? The Recommendations section lets you see nearby restaurants, cafes, parks, bars, gyms, and hotels. You can sort by proximity or popularity, depending on what you're looking for. It's the best way to find recommended places to explore your new area! Pulse keeps you up-to-date on what's happening in your city: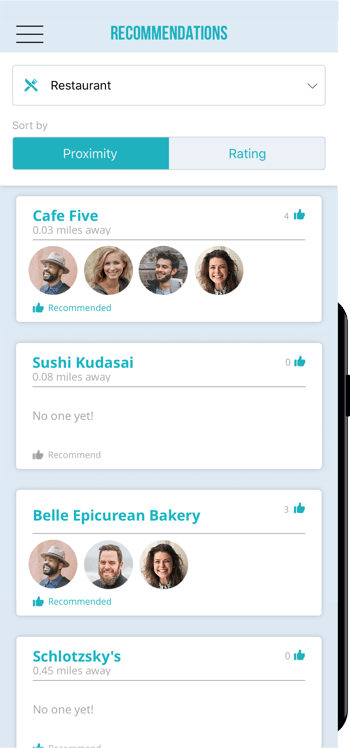 Friends
Traveling is a 24/7 lifestyle, so Pulse has made connecting with others easy. Pulse helps you build your community where you are. Make new friends and stay in contact with colleagues. Check out your list of friends, or toggle to the requests and pending tabs to accept or decline. Tell your coworkers about Pulse and start building your community.
How do you find new friends on the app?
Click on the People section of your main menu to find Pulsers nearby. Make new friends in your new town, meet your coworkers, and make your new town home. New places and friends are just a screen tap away!
Chat
Want to talk with your new Pulse friends? The Pulse chat feature allows you to keep communication open about new adventures, your job or any opportunities that come your way. Have nobody to chat with yet? Click on the People section of your main menu to find Pulsers nearby. Make friends with them and start chatting!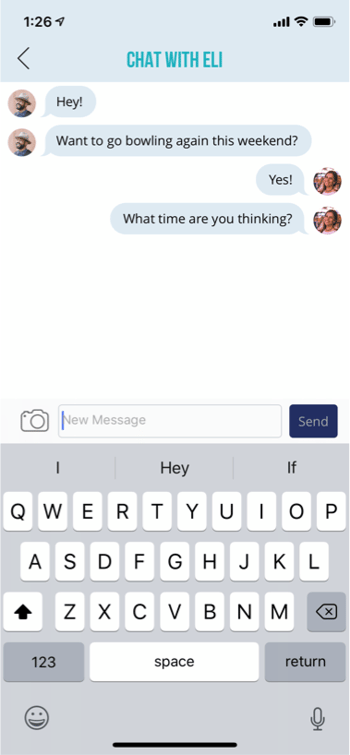 News
Stay updated in industry news, blogs, articles and resources to help you get involved with your community, navigate your new city, and find people to share it all with. Staying knowledgeable and updated about what's going on in your community and industry can help you advance your career and achieve your professional goals.
Sounds like we should all spread the word about the new Pulse app as a great way to meet up with medical travelers all over the country.
Download Pulse. Upload your lifestyle.
Your city is literally at your fingertips. Whether you're meeting your coworkers for happy hour or attending a job seminar, Pulse makes it easy for you to try new things, make new friends, and grow in your career… together! What exciting adventures will you try next?
We searched to see where Pulse is available and it looks like you can download it on Apple and Android. Download the app and get ready to connect with your community on each travel assignment you take.