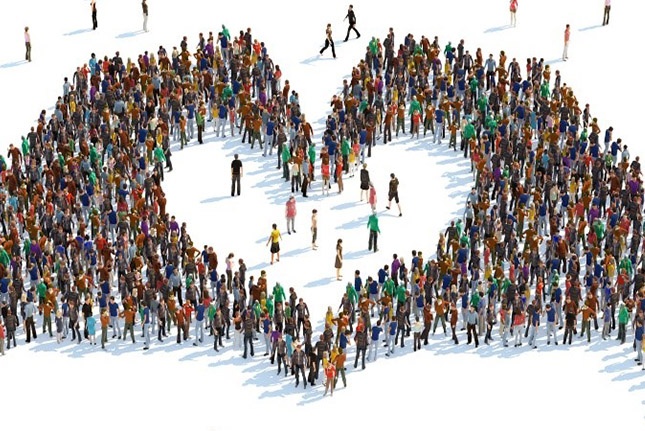 Truth. I love to people watch. Who doesn't? I love it to the extent that my favorite thing to do is watch people at a bookstore, where I sit and have some coffee and pretend to be enthralled in my latest book choice. My observations? Kindness. It's everywhere.
Unfortunately, sometimes we miss it. Our days are full with the hustle and bustle of work, commitments, family and friends. Life can be filled with meetings and scrolling through various social media threads, that our ability to notice the beauty and kindness in our everyday isn't easy. Did a stranger hold the door open for you today? Were you given a compliment by someone? Did you witness this happening to people you know?
Random Acts of Kindness is an opportunity to take the time to notice and acknowledge people around you. The great thing about kindness? It can be free. Being nice to people, doesn't cost anything and usually leaves us feeling happier than we expected. Have you ever wanted to take time and focus on kindness, come up with ways to help others, and get your family involved in regular random acts of kindness?
Senior Citizens
Local nursing homes are always looking for individuals who want to help with their residents. If you are willing to complete a background check beforehand, you could make a significant impact on the lives of many.
Holiday help: Any holiday can be hard for many senior citizens. How about making and delivering Valentines on Feb. 14th to nursing home residents? You can help ensure that they feel loved on this special day.
Companions for the elderly: Volunteers can work one-on-one or with groups of nursing home residents. Facilites usually ask that volunteers are willing to commit about 1 hour a week to help foster great relationships with residents.
Help at home: There are also many opportunities to help the elderly who still live at home. Many of these people need help with lawn care, window cleaning, and other tasks around the home. Most cities have websites that allow individuals to request a volunteer for their needs, and a way for individuals in the community to sign up for those opportunities.
A site like Volunteer Match provides volunteer opportunities for many large cities in the United States:
Ideas for Kids
Do you have children, nieces, nephews, or a special child you mentor? Getting them involved in helping others shows them the impact and importance of being kind to others.
Donating birthdays: Kids love celebrating their birthday! Having your child use their special day to help the less fortunate can be a huge impact. Many children's shelters are looking for items like: socks, stuffed animals, books, backpacks, and games for the children in their care. Many of these children were removed from their home and are scared and nervous about what is happening in their world. Rallying for this cause is as easy as asking birthday party guests to bring an item from the shelter list instead of a gift for your child. Many shelters allow children to drop off their donations, which lets them see the place they are helping with their own eyes.
Kits for the homeless: Getting a box of large zip lock bags and filling them with items like: toothbrushes, toothpaste, nonperishable snacks, footwarmers, Chapstick, gum, deodorant, Kleenex, shampoo, and soap. Having kids help organize these bags and draw a picture or card for each bag, can make it extra personal. These can be delivered to any area homeless shelter.
Helping neighbors: Make "May Day" any day of the year. Remember making little baskets of candy and bringing them to your friends' houses on May 1st? The goal was to ring the door bell and run without you seeing them. This can be done anytime of the year and it's perfect for "RAK" baskets. Write a little note saying something nice about your neighbor or friend and put it with one of their favorite treats or something special that you know they would love.
Pets
Animals pull on a special heart string with so many. There are many opportunities to help and give back to your favorite animal shelter. Many have websites that give you opportunities to help that specific organization. The Nebraska Humane Society is an example of one organization that provides local volunteer opportunities. Here are some ideas that would work for most shelters. Be sure to reach out to your local shelter to double check!
Bust out your inner "craftiness" and design adoption signs for the animals that can be hung up by their cages in the shelter.
Many shelters love to have volunteers come in the morning or afternoons and read to the animals during adoption hours. Most only require that minors are accompanied by an adult.
Hold a neighborhood or community drive to collect items found on local animal shelter wish lists.
Opportunities for kindness are endless— Write a note of appreciation, open a door for someone, pay for someone's meal, or create a book drive for a local school. Helping others not only makes a difference to those around you, but also gives your own heart a sense of happiness that you simply can't buy.
Follow Fusion's Be The Change page to learn more.