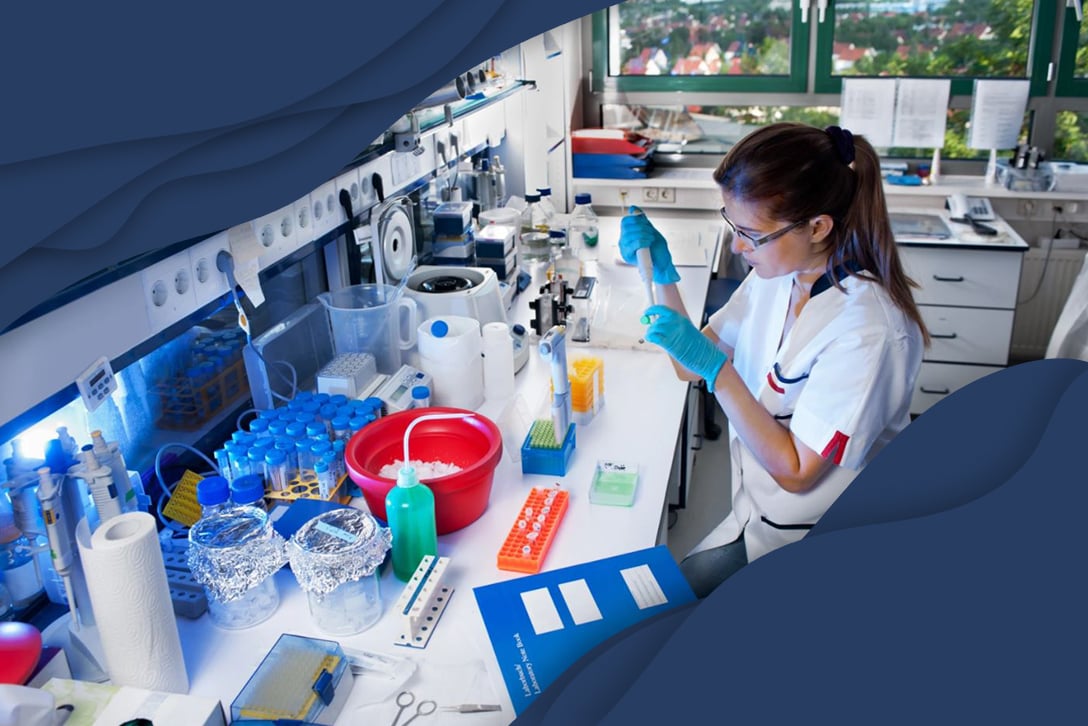 The lab shortage didn't just sneak up on us—it's been brewing for some time. And now with lab training programs decreasing by nearly 25 percent since the 90s, plus an aging workforce, it's all about to boil over.

Real Talk About The Lab Shortage
Skilled medical lab professionals are depended upon for processing tests that help diagnose and analyze diseases. Often, when clinical decisions need to be made, time is valuable. Now more than ever, lab professionals are needed. According to the Bureau of Labor Statistics, the demand for medical lab professionals has grown 13 percent in the last year, which is almost double the average for other U.S. jobs.
The need for lab techs during the COVID-19 pandemic
The COVID-19 pandemic left the healthcare industry scrambling to complete testing and diagnosis for the virus, putting pressure on medical lab professionals. The demand for traveling laboratory professionals spiked during the beginning of the outbreak, with focus to getting the right lab professionals to where they're needed most.
Lab workers haven't been the only component missing from the healthcare equation, either. At the beginning of the pandemic, the federal government tried to gear up on nationwide screening, and lab professionals faced a hurdle: shortages of testing supplies, chemical components and swabs used to collect samples from patients. Last year in a March 2020 Washington Post article, epidemiologists pushed for large-scale, at-home testing to help quell anxieties and to alleviate the lab processing workload for medical lab professionals.
Drive-thru coronavirus tests cropped up all over the country, with a need for lab techs to perform the swab and sample collection from patients, as well as lab professionals to help process the results in a timely manner. While the overall job market may be shrouded in uncertainty during the coronavirus outbreak, traveling lab professionals have a place at the table and can positively impact patient care.
Ongoing patient care and lab testing is needed
Regardless of the current lab climate during the pandemic, it's no secret that lab shortages have been building for a long time, and the need will still be there once the COVID-19 dust has settled. Patient care and lab testing isn't needed only during times of pandemic crisis; lab testing has a huge part of patient care every day, especially in emergency care and inpatient situations. In fact, lab tests are performed on over half of emergency patients and nearly every hospital patient that walks in the door. With more traveling lab professionals, facilities are able to work more productively as a team to achieve results faster, offer a higher quality of patient care, and allow those working in lab to seek additional and exciting opportunities to advance their careers.
These latest lab innovations are helping the healthcare industry establish both patient and healthcare worker satisfaction. These additional opportunities include advancements in technology for lab testing, which can measure quality control and bring labs into the future of medicine. Automating some of these tasks means lab techs can spend less time maintaining lab operations due to built-in systems that deliver consistent and accurate test results. It's this automation that increases safety, not only for the patient but for the lab staff too.
It allows medical professionals to lower their risk of exposure to fluids, and can help prioritize the processing of samples, so that emergency cases can be streamlined and completed first.
It's a challenging yet exciting time to start a career as a traveling laboratory professional. While the needs for more advanced lab technology and patient testing continues to change over time, the need for skilled travelers in lab remains a priority to healthcare and those who staff it. You can search for Fusion's most critical lab traveler jobs here.
And if you're new to the travel scene as a soon-to-be grad or recent graduate, contact Fusion's student outreach team to set up a Lunch and Learn or learn more about exciting travel opportunities in lab.