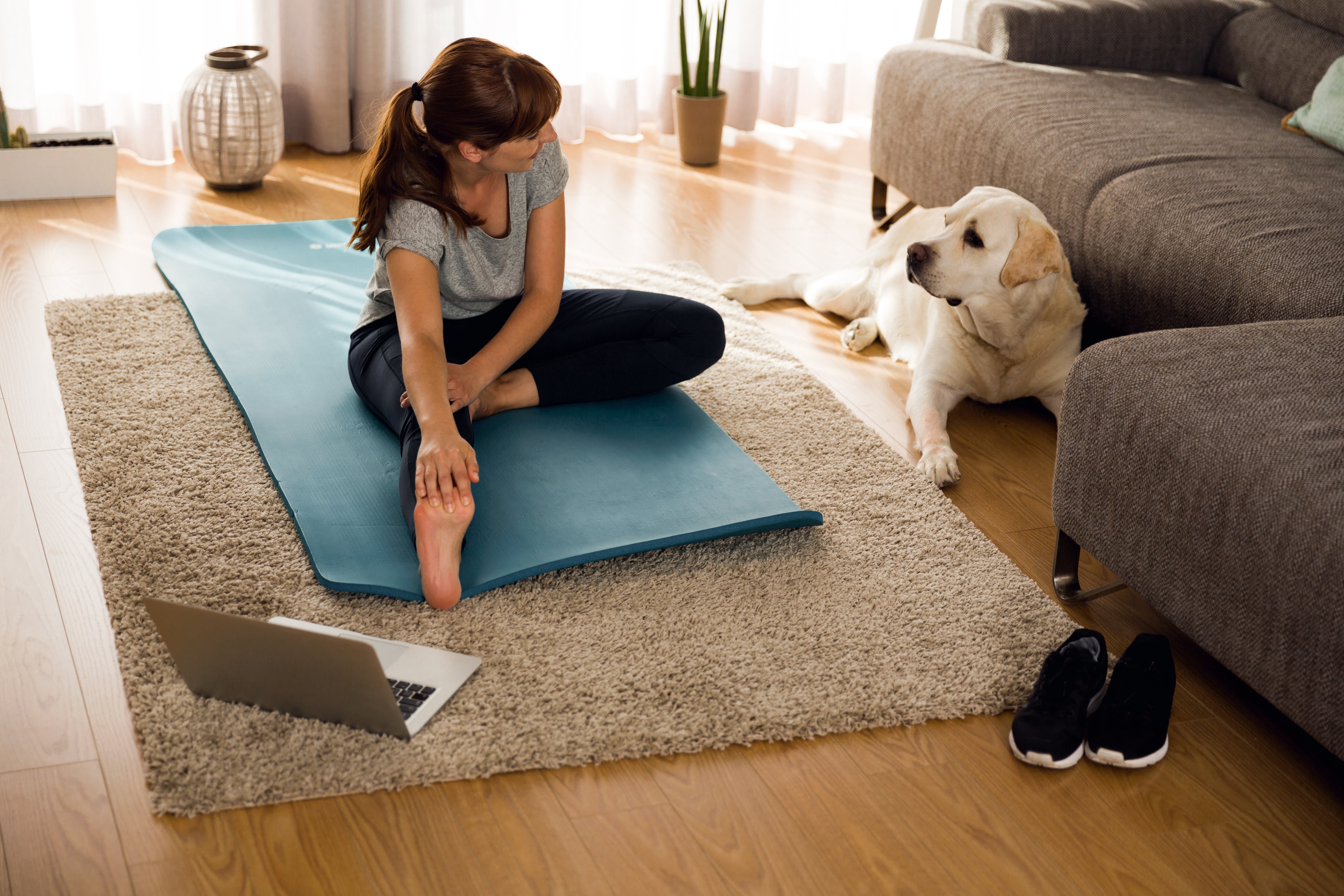 The COVID-19 pandemic has changed the way we live. Since last month schools, businesses, restaurants, and gyms have closed down in the US. According to the World Health Organization, the best way to stop the virus is to stay home and practice social distancing.
As a medical traveler, you're used to staying active while you're on-the-go. But what about when we're all practicing social distancing? For many people spending so much time at home can be difficult as they are not sure how to pass the time, especially if you're between assignments or have a cancelled contract. That's why it is important to take care of your physical and mental health. The best way to manage stress and anxiety is by staying physically active.
Ways To Stay Active While You're Stuck Indoors During COVID-19
WHO recommends at least 150 minutes of moderate-intensity or 75 minutes of vigorous-intensity physical activity per week. The best thing is that this recommendation can be still be done even at home as you don't need any special equipment or a big space. And staying active at home can support your immune system, lowering your chances of infection.
Benefits Of Staying Physically Active During COVID-19
As you might already know exercise is great under normal circumstances, as it will help you to keep your weight under control, boost your immune system, and improve your mental health. But staying active during the COVID-19 outbreak is even more important because exercise will help you manage better this unpredictable situation.
Here are just some of the benefits of exercise during COVID-19:
Boosts mood, which is key when you are in quarantine
Lowers "bad cholesterol" and blood pressure
Lowers risk for heart disease
Helps you to keep a daily schedule
Improves your sleep patterns
Helps you handle stress in a positive way
Staying active even if you can't go to the gym is key to keep your mental and physical health in optimum conditions. So, what are your choices to get that body moving?
How To Stay Fit During Quarantine
Outdoor Activities
If you live in low populated areas there are many ways you can stay active during the quarantine. You can go hiking, running, bicycling, or even for a quick neighborhood walk. Just remember to stay at least 6 feet away from other people.
Outdoor activities are great as they let you get fresh air without coming into close contact with others. If you don't like to walk alone you can call a friend and walk "together".
Don't forget to wash your hands for at least 20 seconds and remove your shoes and clothing after you exercise outdoors, even in lower populated areas. Take a shower to wash off any potential virus droplets.
Indoor Activities
If you live in larger cities or heavily populated areas, you may have a city-wide mandate to stay home and shelter in place. Outside exercise may not be possible, but you don't have to go stir crazy. You can still stay fit at home.
Your home fitness routine should include cardio and strength activities. If you have a treadmill, elliptical, or stationary bike you can do 20 minutes of a cardio workout at least 3 times per week to get your heart pumping. If you don't have any equipment, you can still get creative with your options. Try streaming workout videos, yoga or pilates. Encourage others to join or host a video dance party with friends and pair your workout with your social life.
If you can, try to buy some inexpensive equipment such as resistance bands, dumbbells, or a kettlebell. You can also use household items such as soup cans, water bottles and jugs, and kids' sports equipment, like basketballs and soccer balls in place of a workout ball to increase the intensity of your workout.
Using just your body weight…
Do a quick Google search and find a free regimen, YouTube videos and other methods that will help you put together a quick at-home workout using just your body weight.
Planks and Side Planks
Nothing tightens your core faster than a good old-fashioned plank workout. Try to set a goal for yourself to see how long you can keep your plank formation. Keep upping the ante each week to build those tummy muscles! And if you need a little toning in your lateral abs, get your side plank on. Planks put you on the fast track to getting fit.
Lunges
Yes, I know it looks quite similar to "lounge"… but instead of eating Cheetos on your couch, get those leg muscles pumpin'! This is a back-friendly workout that targets your quads, glutes, hamstrings and more, while testing your body's stability.
Squats
Virtually the same effectiveness as lunges, squats target your glutes, core, and legs. They help you build muscle mass, and can be used in tandem with weights for added intensity. Try alternating lunges and squats for a total lower body workout.
Donkey Kicks
When in doubt, kick it out! Donkey kicks are perfect for staying active if you're not big on space in your home. This is an isolated movement that tones to leg and glutes, and you aren't moving around all over the place. Do these with your lunges and squats to keep your workout interesting.
Superman
The superman won't have you flying all over the city, Clark Kent. But you will get toned back muscles! During our workouts, a lot of times we forget what we can't see, and since you don't perpetually walk around with a mirror behind you, keeping your back muscles in shape can be easily forgotten. Bonus! This move also targets your arms!
Stair Running
Cardio at home doesn't have to mean running around your house like a sugared-up toddler. Just take the stairs! Though a lot of people use outdoor arenas and park stairs to run outside, indoor stair exercises in your home or apartment building are just as effective.
Using additional weight and resistance…
These props are great for strength training. Use them alone, or add them to your above workouts for more intensity.
Kettlebells
These come in different sizes that work with your natural muscle strength. So, you can use a heavier kettlebell for lifting and building muscle, or a lighter kettlebell for added reps and cardio. Want to get an intense, fat-burning workout? Pair a kettlebell with squats.
Hand weights
You can use hand weights practically any time in your home. They're so universal, which means they are perfect for simply getting your quick arm workout in, or for adding to your isolated movements (like lunges and superman) to up the ante and weight resistance.
Resistance band
Exercise bands and resistance bands are an adaptable way to get some variety in your at-home training. They're easy, cost-effective, and portable.
Fitness Apps and Programs
You also have the option to take exercise classes while watching the instructors online or to download a fitness app. During COVID-19, many fitness instructors are taking their classes online. Here is a list of the best home workout apps to download during quarantine:
Aaptiv: Thousands of voice-guided workouts at your fingertips. Monthly fee around $25. Platforms: Android, iPhone, Apple Watch.
Fitbit Coach: Fun, video-led workouts to follow, with or without a Fitbit. Free options available. Platforms: Windows 10, Xbox, Hololens, Android, iPhone, iPad.
Asana Rebel: Makes yoga accessible and encourages healthier habits. Monthly fee around $10. Platforms: Android, iPhone, iPad, Apple Watch, Apple TV.
Adidas Training and Running by Runtastic: A home workout app packed with free audio and video guides. Paid subscriptions for $9.99 monthly. Platforms: Android, iPhone, Apple Watch.
Nike Training Club: Over 190 completely free home workouts to choose from. Platforms Android, iPhone, Apple Watch.
Zwift: Bring indoor running and cycling to life. You will need to install hardware to get started.
You can also find a wide variety of fitness workouts for free on Youtube and Amazon Prime.
Implementing core workouts and isometric strength training...
Basic movements and props are great for staying in shape, but sometimes you need an actual course of action to keep you interested.
Barre
This is a fairly new and trendy workout that combines postures and movements of ballet barre with strength movements of yoga and pilates. Most of the movements are small ranges of motion, so you can still do the movements at home if you don't have a barre handy (I mean, really, who does?) Use a heavy chair back to balance yourself. Just don't pull too heavily, and maybe do your chair poses against the wall instead.
Rowing
If you have one of these machines at home, put on a great workout playlist and get going! (Er, get rowing?) This workout encompasses the "work hard and keep it simple" attitude. To put it this way, it's an easy machine with a lot of variation. Plus, it targets basically everything for total body workout.
Yoga
Stretching is just as important as working out, so grab an online yoga regimen and get in the practice of doing this after your workout. On your off days, use yoga to stay in the game and clear your headspace—good for the body AND the mind.
Bottom Line
Staying active at home during quarantine might seem difficult. It's hard to share space with your family and have enough room to feel like you're getting an effective workout. Additionally, social distancing can take a toll on your mental state and motivation. Try establishing a routine to make your fitness easier to accomplish. Set up notifications on your phone to remind you if you have been sitting for long periods of time. Make a point to get up and walk around the house.
Stopping the spread of COVID-19 involves making changes to our daily routines, but just because we need to stay home to keep everyone healthy doesn't mean you can't continue a fitness routine. Get creative and stay active.