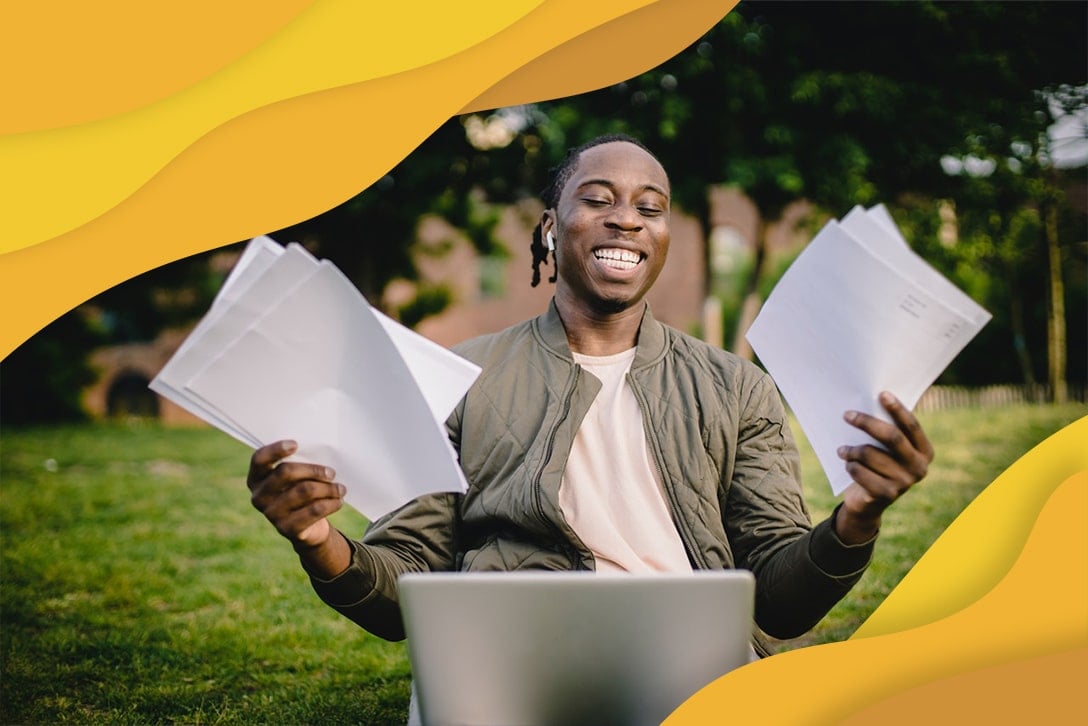 When you have to keep track of multiple certifications, education classes, and other credentials, getting it together as a med traveler can be easier said than done. When it's time to move on to your next dope travel job, make sure all your ducks are in a row so you can start your new adventure as soon as possible.
Not great at the little details? Let us help!
5 Steps to Make Your Traveler Onboarding Experience Easier
Congratulations, dear friend, you've accepted your next (or first—welcome newbie!) travel job. Now what comes next? To answer that question, a smorgasbord of questions, paperwork and documents, and if you're lucky, a one-way ticket to a picture-perfect destination.
The good news? You're not on this journey alone! In fact, as a Fusion traveler, you have an entire support team working to help ensure you have the best travel job experience possible. As they work their tails off behind-the-scenes, you can make some moves to get yourself ahead of the game.
No matter how you prepare, make sure you add these five steps to the process so you can enhance the onboarding experience for your agency support team, the medical facility in need, and—most importantly—yourself!
No. 1: Get organized (and stay organized)
Before you do anything else, get yourself organized. With so much paperwork and so many documents to keep track of, it can be harder than you think. The thing about organization is it looks different for everyone and while it means a planner and sticky notes for me, it may mean digital files and to do lists for you. The important thing isn't how this organization looks, but how it works for you, so get creative!
As you brainstorm different ways to get organized before you head out for your medical travel job, wait for a notification from your compliance travel team with the details and to dos of the assignment. This list usually includes things like submitting onboarding documents like immunization records and tax information. Of course, there's no one-size-fits-all approach so this will look different for every medical staffing agency and medical facility.
Regardless, you can typically expect to need:
A health physical or a statement of good health from the past year
An N95 respirator fit test from the past year
A tuberculosis test from the past year
The current season's flu shot
Immunization records from the past year for MMR, Hepatitis B, Varicella, and Tdap
To complete a drug screen
To share licenses and/or registration certificates, plus other certifications required based on specialty
Don't sweat it if you're missing something from the list. Your compliance cheerleaders are there to help you get everything in order, but here's a pro tip: The sooner you submit these items, the closer you are to the starting line.
In addition to the slew of documents required by most medical facilities, there could be even more job-specific details depending on the hospital, clinic, or other healthcare institution.
"Typically, your orientation is just hospital/HR basics where you go over policies and procedures, computer access, EMRs, glucometer access, etc.," said Tiffany, RN CCRN. "Often there are online modules that must be completed before day one."
Whatever the request is, make sure to get 'er done, so you can enter on day one calm, cool, collected, and prepared.
If you're interested in making life a 'lil easier on yourself, consider uploading and saving these important documents to a digital file like Google Drive or take advantage of online job boards like Fusion Marketplace to conveniently save your credentials to an online profile. If you're not exactly tech savvy, keep a folder with hard copies of each piece of employment paperwork. That way, you always know where to find your supporting docs when it's time to submit them for a travel job—one less thing to worry about!
No. 2: Go with the flow
Another way for a smooth and easy onboarding experience is to go with the flow because you know what they say, "Expect the unexpected."
Let's say that, so far, you've done everything right. You've become best friends with your recruiter, Client Manager, and compliance team. You applied for your dream travel job and got hired. You've completed all your onboarding requirements and now you're finalizing the small stuff.
Suddenly, your housing reservation falls through. Or your start date gets pushed back a week. Whatever it is, something unexpectedly goes awry, and you're back to phase one. This is the part where most people would panic, but because you're flexible, you're cool as a cucumber.
There's always a chance that something doesn't go according to plan—that's life, my friend. Go with the flow, keep your options open, and come up with a plan B with your recruiter just in case you need a back-up. As Mom always said, "Plan for the worst, but hope for the best."
No. 3: Ask all the questions
There's a lot to learn during onboarding and you're bound to have questions. Questions are good! We love questions! Here's a list of important things you might want to ask about in onboarding before your first day in the unit:
What's the patient ratio like at this facility?
What color scrubs should I wear?
How and when do I clock in and out?
What's the float policy?
What's the unit culture like?
Who's my contact if I need help?
Do you have a transporter and if not, can I have a map of the hospital?
How many med storage rooms are there?
Is there a list of important phone numbers/or and door codes I should have?
Insist on answers to what you're curious about and you're well on your way to an easy onboarding experience. After all, the more you know…
No. 4: Keep your support team in the loop
Remember that support team we talked about earlier? This is their time to shine! Most staffing agencies assign medical travelers a recruiter and Compliance Specialist, but Fusion goes the extra mile with a personal traveler recruiter, Client Manager, and Compliance Specialist for each med worker. The best part? These will be your people for every assignment. Meet your support team:
Recruiter: Meet your MVP, your most valuable pal, aka your recruiter. These professionals build your traveler profile, talk in-depth with you about the current market, and help you start your job search.


Client Manager: Client Managers are a lot like the Wizard of Oz, but instead of a curtain, they have a screen. They work directly with nationwide hospitals and other medical facilities in need to learn the 4-1-1 on travel jobs. These experts outline your setting preferences, experience, and licensing requirements.


Compliance Specialist: Compliance doesn't enter the game until you've officially secured your medical job. Once you've said yes to the job request, they step in to ensure all your I's are dotted and T's are crossed on your onboarding paperwork. These are your friends who will receive and send your required documentation and then some.
As you get ready to embark on your travel assignment, constant communication is key, with emphasis on constant. Your team are your biggest cheerleaders who want the best for you. They want an easy onboarding experience for you just as much as you do. So, don't ghost them.
Sometimes, our anxiety tells us that if we reach out, we're a bother, but that is literally what the team is there for so don't be afraid! The more you chat with your support team, the less likely it is for a surprise to sneak up on you. And if one does, the more prepared you'll be to handle it.
No. 5: Travel with Fusion Med Staffing
Sure, the onboarding process for med travelers differs with every medical facility, but one thing remains consistent: Your staffing agency. And since your agency is your lifeline, you'll want to work with one you can trust, rely on, and feel comfy with. So, save yourself the headache of searching and travel with Fusion Medical Staffing!
Jump into your medical travel job with confidence knowing that your Fusion team is actively cheering you on and doing what they can to make for an easy peezy onboarding experience from start to finish. Your Fusion cheerleaders can help you take your medical travel career to the next level and become an onboarding pro with organizational tips and tools, traveler resources, and expert advice.
Plus, as a Fusion traveler, you're entitled to some sweet perks—the same support team throughout your travel career, 401k match, referral bonuses, complete health insurance, and more! Travel with ease knowing Fusion has your front, back, and both sides covered.
The med travel onboarding experience is unlike any other. While permanent staff may have weeks- or months-long onboarding processes, professional medical travelers usually only have a day, if that, to get acclimated with their new facility. Make the most out of your onboarding experience and travel with Fusion Medical Staffing! Your next adventure awaits.