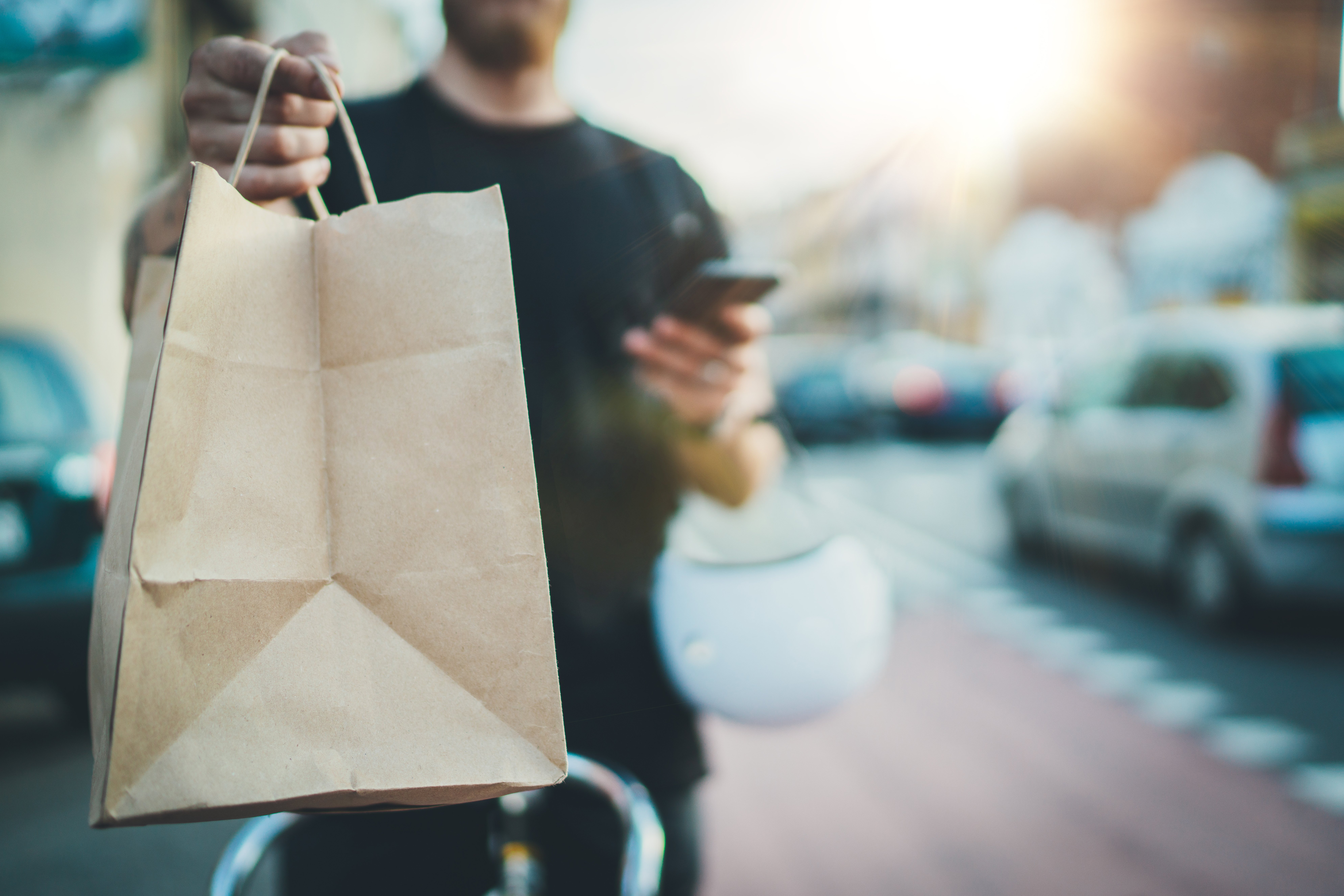 Since COVID-19, everyone has been doing their best to navigate this unprecedented situation. One glaring realization we have all seen is how much healthcare workers sacrifice their physical and mental health for the sake of others. As frontline heroes in the fight against this pandemic, these healthcare professionals are putting themselves at risk in order to keep others safe.
Supporting Frontline Healthcare Workers with Meals For Meds
Fusion Medical Staffing and TravCon saw an opportunity to team up, creating a solution to feed our healthcare workers and to help support the restaurant industry in communities all over the country through the #MEALSFORMEDS campaign.
In an April press release, Tara Sprakel, Chief Marketing Officer of Fusion Medical Staffing said, "Fusion has put an extra focus on the needs of our healthcare travelers this year. It has become apparent, in light of this disaster, that we need to do everything we can to support not only the traveler segment of healthcare, but the broader spectrum of any medical professional impacted by COVID-19. It is our responsibility as a member of the healthcare industry that we intend to fulfill."
Now more than ever, we have a responsibility to support frontline healthcare workers fighting against COVID-19 and to help support businesses in our communities. Small businesses and restaurants keep our communities running, bringing us together in times of celebration and in times of hardship.
Donating food is an impactful way to support the frontline and the restaurant industry. With so many healthcare workers unable to leave hospitals to get food because of long shifts and limited resources, and community restaurants being affected by shelter-in-place orders or capacity shutdowns, #MEALSFORMEDS helps two-fold.
In the same April press release, Cynthia Kinnas, TravCon Board Member said, "In a time when we all feel helpless and uncertain, TravCon is overjoyed to be able to provide some immediate tangible support and inspiration to the beloved healthcare provider community in the centuries-old form of caring through food. We are always thinking of you and appreciate all of your sacrifices and are so thankful to wonderful donors who have made this dream program possible."
Additionally, the #MEALSFORMEDS campaign allows others to pitch in and help. Not only does this campaign help provide meals for frontline medical professionals and support area restaurants during this difficult time, it gives everyone in the social media community the chance to make a direct impact on their communities through donation.
Since the campaign started in early April, #MEALSFORMEDS has provided over 5,000 meals to frontline healthcare workers, with an additional 25,000 meals pledged, from over 30 pledged partners. The #MEALSFORMEDS campaign is grateful to OneStaff, TextUs, WIIG Electrical Services, EmployStream, Koley Jessen, GetMed Staffing, Summer Franco at US Bank, and our anonymous pledged partners as these numbers continue to rise with more donations rolling in.
Healthcare workers are sharing their gratitude and experiences, making this campaign all the more important and close to everyone's hearts: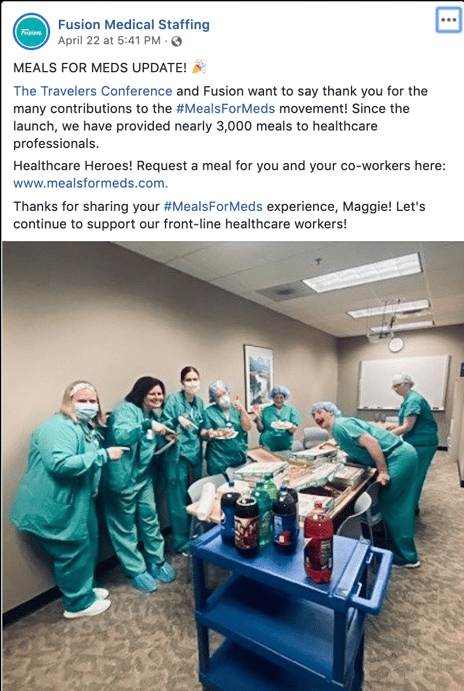 We are in a unique time. There's a lot going on around us at lightning speed, and at the same time, time seems to slow down while many of us sit in our homes, waiting for this virus to be minimized. There's fear in the unknown; uncertainty about what the future holds and what it will look like. While some are suffering, exhausted and working around the clock to keep everyone safe and to get our country back to some semblance of normalcy, other people are looking to rally and help to show their gratitude.
If you'd like to join the movement to provide #MEALSFORMEDS, visit www.mealsformeds.com and fill out the partnership form. Donations to the #MEALSFORMEDS movement are welcomed from third parties and can be paid directly to TravCon on their site. All proceeds will go toward providing meals to healthcare workers and contributions are tax-deductible.
If you're a healthcare hero, request a meal, and from those of us not on the frontline: thank you.