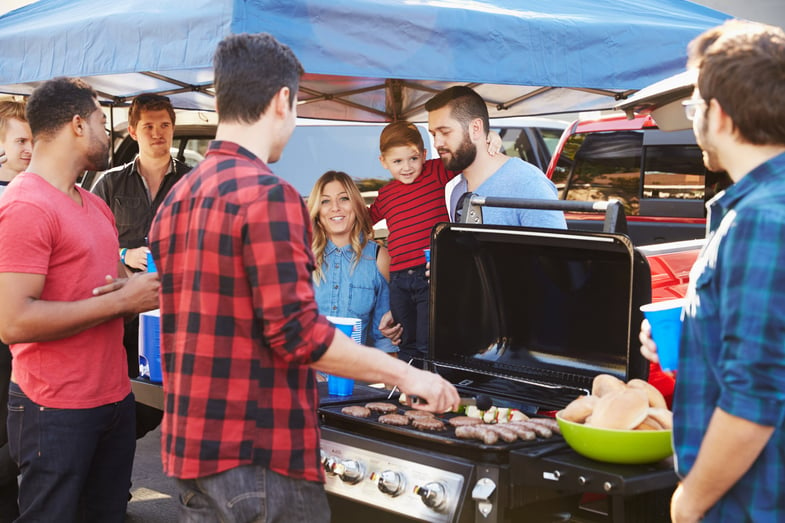 It's the best time of the year! No, not Christmas (yet)… it's FOOTBALL SEASON! Every September, National Football League (NFL) teams kickoff for another fun-filled season of tailgating, home-gaming, and let's be honest—straight up partying. It can be tough to catch your favorite team in action when you're on a travel assignment. You should be able to live your best life as a badass medical professional AND a dedicated football fanatic—and you can!
Tailgate Travel Assignments for Fall
When thinking about your next placement location, consider going where your fave team is playing, and attend games with your buddies on your days off. Immerse yourself in the culture of togetherness that football creates and take advantage of your time off as an adulty-adult.
With 32 NFL teams, there are lots of prime destinations to visit. Unfortunately, you can't go to each one, at least not during football season, so we narrowed it down to the top five NFL states (and 11 teams) for you to check out—you're welcome!
California
With a hoppin' nightlife and famous Hollywood stars, sandy beaches and mountainous terrain, plus a cool, refreshing breeze over the countryside, California has the vibe you're searching for. That's not all—the state continues to impress when it comes to football with three professional teams: the San Francisco 49ers, Los Angeles Rams, and Los Angeles Chargers.
San Francisco 49ers. This year, the 49ers start off in the power rankings as no. 5—and, is it just me or is anyone else still recovering from their loss against the Kansas City Chiefs last Superbowl? Anyway, their team is back and ready to redeem themselves, so these games have got to be good.

Bond with fellow 49er fans outside of Levi Stadium at every home game for a potluck tailgate—all Faithful Niners welcome. With dozens of community grills and coolers, you already have what you need to claim your throne as grill master. The only kicker is that the stadium is over an hour's drive away from the city in Santa Clara—so, buckle in and enjoy a road trip music playlist or entertaining podcast episodes made by yours truly.

Most importantly, there are loads of medical travel opportunities waiting for you in the Golden City! As one of the most beloved locations in the world, San Francisco has nearly eight million citizens, 16 hospitals, and numerous other medical facilities in the city, making it a highly sought-after destination for professional med travelers like yourself. Plus, you can't beat the excellent climate, diverse culture, and fine dining.



Los Angeles Chargers. They may be ranked ninth in the 2021 power rankings, but the Chargers are in it to win it. Headed by new bright coach, Brandon Staley, the team has reinvented their strategies to prove to viewers and competitors that the team is a force to be reckoned with.

One of the best parts of Los Angeles (LA) Chargers' home games at SoFi Stadium is the luxury of a Tailgater Concierge. If you also raised an eyebrow at this profession, same—but, it's a real thing! Pinky promise. So, these Tailgater Concierge homies are hired to ensure you have the experience of a lifetime. They provide all the tailgate equipment, set up and tear down, plus hang out on-site just in case you need a helping hand with anything else during your party time. If the Chargers are your top team, reserve your tailgate spot now!

Now, Los Angeles is a massive city, so it's no surprise that there are hundreds of medical facilities in need of your expertise. To top it all off, LA has the second largest population in the U.S.—how could kick-ass medical professionals like you not be wildly in demand?



Los Angeles Rams. Ranked just below the Chargers at no. 9, the Los Angeles Rams mean business this year. They may have lost Staley as their head coach, but the team's enthusiasm remains untouched.

Arrive SoFi Stadium in advance to claim your spot in one of the many designated tailgating areas. Or, if you're a die-hard Ram fans or have a deep passion for high-end snacks, the VIP Tailgate may be for you. Exclusive VIP passes get you access to extravagant food, boppin' tunes, live NFL games, and more.
The only thing missing in LA is you.
Search travel jobs in California.
Texas
You know how they say everything is bigger in Texas? It's true—especially when it comes to the love of football. There are two major players in the state. First is the Dallas Cowboys and second is the Houston Texans.
Dallas Cowboys. Starting the season ranked 10th, the Cowboys had a rocky start when their starting quarterback injured his ankle after an MVP-level start. Still equipped with a talented group of athletes, fans (and foes) anxiously await the team's bounce-back.

For a good, old-fashioned parking lot-style tailgate, you'll want to venture to the Jerry World parking lots at AT&T Stadium. There are nice grassy areas for tents and camping chairs, grills, coolers, and more. Get to the lot early because these spots are first come first serve, so ya snooze, ya lose. If you prefer a tailgate that requires little effort on your part, the Cowboys Tailgate Party in the East Plaza offers food and drinks, live music, and entertaining guests (spoiler alert: it's the Cowboy Cheerleaders!).

In the Dallas-Fort Worth vicinity alone, there are more than 90 medical hospitals and countless healthcare clinics waiting for someone like you. In case you didn't know, Dallas was ranked in the top tier of Best Places for Businesses and Careers by Forbes magazine! You, sugar, could land the unique opportunity to practice medicine in some of the best hospitals and specialty units in the country.



Houston Texans. Sitting down at 32nd, the Texans have some serious work to do before they meet their rivals on the field. Sure, they have skill talent, but will that be enough to get them a big win? There's only one way to find out!

The good news is NRG Stadium allows for tailgating in all of its parking lots! Bonus—there are Port-A-Cans, trash dumpsters, and ash bins available for your use. Okay, we know the Houston Texans' tailgating doesn't have a ton going for it, but the important thing is that everyone has fun, right?
If your travel assignment leads you to the Texas area, experience the culture like true Texans do—with cowboy boots, flashy belt buckles, and football games!
Everything is bigger and better in Texas.
Search for travel jobs in Texas.
Florida
We've all read a news story or two that started off with, "Florida man/woman was caught doing [insert something cringy]." Luckily, there's much more to Florida than that—beach resorts, world-famous amusement parks, and Tom Brady!
Tampa Bay Buccaneers. One of America's new favorite professional football teams is back, enjoying the ride on a Super Bowl high—make way for the no. 1 ranked team (drum roll, please!), the Tampa Bay Buccaneers (and the crowd goes wild!). They have Tom Brady. Enough said.

Dig out your fave red tee or Tampa Bay jersey—it's time to tailgate. Pick a place and stay put. Eat some food. Drink some drinks. And make some new, life-long buddies!

Over the span of more than 65,000 miles, Florida has upwards of 200 medical facilities who could always benefit from another cool and knowledgeable medical professional (that's you!). Plus, there's a jump in demand for traveling medical workers in Florida, so might as well check out the football scene while you're at it!



Miami Dolphins. Ranked 15th in power ratings, the Miami Dolphins are working their tails off to make fans across the country proud in this upcoming football season. The team hasn't had a Super Bowl win since 1974 and they are more motivated than ever to get a W.

You might've guessed that Hard Rock Stadium tailgaters party hard. Celebrate your fave football players with friends, family, and fellow Dolphin fans at the tailgating party held before each session on the field. Have an RV? Even better! Park your rig, set out your game day snacks, and crank up the tunes!

Miami comes with wild opportunities for you as professional medical traveler as one of the country's highest-paying cities for medical workers. Plus, the vibrant Cuban heart in Little Havana (ooh na na) can't be found anywhere else, complete with Latin American art galleries, cafes with walk-up windows, dance clubs, and more.


Jacksonville Jaguars. The Jaguars are starting the NFL season power ranked in 30th, but don't let that fool you, they're still fierce as can be (rawr!). With new players joining the team, a new strategy has been implemented. Let's see if that's enough for these cool cats!

Get your burgers and brats ready because there are grills and hungry friends waiting for you! Pack up drinks, games, and the fam for a fun-filled day of good 'ole fashion American football.

Florida travel jobs tend to fluctuate with the southern migration of snowbirds from the colder northern states. The prime-time to land a medical travel assignment is between October and May, so your window is coming up, traveler! Don't miss your chance to experience the adventure Florida has in store for you.
Soak up the rays in this southern sunshine state.

Search for travel jobs in Florida.
Pennsylvania
If natural scenery, professional sports, and creative arts floats your boat, you're probably a Steelers or Eagles fan, am I right? Pennsylvania may have been one of the original 13 colonies in the country, but don't expect to find Benjamin Franklin or the other Founding Fathers in the football stands.
Pittsburgh Steelers. Listed in 14th, the Steelers are on a mission to restore their power running, so they can once again compete in the Superbowl—it's only been a decade. Don't forget to come in black to show support for your home team!

Any true Steelers fan knows where the party's at—Stage AE at Heinz Stadium, the official Steelers Nation tailgate zone! Show up three hours before kickoff to get a prime spot for live music, ginormous TVs, incredible food, and special contests for exclusive prizes!

Between government and private medical facilities, Pennsylvania is home to more than 300 hospitals and health clinics. Full of patients who require your help, Pennsylvania can offer you a high-rate travel salary with a low cost of living, so you can make the most out of your East Coast assignment.


Philadelphia Eagles. Fly, Eagles, fly! Power ranked in 23rd, the Eagles have created quite the buzz with new coach, Nick Sirianni. With a 2018 Superbowl win, the team is craving another W-I-N!

Word on the street is Philadelphia Eagles tailgating is one of the best in the NFL! Hoagies, cheesecake, and beer—oh my, where do I sign up? Prepare to dance like no one's watching it the Jetro Lot alongside bird lovers like yourself. Not only will you be surrounded by pure entertainment at every angle, but Lincoln Financial Field also has over 300 concession stands to cure every craving, plus exquisite sightlines to enjoy when a timeout is called.

You may not know this but traveling registered nurses (RNs) are ranked no. 5 in the list of most popular jobs in Pennsylvania, even though it's not one of the nursing compact states (eNLC). Check out licensing requirements and plan ahead if you want to secure your dream Pennsylvania travel job.
Pennsylvania isn't just known for its outdoor activities, robust American history, and culture, the state is also a popular choice for medical travelers because of the highly-ranked and awarded medical facilities.
Step into the shoes of our Founding Fathers and revel the history of the Keystone State.
Search for travel jobs in Pennsylvania.
Tennessee
Everyone knows you can't get better fried chicken anywhere than the South. Explore Nashville, or better known as Music City, to jam out to all the top country music hits, and then some. A great place for vacations, Tennessee stands out with all the travel job possibilities, and obviously, professional football.
Tennessee Titans. Their defense may still need some TLC, but the Titans' offense is a downfield threat. Led by head coach, Mike Vrabel, the Titans are eager to get their hands on their first Superbowl win…will this be the year they take it all?

They may have never won a Superbowl, but Nissan Stadium in Nashville certainly knows how to party. I mean, what's better than energetic friends, Southern barbeque, sweet tea, and Sholf (a combination of golf and shuffleboard)? Yeah, we couldn't think of anything, either. Jump into the festivities at least five hours before kickoff and live your best life with Titan troopers.

The American Association of Colleges of Nursing reported that mid-state Tennessee continues to feel the effects of the nationwide nursing and medical professional shortage. With more than 140 hospitals and medical institutions, Tennessee could use you to make a positive impact in the community.
Dig out your classic Titans tee and let your recruiter know you're interested in a Tennessee travel job to attend every one of your NFL team's home games.
Titan up with a travel job in Tennessee.
Search for travel jobs in Tennessee.
Football has become a sort of religion for many Americans with the same emotional and influential affects. As the football community continues to expand, keep tabs on the team you're rooting for, and plan a travel assignment to that destination with your recruiter as soon as you can. Let your freak flag fly as your cheerleader-self shamelessly makes an appearance for your most valuable NFL team.