Every April, charities, hospitals and communities recognize volunteers and celebrate how their work helps organizations thrive. Fusion Medical Staffing believes in the importance of volunteering. Finding a way to give your time and skills to a cause that ignites a passion to help others, gives the person volunteering a deeper sense of purpose. Balancing work and family are hard enough… finding time to volunteer in addition to all of that, can be almost impossible at times. In honor of April's focus on volunteers, Fusion wanted to take the time to showcase a few of our employees and their passion for helping others.
Random Acts of Kindness, crocheting, volunteering to help homeless shelters, projects that help kids, and foundations that help animals are the main passions of one of Fusion's first employees, Autumn Rose. Growing up with just the necessities made Autumn realize how hard it can be to provide for your family.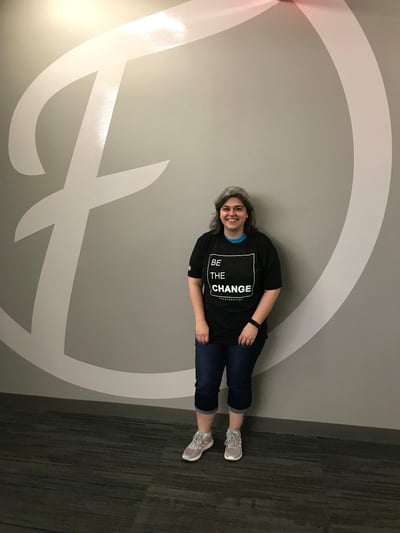 "I remember how my mom could make something out of anything. She could take the only few ingredients that we had in the house and make a meal out of it."
These life experiences have helped shape Autumn's beliefs; that it is important to help do what you can for those in need. Every couple of weeks Autumn tries to do a random act of kindness by paying for somebody's coffee or meal.
"I do this because there was a time that I couldn't afford to do it. I remember only having $3.00 left and going to a drive thru to get the cheapest thing for lunch. I went to pay and was told the person in front of me had taken care of it. It was such a nice thing to do, but I couldn't do that for the person behind me and I felt bad."
Autumn, a single mom of two, brings her children to many volunteer events. "I want them to help serve at the homeless shelter with me, so they can see how important it is to help."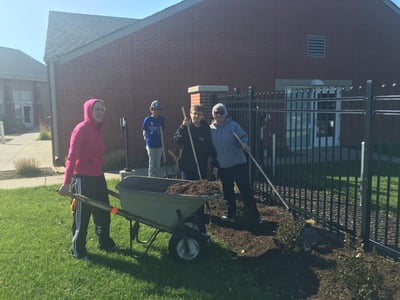 She began crocheting when she was young, and made it into a side job many years ago. She has made many blankets, hats and ear warmers for disabled veterans, local area homeless shelters, as well as prizes for raffles that help families in need.
"I am planning on making blankets for animal shelters. I have crocheted so long and can make things quickly. I like using that skill to help others."
Volunteering can be difficult for some if you find yourself relocating every 13 weeks. If you are Holly Rochelle, you welcome that challenge. She has been a Traveling Medical Laboratory Technician for Fusion Medical Staffing since 2015.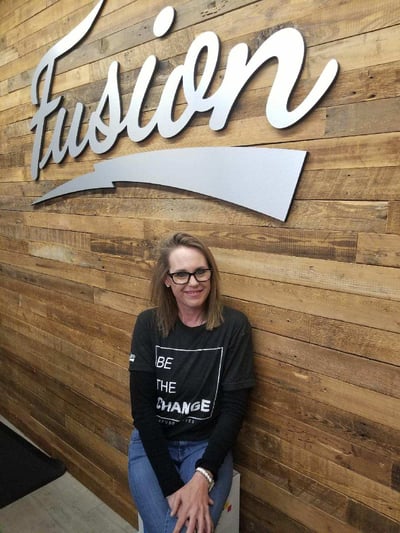 "Finding a place to donate my time while I am on assignment is part of me acclimating to the community."
Holly spent time while she was on her last assignment volunteering to draw blood at a local charitable event. "Spending my time meeting people in the community I am working in is important to me."
While working at a hospital in Kansas, Holly had a coworker that was a phlebotomist trying to figure out a way to go back to school to be a Med Tech. Holly helped provide a scholarship to this young woman that would provide for her school books.
"If I can financially help someone with their goal to better themselves, I want to do that."
Rochelle's passion for life and the community is strong. She was diagnosed with stage IV colon cancer in 2003. With no family history of colon cancer, this diagnosis came as a shock. Holly took it as an opportunity to educate herself and others. She is now on year 14 of being cancer free. Holly is the founder of Rollin to Colon, an annual cycling fundraiser that raises awareness and funds for families and research for colon cancer. Holly credits her dad with instilling in her a desire to give her time to help others. She explains that his diagnosis with MS years ago has helped her to see how strong a human being can be. "He still works out all the time and does everyday life with a great mindset."
Finding new places to volunteer and exploring fun places while she travels on assignment are the things Holly values the most.
"I truly believe that if you give more than you take, your life will be great".
Helping others and displaying an attitude of gratitude are often learned from those you spend most of your time with. Nursing Client Manager, Kym Benning cannot remember a time where she wasn't involved in the community.
"I was raised by two parents who constantly helped other people and the world around them. My brothers and sisters and I had no choice but to volunteer."
Benning says that her father's involvement in education and coaching meant that they always had people joining them for dinner and the family was always donating clothes and shoes for kids her father would teach and coach.
"I try not to live in excess. Money doesn't buy happiness, it buys things. Volunteering your time to causes that mean the most to you will make you happier than anything money can buy."
In college, Kym joined the sorority Alpha Kappa Alpha. The mission of this group has remained consistent for the 100 plus years since being established: to be of Service to All Mankind. Spending her college years volunteering with her sorority sisters helped keep Kym's passion for service strong. Today, Kym can be found volunteering for a variety of causes. She is passionate about using her voice to help educate the community of their rights and important legislative changes. She rallies her coworkers to make bag lunches for the homeless that they take and handout in prominent homeless areas in Omaha.
"Doing the work makes you humble. Handing out food and taking the time to relate to people and their situations makes us understand the importance of helping."
Having her children see volunteering as a must is vital to Kym. "Leading by example is what my parents did and I am committed to be the same example for my children."
Follow Fusion's Be The Change page to learn more. If you would like to find a way to volunteer in your community visit Volunteer Match for ideas and options.