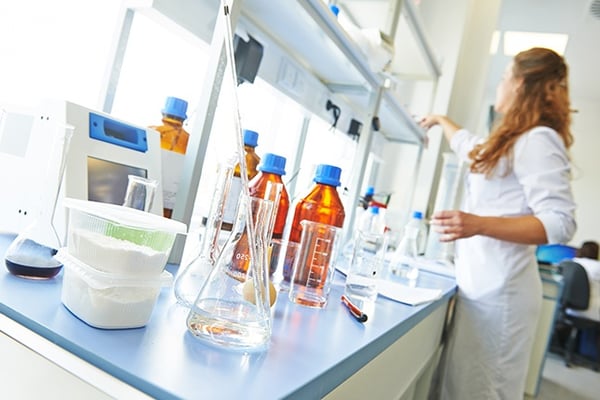 We've got Lab!
This is Lab Week, which means we're shining a spotlight on all the angles of Lab—from a traveler's view and from an account manager's perspective.
Special thanks to our traveling lab professional, Norma, for offering us the rundown on Lab from a traveler's perspective, and to Jes, our Lab Account Manager, for answering some questions from a behind-the-scenes view of why lab is important. These two smarties sure know the ins and outs.
Q: So, what is so important about Lab anyway?
Norma: As medical laboratory professionals, we are vital healthcare detectives, uncovering and providing laboratory information—from laboratory analysis that assist the physicians in patient diagnosis and treatment, as well as in disease monitoring interpretations. 70% of the information that is needed by the physician to treat a patient comes from the work of the medical laboratory professional. We work around the clock to provide these accurate and timely results.
Q: What goes into working in the Lab ?
Norma: Have you ever wondered who conducts the detailed laboratory testing for your annual exams (your blood count, cholesterol and glucose levels, your blood type) and analyzes the results? What about who identifies an antibiotic resistant infection, or who conducts specialized testing for genetic disorders? If you thought it was your physician, or maybe a nurse or someone else you may see at your doctor's appointment... you would be incorrect. We are not seen in the immediate healthcare environment. You see the nurse, physician, respiratory therapist, and some others.
Most people don't know what happens to their specimens (blood, urine, sputum, etc.) once they go to the laboratory. It's the medical laboratory professionals who conduct some of the most complex testing on those specimens, and knowing the results of that testing may very well save your life.
Q: Who is behind the scenes in Lab?
Norma: The different departments consist of—
Blood Bank: Where screening is done to find out your blood type and compatibility.
CBC, Hematology: Will help with testing for blood disorders.
Micro: To see what antibiotics may be needed to treat you.
Chemistry: Tests electrolytes, cholesterol, glucose, etc.
Coagulation: To see various clotting factors.
Laboratory professionals are also trained and educated to do the critical and necessary quality control so the tests can be trusted to use.
Q: In talking about the importance of Lab, why is lab important to you, specifically?
Norma: I like knowing that what I do is a direct influence on how a patient is medically treated.
Q: I've noticed travel labs are heavy in New York and California. Why is that?
Jes: Both of these states require state licenses where you have to invest a little more time into the licensing process. They're a little more pricey and lengthy. The follow up can really be a hurdle for some as well. We like to tell techs interested in these states that they can practically be a forever traveler and just float from facility to facility in these states. Most of these facilities are looking for permanent techs, but the demand is exploding, and we don't have nearly as many techs graduating in this field anymore.
Q: So, why do you think we need traveling lab professionals?
Jes: Traveling professionals help many facilities for several different reasons. Some hospitals choose to use a traveler for a short term need, but are typically staffed (maternity leaves, FMLA or someone needing to be out for a couple months.) And then you have facilities that have trouble holding down permanent techs or may be located in very rural areas where they do not see as many applications coming through. This is where a traveling professional will come in and help as much as they possibly can.
Q: Do you have anything else to add?
Jes: Personally, taking the time to obtain state licenses really puts you over the top. You have locations not nearly as many techs are fighting for. We reimburse for any licenses you obtain, and we send you too! Choosing to travel is incredibly rewarding and will fulfill your pocketbook, really strengthen your resume and knowledge, and will keep your skills fresh and up-to-date. Not to mention, you will meet so many new friends and create life-long memories, all while being paid.
Norma: As Medical Laboratory professionals, we hope that you will begin to share exactly who we are and what we do. Simply put, we save lives every day. You may not see us or know us, but you want us at the medical laboratory bench matching your blood or diagnosing your cancer. We are the hidden profession that saves lives daily.