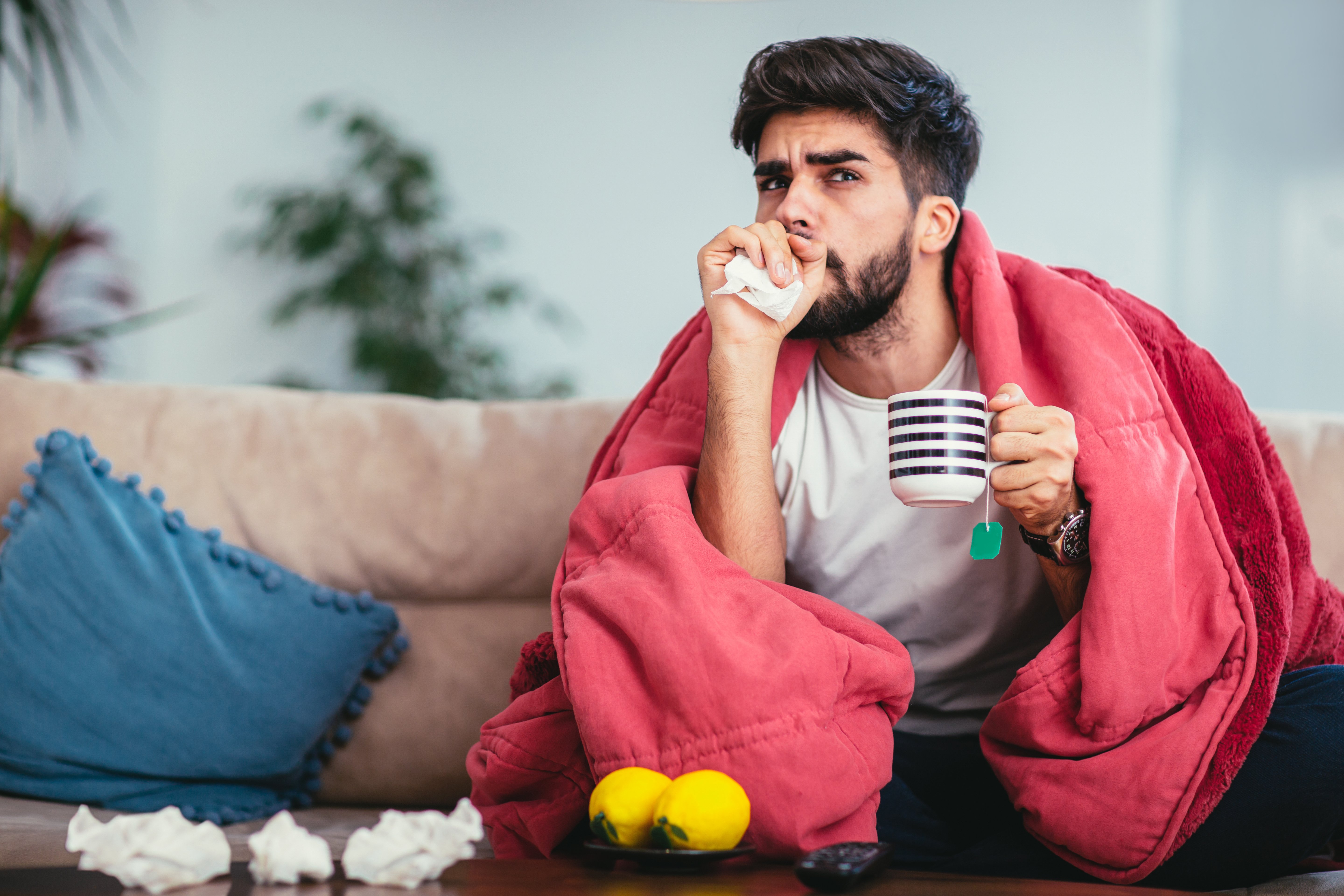 We're about a month into this year's flu season, and it's never easy to predict how bad the flu will be each time it shows its ugly face. However, something we can all agree on is that the flu is clearly no fun at all and can put a huge wrench in our daily activities. Not only that, it can be dangerous or even deadly to those with weakened immune systems, older people over 65 years old, and children. Last year, the CDC reported 135 influenza associated pediatric deaths for that season.
The Season of the Flu
Influenza attacks your respiratory system, including your nose, throat, and lungs, and brings your immune system down. When you feel that runny nose and those terrible muscle aches, it makes sense. Interestingly enough, your immune response, not the flu virus itself, is what's causing your symptoms. That immune system, which is fighting tooth and nail to gain the upper hand, is producing cytokines and chemokines to attack the virus and create T cells. This well-intentioned fight produces all that mucus, swelling, inflammation, and icky pain. Not to mention, your muscle soreness adds a whole other element, because those cytokines and chemokines are traveling through the bloodstream and breaking down muscle proteins. Fun. Thanks, body.
What can you do to protect against the flu?
Get a flu shot
It takes about two weeks for you to build up antibodies to protect against influenza, so the CDC recommends a flu shot be administered before the end of October. But, wait! We're past the due date on that, aren't we? Well, just because you didn't get the flu vaccine by the end of October doesn't mean you should just throw your arms up in the air. Get thee to the nearest clinic and get that shot! It will still help protect you against influenza. In fact, most cases of the flu occur late December, so you're still covered.
Even if you're not a fan of needles, the vaccine comes in a nasal spray too. Both the shot and the spray protect against four different types of flu virus, although the nasal spray is only recommended for people ages 2-49. People with certain health conditions or pregnant women should not get the nasal vaccine option.
The CDC is making it easy for you to go get your flu shot too. You can find the nearest flu vaccine clinic here, using this Flu Vaccine Finder.
Stay home
Are you the person who is fully sick and still comes into your shift? Don't be that guy. Stay home and use the downtime to rest and catch up on your favorite TV series. It may feel boring and helpless to sit around or you may feel bad having someone cover your shift, but bringing that kind of illness into your workplace, especially if you're a traveler working in a hospital or clinic, is dangerous (and pretty inconsiderate too.) When you're finally ready to rejoin society (it's recommended that people with the flu stay home for at least 24 hours after their fever is gone), make sure you're still covering your mouth when you cough or sneeze. Not only will it help contain any remaining infection, but it's also just good manners.
Wash your hands
Flu spreads by hitching a ride onto little particles of mucus and saliva. (Freeloaders, am I right?) So when you're coughing or sneezing onto your hand, there it is… a whole handful of flu, ready to be smeared onto various fun surfaces that will, in turn, infect the people around you. Wash. Your. Hands. Experts advise washing your hands to help limit the spread of influenza and get rid of other germs that could make you susceptible to illness, especially around flu season. Use hand sanitizer too! Although hand sanitizer won't kill other viruses, like norovirus, it will kill the influenza virus and that certainly helps keep everyone healthy.
While you're at it, wipe down surfaces. Maybe someone sneezed onto the faucet the last time they were in the bathroom. Maybe someone coughed into their hand and pressed the start button on the microwave before they could wash their hands. See how easy it is to spread our germs around? Keep it sanitary! Read up on our hand washing blog here.
Influenza can cause a number of health problems, including pneumonia and respiratory infections, or it can also amplify and already existing respiratory problem, such as lung disease. That means this year's influenza season will need more cardiopulmonary specialists on the job to help out.
Fusion's newly-launched cardiopulmonary division makes it even easier to go where you're needed. Who does Fusion staff in the cardiopulmonary division?
Registered Respiratory Therapist (RRT) and Certified Respiratory Therapist (CRT)
RRT: Requires a 2-4 year degree, 1 year experience in hospital setting, BLS certification, NRP certification, and PALS certification; May require PICU or NICU experience
CRT: Requires a 1-2 year degree; May require PICU or NICU experience
RRTs and CRTs help people who suffer from chronic respiratory diseases like asthma, bronchitis and emphysema. People who have had heart attacks or who have sleep disorders and infants who are born prematurely might also need respiratory therapy to help them breathe more easily. Respiratory therapists also provide emergency care to patients suffering from heart attacks, drowning or shock.
Polysomnographer / Sleep technologist
Requires 1 year experience working with certification in a hospital or independent sleep lab and BLS certification
Requires RPSGT to travel
A polysomnographic technologist performs day, overnight, or home sleep studies on people who may have a sleep disorder. Becoming a polysomnography technician or technologist is an on-the-job or certification-based endeavor. After completing an education program or on-the-job training, a polysomnography technician is eligible for credentialing by the Board of Registered Polysomnographic Technologists (BRPT).
Electroencephalographic (EEG)
Requires 2+ years experience, ARRT certification, BLS certification, REEGT certification
Most EEG technicians work in hospitals and take readings of the nervous system so neurologists can analyze them and conduct neuropsychological research. They also maintain and operate EEG machines, and speak with patients to get an accurate rundown of their medical history.
Electrocardiograph (EKG)
Requires a high school diploma, BLS certification, EKG Tech License, and 2 years experience
CCT certification is preferred
EKG techs are also known as cardiographic or electrocardiogram technicians. Their duties include performing diagnostic tests to help doctors identify and treat cardiovascular issues. These diagnostic tests help find irregularities that could turn into heart disease or lead to a heart attack. Common duties include explaining procedures to patients, monitoring patients' blood pressure, and positioning patients.
Respiratory Care Practitioner
A respiratory care practitioner is also called a pulmonologist. Becoming a pulmonologist typically takes at least 10 years, the breakdown being at least seven years of pre-med training and medical training, and then 2-3 years of specialized training in respiratory care. Pulmonologists care for patients who have a chronic and potentially life-threatening disease, or who have complex symptoms that need a diagnosis by a lung and respiration specialist. They treat conditions like emphysema and pneumonia, as well as other chest infections. Pulmonologists also team up with other specialists to help patients battle lung cancer.
Perfusionist
Requires a minimum 1 year of current work experience as a travel perfusionist
May require one or more of these certifications: ACLS, ABCP
A cardiovascular perfusionist is responsible for extracorporeal circulation equipment, such as the heart-lung machine, during open-heart surgery or medical procedures where the patient is on artificial support of the circulatory or respiratory system.
As the flu season ramps up even more, the need for talented cardiopulmonary staff will increase too. You can find Fusion's travel cardiopulmonary positions here.