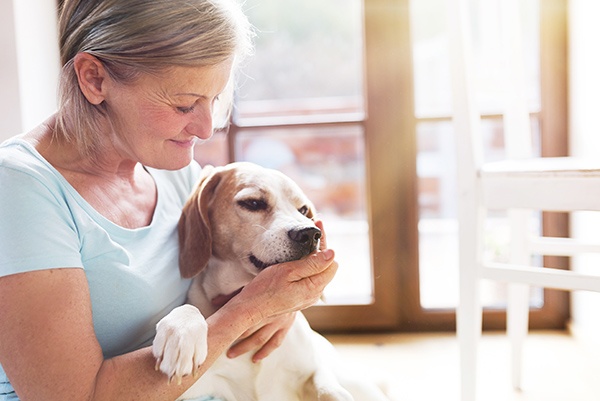 Service dogs. Therapy dogs. ESA dogs. Guide dogs. It's hard to keep them all straight, but they all differ and have different privileges and jobs. I'm going to delve into therapy dogs and how important their job is. Are you and your dog suited for this kind of work? As a traveler, you probably want to bring your dog everywhere. Have you been thinking you'd like to take your dog on this journey?
We have all been to schools, hospitals or nursing homes where dogs are visiting kids or patients—these are the therapy dogs. As the AKC defines, their job is to volunteer with their owners to bring happiness to people they are visiting. What you may not know: it is proven that dogs can bring physical changes on people, boosting their moods and helping them feel better. Their presence can balance blood pressure, increase endorphins and lower anxiety, decreasing cortisol levels. These are all really great things, right?
We need therapy dogs everywhere; work, traveling, grocery stores, but that is the big difference between service dogs and therapy dogs. They don't have the privileges of being able to go everywhere.
Okay, so you have a great dog who is super well-behaved. Sign me up for that! And you're traveling for work and think it would be really great to bring your dog to the hospital you're currently working. Your travel job with your dog, who is doing good work too? What could be better? But hold on a minute… just because you have a really well-behaved dog doesn't mean they would necessarily be the best fit for this kind of job. I'll tell you why.
It's not just about what you want for your dog. We have to discover what our dog's strengths are and what they like to do. For instance, my dog Ruby is a fantastically behaved dog, and I know she would behave herself—sit when I tell her to so people could pet her, not jump on people to keep them safe, etc. However, I know that's truly not what motivates her nor does she gain much satisfaction from any of it, so she and I would not take on this kind of great volunteer job.
Do you still think this is a journey you would like to take with your dog? Having a solid obedience foundation is helpful if you want to certify your dog as a therapy dog. Some of the activities your dog will have to be good at are:
- Sitting for long periods of time (like when an owner is reading a book to a group of children or visiting with a hospital patient)
- Staying down and not jumping, accepting loud shrieks, noises and excitement from groups of people (especially children)
- Not playing with those tennis balls on the bottoms of walkers (in PT or assisted living facilities)
As long as your dog can comply with you and the facility on all of these aspects, it will keep everyone safe.
To further your therapy dog journey, you will need to go through organizations, such as Domestic-Pups or Healing Heart Therapy Dog, Inc. located in Nebraska, which further the training and certification process.
In the meantime while you are deciding on this journey, practicing obedience in real world settings and building that solid relationship with your dog would benefit you and your dog. Dog On It Training and Rehabilitation is always here to answer any questions and to help you build that solid obedience and relationship. The AKC also has a wealth of information on therapy dogs and can answer any other questions you may have.
It is a beautiful thing what these 4-legged creatures can offer us. Hopefully this overview will help you take this journey if you are ready and give you a newfound respect for these dog-and-owner therapy teams when you see them.