Getting to know Joe!
Joe Kunes: Therapy Account Manager and Team Lead.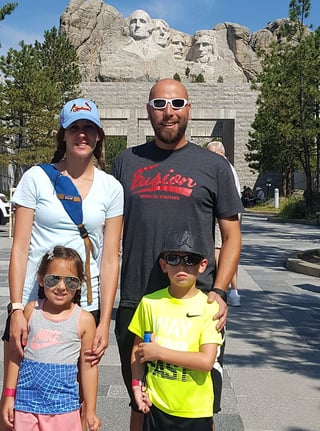 What is your favorite part about being a recruiter?
Helping people who may not be able to help themselves by placing quality therapists with clients who need them. Contributing to society in a positive manner!
When you aren't at work, what do you do in your free time?
Watch sports and hang out with my wife and kids!
Describe yourself in three words.
Driven, hyperactive, and fun-loving
What is your favorite place to visit for vacation?
Pennsylvania (where my dad's from)
What is a typical first-time traveler's biggest worry?
If you could choose a form of communication- email, phone call, or text- which would it be and why?
Phone call- because you can accomplish a lot more in less time.
If you were a traveler, what would your top assignment destinations be?
San Diego, Austin, TX, and Hawaii
Lastly, what is the best advice you have for a traveler looking for a good recruiter?
Roll with the person you feel has your back more than anything else!!
Here's Joe with a dinosaur.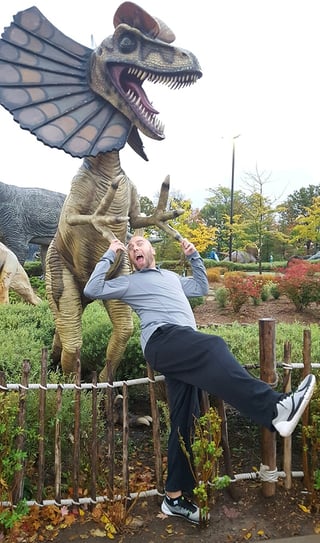 Kudos:
"His hair is always looking good....kidding! He's always there to help out and lend a hand when people need it." - Brandon
"Joe is a wealth of knowledge. He has helped me tremendously in my first year here at Fusion. Plus, he is incredibly organized!" - Chase
"Joe is a man of his word! He always follows through for his travelers, clients, and coworkers. He's extremely animated which brings character to every day!" - Tessie
"Joe has tons of energy. He is passionate and makes a great team lead" - Travis