Our goal at Fusion is to provide the answers you are seeking when it comes to healthcare traveling. Whether you are a traveler yourself, or a facilities considering utilizing travelers, we are here to educate you! Just as we hear many of the same questions from travelers each day, the facilities we work with have them too!
These are the Top 10 Questions From Facilities About Using Travelers:
Are you considering using travelers at your facility? Or maybe you want to know more about working with Fusion? Contact us today!
What is included in the All Inclusive bill rate? Everything! Licensing fees, workman's comp, insurance, travel, housing (our biggest expense) and CEUs. Travelers who travel away from their home are also eligible for a meals per diem. The inclusive rate would also cover that.
Is the contract exclusive? No. Although, we always want to be your #1 company and wouldn't turn that down! This market is currently so crazy busy, I would not recommend signing an exclusive agreement. No one agency can fill all of your needs, simply because there are so many requisitions open.
What kind of nurses do you staff? Pretty much every single one you can think of! There are some specialties we are stronger in than others. For example, some we are not strong in are home health, case managers, and dialysis.
How fast until I start seeing profiles? This is a tricky question. There are so many factors that go into us being able to submit profiles. For the best chance at getting profiles quickly here are a few tips.

Guarantee interviews within 24 hours. When it comes down to it, a major driving factor in where someone will go, is us being able to tell them the hospital will interview right away.
Give us as much information as possible about the unit, culture of the hospital, and what there is to do in the area. A lot of times when talking with candidates, they chose to be submitted to the position they know the most about.
Bill rates. This is a dirty phrase but it's so important right now. We understand as an agency, using travelers needs to be as cost effective as possible. However, hospitals are no longer competing with the next hospital down the road, or even in the state most of the time. Travelers have really opened up to considering regions of the US, and will most of the time pick the best pay package they can get.

How often do the nurses turn down a position when offered? We strive to tell the nurse everything we can, so this doesn't happen. Our 'conversion' rate on nurses who take a position when offered is around 90%. There are some companies that will send a profile to a hospital where the person doesn't even know the basics of where they are going, the type of unit they are going to, or even the pay package! Sometimes the candidates don't know they've been submitted. This is not our approach. We want to make sure that not only do they know all this information so they can make their decisions before the manager takes the time to interview them. We also want to make sure we are sending nurses of the highest caliber. We're picky!
What if we really like the RN or Tech and we want to have them go perm? We want whatever is best for the hospital. If that means our traveler and the hospital fall in love and want to stay together, by all means, let's do it! If there is a fee, and/or how much the fee would be depends on the contract with the hospital.
What if we don't like the RN or Tech and need to let them go, how do we do that? Our first solution is to always try to counsel the employee before making that decision. Obviously if it's something dangerous that happened, or was grossly out of line, we understand letting them go immediately. However, if that's not the case we ask to be looped into conversations happening that could lead to a termination. Travelers don't always tell us about conversations with their managers, and we as the agency could be totally unaware of what is going on. The more we know, the more we can be your partner on getting things back on track. Give us a call, and we will take care of it from there. We are literally available to you 24/7!
Why are rates getting so high? This ties into the bill rate section above. In addition to looking at jobs regionally, travelers are comparing their pay packages to make sure they are 'getting the best deal.' Social media has greatly changed the landscape of the industry. The nurses talk about everything from what they are getting paid to, the agency they are working for, and the hospital they are at.
Who do we call if there is a billing error? Unfortunately, this happens more than we would like. But, we are working with people, and there tends to be mistakes that happen along the way. I would suggest reaching out to your Client Manager first to see if they can help you resolve the question quickly. If they are not able to, they will get you in touch with one of our rockstars from the accounting team and we will work to get it resolved as fast as possible.
Do you ever visit the facilities you work with? Yes! Each client manager will visit the hospitals they work with every 1-2 years. We want to be an extension of your recruitment team. In order that to happen, we want to tour the hospital, meet your managers, and really become an expert on the community. Again, the more we can tell the traveler about you, the better the chance we can get them submitted!
We look forward to talking with you and helping fill your staffing needs!
Looking for more information about the benefits of Healthcare Travelers? Check out The 5 Common Myths of Temporary Medical Staffing!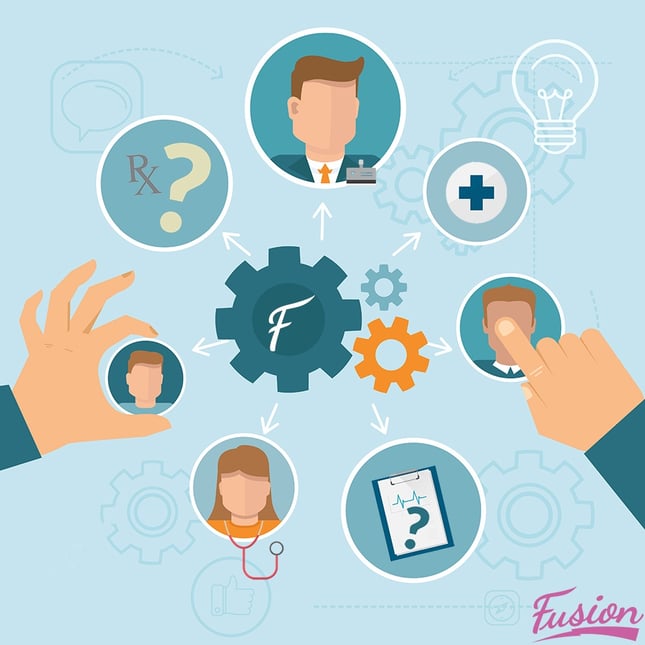 If you're thinking of becoming a traveler and want to know more about how traveling can help your medical career, download our free eBook.