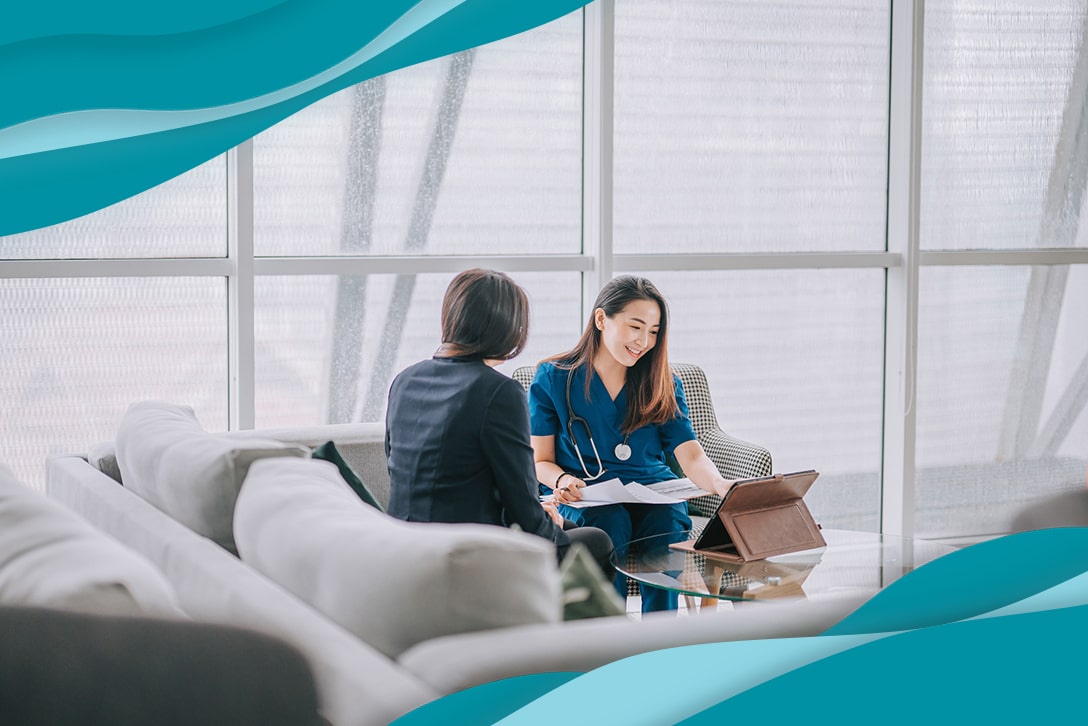 With the nationwide shortage of health care workers, it can be tough for medical facilities to make staffing ends meet. And when that happens, many facilities turn to professional health care travelers to help balance some of the immense workload. Not sure if your facility would benefit from a helping hand from a professional health care traveler? Find out more.
Top 10 Questions from Hospitals and Medical Facilities
About Using Travelers
Our goal at Fusion is to provide the answers you are seeking when it comes to healthcare traveling. Whether you are a traveler yourself, or a facility considering utilizing travelers, we are here to educate you! Just as we hear many of the same questions from travelers each day, the facilities we work with have them too. Are you considering using travelers at your facility? Or maybe you want to know more about working with Fusion? We have what you're looking for.
General medical staffing FAQs
Whether it's your first time using professional travelers at your medical facility or if you're simply in the market to know more, we have the answers to some of the common medical staffing frequently asked questions (FAQs).
No. 1: What type of staffing gaps do medical travelers fill?
It can be tough to know if you should hire temporary staff, especially with the ebb and flow of patient visits and hospitalizations. Plus, there are so many situations that could warrant the use of contract employees. For instance:
An influx in COVID-19 patients
Census fluctuations
Perm staff maternity leave
Perm staff extended vacation/leave
Perm staff leave of absence
And more
In addition to these scenarios, travel nurses and supplemental medical staff can lend a helping hand to help avoid burnout amongst your perm staff employees, which in turn, can help strengthen employee retention and workplace satisfaction.
"[Medical travelers are] for when we have critical shortages," said Barbara Fetters, RN-BC and nurse manager at Mercy Hospital Springfield in Springfield, Missouri. "We keep them until we hire permanent nurses and have them trained. We don't want to burn out our [perm staff]."
No. 2: There's a traveler at a high bill rate that needs to be reduced. What's the best way to do that?
Oof, this one can be tricky. TBH, this is happening more and more often recently with the decline of COVID-19 cases. So, how can you handle it?
Our first solution is to always try to counsel the traveler, so they know what to expect. The last thing we want is for the traveler to receive their first paycheck and realize it's lacking—that doesn't sound fun for anyone involved. Instead, get ahead of that situation and inform the traveler of what's up. Then, explain what that may mean for them.
Still having issues? Flash the Fusion signal in the sky! Or just give us a call. We're literally available to you 24/7 and always happy to help!
No. 3: What are some staffing trends to be on the lookout for?
First and foremost, you should know the medical staffing industry is booming with growth. According to Grand View Research, the U.S. health care staffing market was valued at $24.1 billion in 2021 and is projected to grow at a 5.6% rate from 2022 to 2030.
However, while the market experiences major growth, the nation continues to face a shortage of nurses, physicians, lab techs, and more medical professionals. In fact, according to the American Nurses Association (ANA), there are more registered nurse jobs available through 2022 than any other profession in the U.S. Plus, the U.S. Bureau of Labor Statistics (BLS) estimates that more than 275,000 additional nurses are needed from 2020 to 2030. Not to mention the nationwide projected shortage of up to 124,000 physicians, according to the Association of American Medical Colleges (AAMC).
Another medical staffing trend to stay on the lookout for is traveler rate de-escalation. Since COVID-19 hospitalizations have started to level out, traveler rates are de-escalating toward what they were pre-pandemic. During the peak of COVID-19, traveler rates were as high as $175/hour and now, rates have decreased to closer to $100/hour, depending on the traveler's modality, specialty, and experience level. The ebb and flow of traveler rates can be tough to navigate, but this guide from Fusion Marketplace has all you need to know to stay on top of it.
No. 4: Are all medical staffing options the same?
While things may seem overall pretty cut and dry, not all staffing options are the same, so it behooves you to dig into the details to get a grasp on the total price of temporary staff. The staffing agency you choose to work with can truly make or break the experience for your hospital or medical facility. Why? Because the agency you work with directly impacts staffing costs.
If you're looking for our advice, we'd suggest going with a staffing company that offers transparent pricing—you know, like Fusion Medical Staffing. Here, you won't find hidden costs or additional unexpected fees. Instead, you'll get exactly what you came for: Talented, passionate, and experienced medical travelers.
No. 5: Are health care travelers more expensive than perm staff?
It's no secret that travel nurses and other medical travelers earn more than their staff counterparts. But does that mean they're more expensive to hire than perm staff? You'd think so, but here's a plot twist: Temporary professionals can actually save facilities and hospitals money. Here's how the math adds up.
Since facilities and hospitals employ perm staff, they're the ones responsible for covering the employee benefits that come with the job. That means health insurance, dental coverage, retirement contribution, etc. But since travel nurses and allied medical travelers are employed by a staffing agency, the staffing agency is the one investing in the traveler's health, wellness, and future, thus saving your facility that expense. Plus, according to the 2019 SIA Health Care Staffing Report and the 2017 KPMG U.S. Hospital Nursing Labor Costs Study, the average bill rate for contract nurses is $83/hour, whereas the bill rate for perm nurses is $89/hour. And as it turns out, this small difference makes a big impact for hospitals and medical facilities.
Keep in mind every hospital and medical facility is different, so staffing costs may vary. But in the right scenarios, using contract employees is a smart business move and largely cost-effective at the end of the day. I don't know about you, but I'm a big fan of getting the job done and saving money in the process.
Like what you're reading? You may also like: Travel Nurse Staffing Costs: Myths vs Reality
✨ Fusion Medical Staffing FAQs ✨
Now that we know more about general medical staffing, let's explore the unique things Fusion Medical Staffing offers to hospitals and medical facilities in need. And as a bonus, see why Fusion is a top choice for medical facilities across the country!
No. 6: What allied specialties does Fusion staff?
Allied medical professionals are in demand now more than ever and we know it. To help bridge the staffing gaps, Fusion staffs a wide variety of allied health experts. Here's a list of allied divisions and specialties to help break it down:
Cath lab: Cath Lab Director, Cath Lab Manager, Cath Lab Tech, EP Tech, Interventional Radiologist
Laboratory: Medical Technologist, Medical Technician, Histotechnician, Histotechnologist, Phlebotomist, Cytotechnologists, Pathologist Assistant, Lab Assistant, Lab Director, Lab Manager, Clinical Laboratory Scientist
Therapy: Physical Therapist (PT), Occupational Therapist (OT), Speech-Language Pathologist (SLP), Certified Occupational Therapist Assistant (COTA), Physical Therapist Assistant (PTA)
Radiology: CT Tech, Dosimetrist, Mammography Tech, MRI Tech, Nuclear Medicine Tech, Rad Tech, Radiation Therapist, Ultrasound Gen/Echo/Vascular, Diagnostic Radiology RN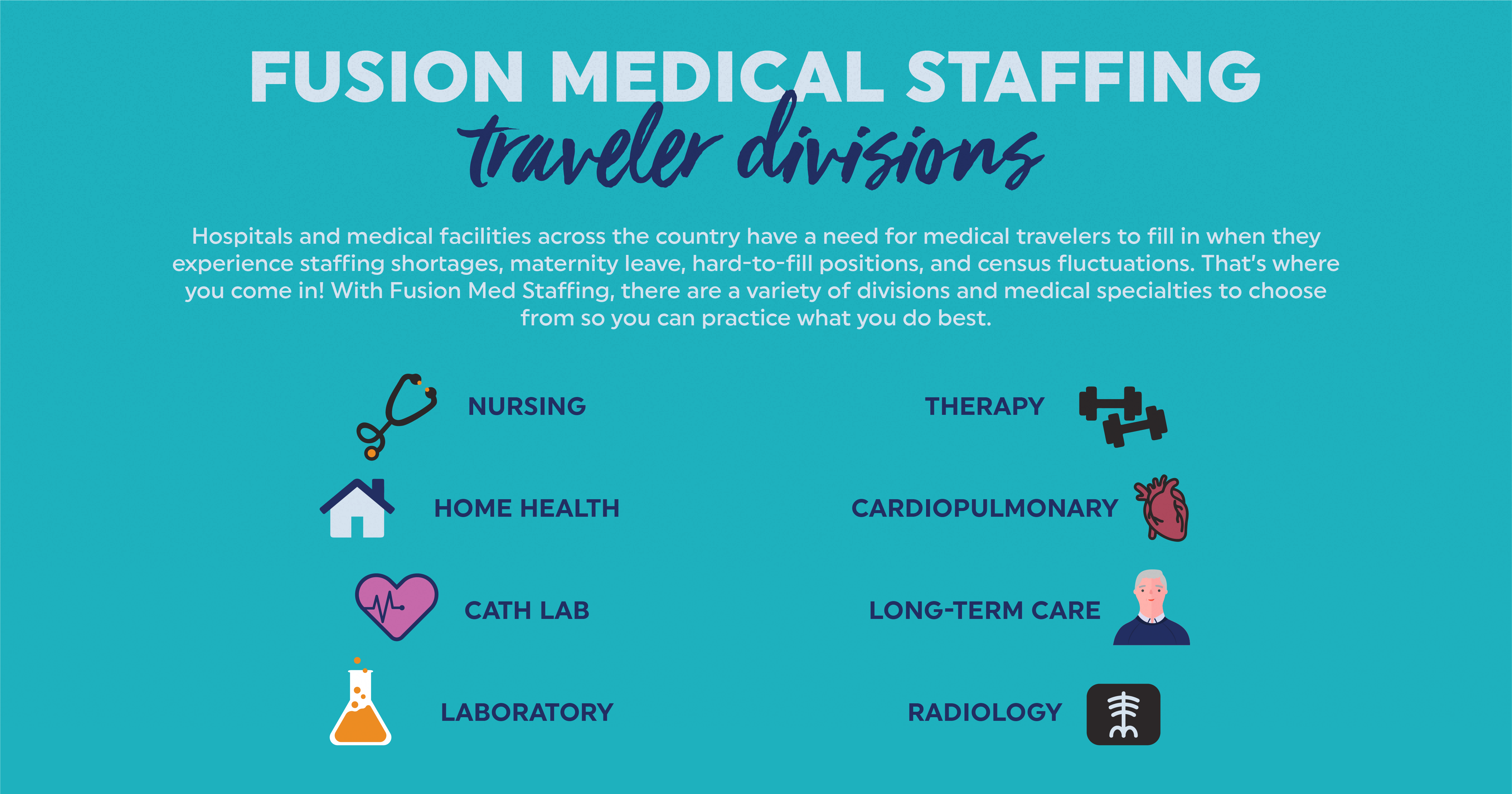 No. 7: How does Fusion help travelers with their mental health?
Mental health is a huge part of your overall health and wellbeing. Fusion gets it. And because we get it, we support our travelers in their mental health journey by offering access to mental health experts and professionals through an employee assistance program (EAP).
But what exactly does that mean? Here's the sitch: All Fusion travelers automatically get 24/7 professional phone counseling. Additionally, Fusion offers medical insurance plan options that fully or partially supplement the costs of mental health services, so travelers have the option to seek in-person care if that's a better fit.
In addition to this EAP, the passionate recruiters and knowledgeable Clinical Team at Fusion both act as resources for travelers. Whether a traveler is feeling burnt out, facing adversity in the workplace, or just needs a supportive pep talk, the Fusion family is there to offer relief however we can.
No. 8: Does Fusion staff home health nurses?
You may have noticed that home health has skyrocketed in recent years. And it makes sense. As people get older, the majority of them prefer to age in place and receive care in the comfort of their own homes. So, you may be wondering, does Fusion staff home health nurses?
You bet your bottom dollar we do. If you're looking for home health travelers, look no further than Fusion Medical Staffing. But not just any home health traveler—Fusion Medical Staffing staffs qualified and experienced home health professionals. To qualify for a home health job with Fusion, a traveler must have:
One year experience as an RN or LPN
At least six months recent home health experience
A current RN or LPN license
A current Basic Life Support certification
A valid, unrestricted driver's license
Critical thinking skills
Service excellence
Good interpersonal communication
The ability to read/comprehend written instructions
The ability to follow verbal instructions
PC technology skills
OASIS charting experience
No. 9: Does Fusion clinically screen travelers?
When your hospital or medical facility is in need of professional travelers, just call us or beep us if you want to reach us. Fusion Medical Staffing specializes in providing high-quality, experienced medical professionals across several divisions and countless specialties. And one way we do that is, yes, by screening all of our travelers. When you partner with Fusion, we handle all the screening nitty gritty like:
Credentialing
Skills checklist
Onboarding
Social security verification
Immunization and licensing verification
Nationwide criminal search
Drug screening
Medical record verification
At Fusion, we have everything you need to get top-quality medical professionals. Because of this process, by the time the traveler reaches you and your facility, they'll already be fully screened, onboarded, and ready to get started on the job!
No. 10: Do Fusion recruiters ever meet their travelers IRL?
Now, you might be thinking to yourself: "Wow! Fusion has so many amazing medical travelers, I wonder if they ever meet their travelers in real life?" We don't blame you for being curious. And to answer your question, we sure as heck do!
We love to meet our travelers IRL. In fact, when travelers are working an assignment in or nearby our HQ in Omaha, Nebraska, our recruiters try to meet and spoil them while they're here! We've even had travelers venture all the way to Fusion just to meet their travel team.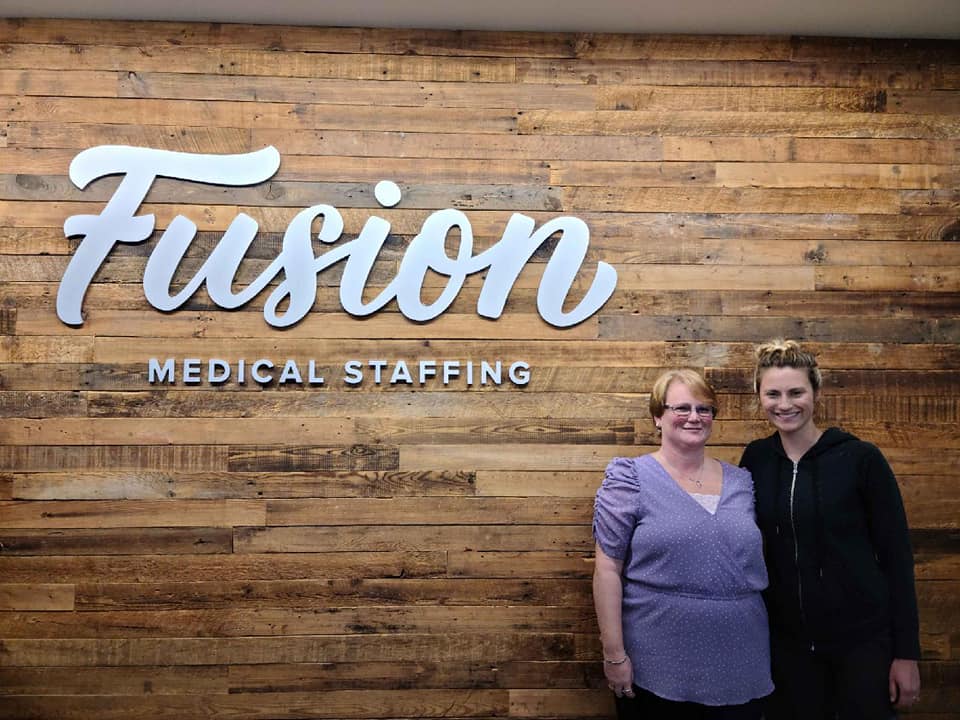 Images from the Fusion Travelers Facebook group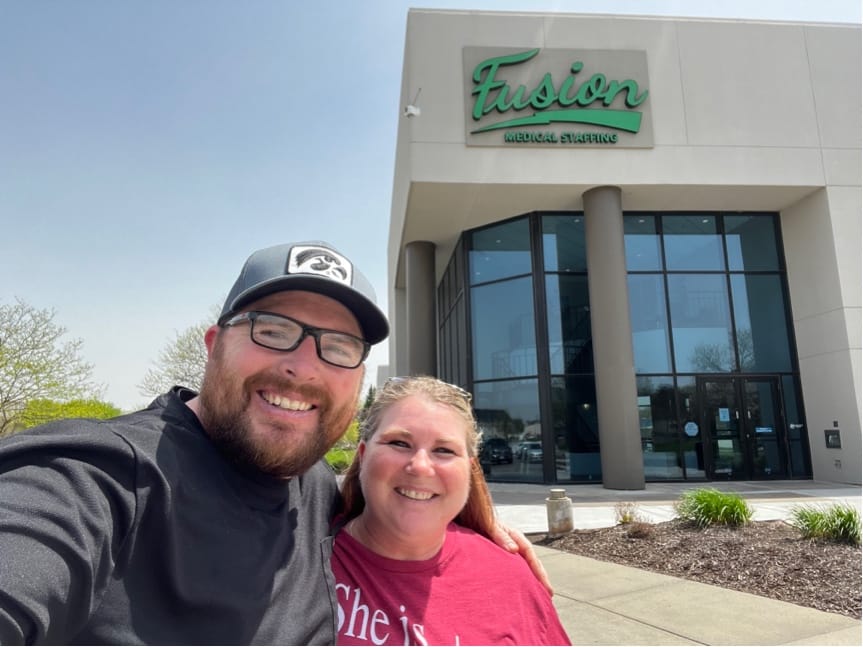 Not only do we meet our travelers in our home court, but we also connect with each other at various networking events throughout the year. You know, like TravCon, the APTA CSM, AOTA Inspire, and the works. Check out previous year's events: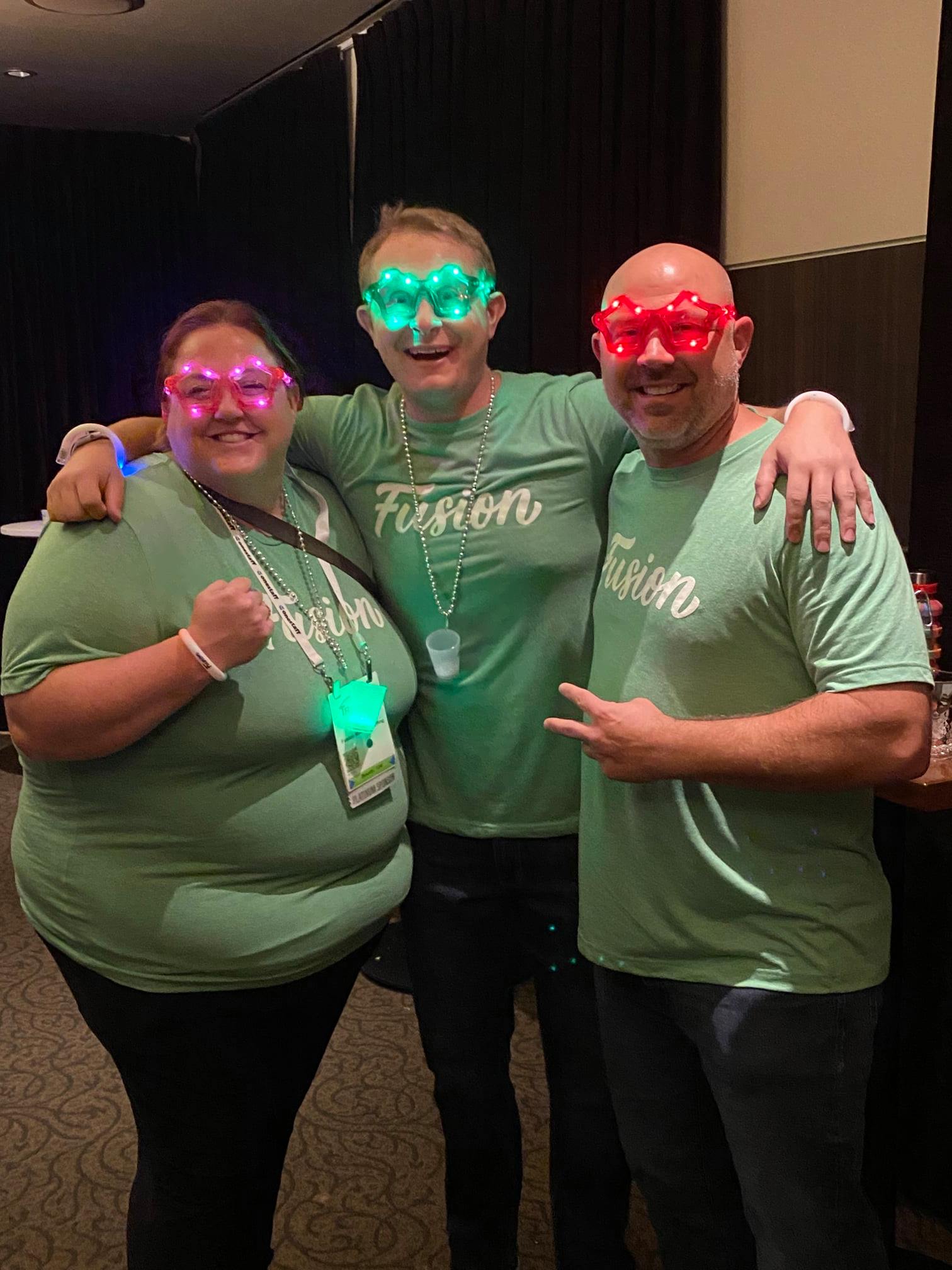 Images from the Fusion Travelers Facebook group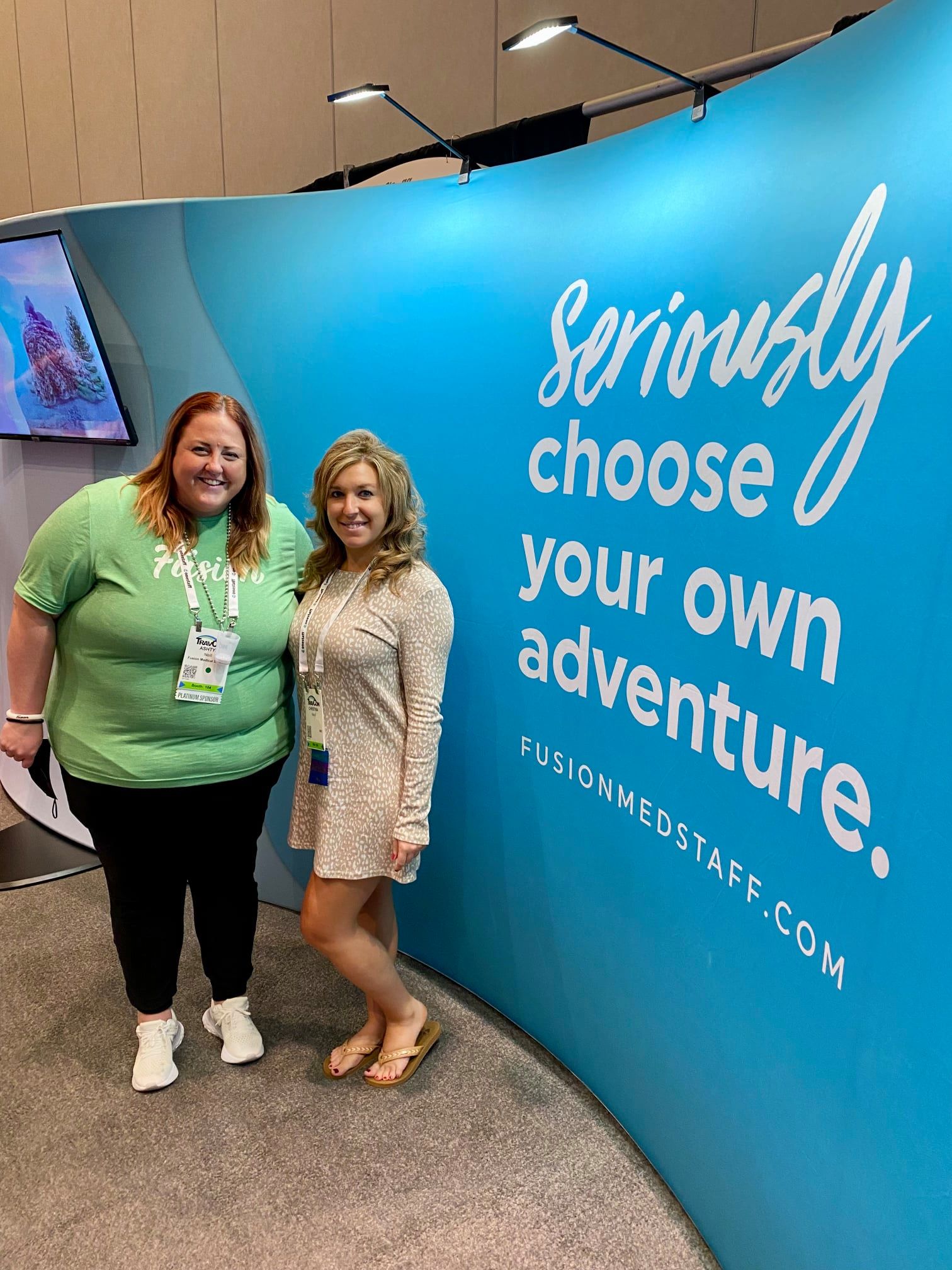 Images from the Fusion Travelers Facebook group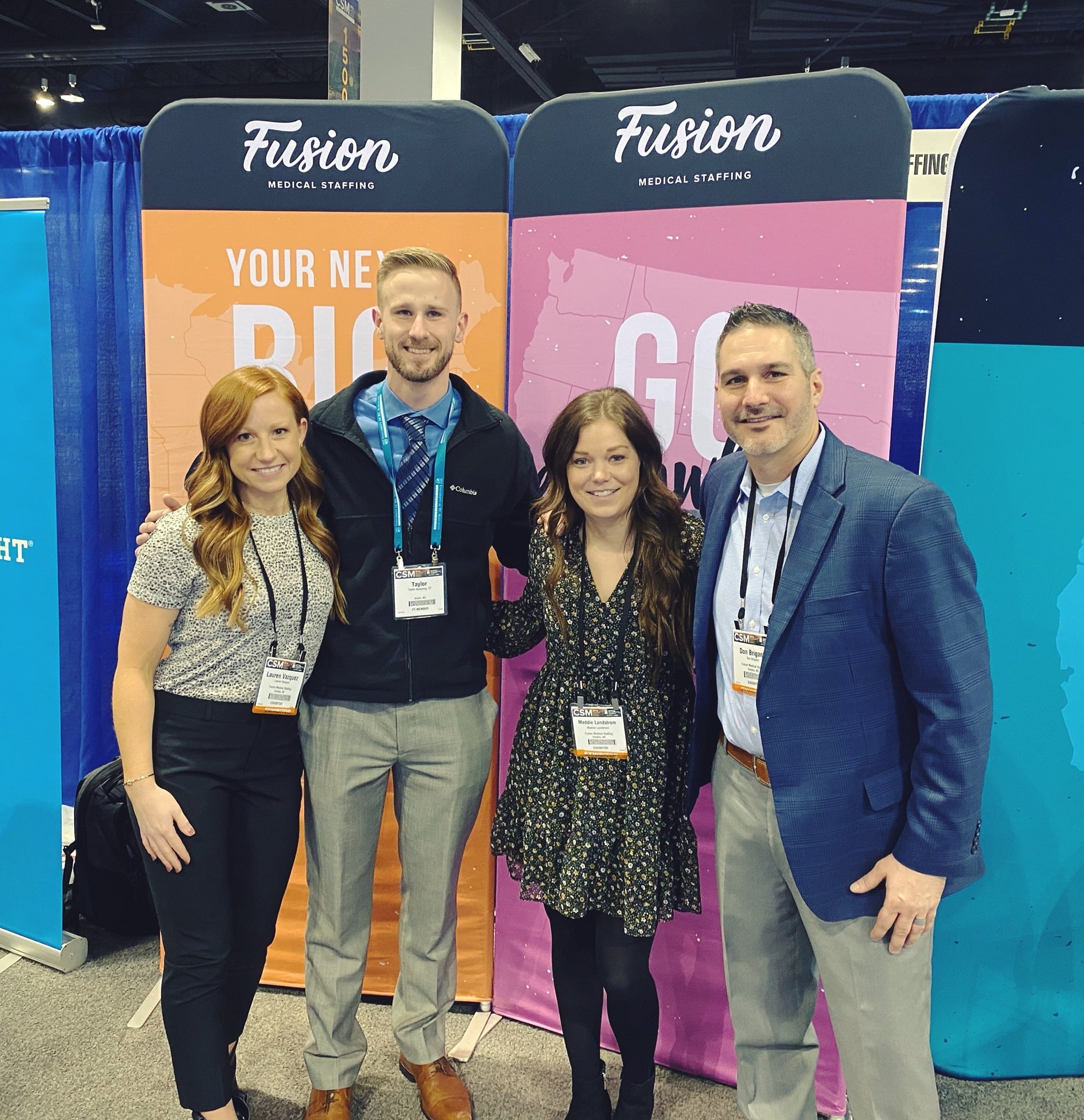 Benefits of using a staffing agency
So, now that we've answered some common staffing FAQs, let's unpack all the benefits of using a staffing agency to hire professional medical travelers. Without further ado, here's the good stuff:
No. 1: Maintain staff in times of need
Remember when COVID-19 hit, and travel nurses and professional medical travelers were relied on to supply care and bridge the shortage of providers? Exactly. Supplemental health care employees help ensure your hospital or medical facility doesn't get overwhelmed in times of health crises. Plus, these professional travelers and medical experts allow your facility to continue offering care when times are tough. I mean, you can't help people if you don't have enough staff. So, to avoid an internal disaster, establish a relationship with a reputable medical staffing agency, like Fusion Medical Staffing!
No. 2: Ward off an HR headache
Hiring perm staff can take a lot of time and brain power. Avoid the HR headache and opt for travel nurses and allied health travelers instead! These supplemental professionals are typically interviewed, hired, screened, and onboarded by a staffing agency, leaving you headache-free. What will you do with all the extra free time?!
No. 3: Save money on payroll costs
Not only does hiring require a bucket-load of paperwork, but it also requires a bucket-load of money. So, it comes as no surprise that using supplemental medical staffing can help reduce payroll costs. And as an added bonus, hiring medical travelers can also decrease insurance costs, saving your hospital or medical facility even more money in overhead costs. And who doesn't love a few extra zeroes in their bank account?
Need a helping hand to make staffing ends meet? That's what we're here for! Give us a ring and let Fusion Medical Staffing provide staffing solutions to meet your facility's needs. Whether you're in the market for a specialty travel nurse, home health professional, cath lab expert, medical laboratory guru, travel therapist, cardiopulmonary specialist, long-term care (LTC) employee, or radiology tech, Fusion has what you're looking for.