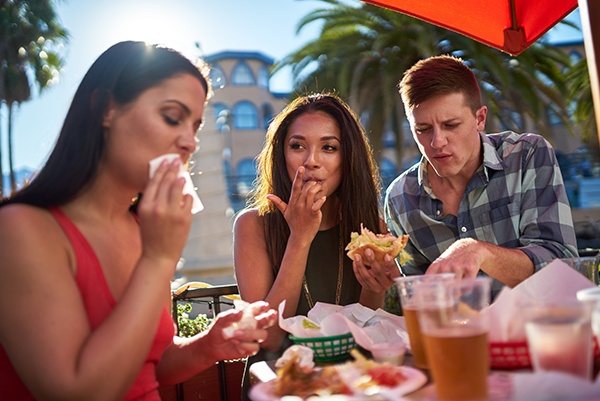 As a traveler, you have the chance to experience new places, and with that comes...
Food! Glorious food! So, are you a travel foodie?
You could discover the next ultimate taco stand, or the best ice cream in the U.S. Get out there and let your tastebuds decide! Here are some places to start.
Wiscasset, ME
An east coast staple! Fresh lobster and mayo on a toasty, buttery bun. Sink your teeth into some of that goodness at Red's Eats in Wiscasset, Maine.
Boston, MA
Get your clam chowda here! It's wicked good. And Union Oyster House has boasted the top clam chowder spot in Boston. It's not surprising; they've been in operation since 1826. That's almost two centuries, friends. My best guess is they know what's what when it comes to chowder.
New York City, NY
Tourists and locals alike will stand in line for this famous New York style pizza. For hours. But don't let the wait dissuade you. Everyone has said it's SO worth it.
Washington DC
If you're a Capitol Hill kid and you want a good deal on some oysters, head to Johnny's Half Shell. During happy hour, their oysters are half off… and they're darn good. Add a dollop of cocktail sauce to that.
Cleveland, OH
Weekends are for brunch, and Cleveland knows it. At Jack Flaps in Ohio City, you can indulge your savory cravings and that sweet tooth with slow-cooked pork belly doused in Mexican Coca-Cola glaze, and a lengthy menu of specialty pancakes.
Charleston, NC
Want to experience where some of the best southern comfort food comes from? At Husk, "If it doesn't come from the South, it's not coming through the door." They're pretty serious about their Southern ingredients.
Atlanta, GA
A hip gastropub in East Atlanta, this hangout has a long list of craft brews and bar eats. After glancing at the menu, I'm sold on the braised pork cheek gnocchi, but their wood-fired pizza is getting all the hype.
West Palm Beach, FL
South Floridians, check it out! This place is serving up farm-to-table meals featuring seasonal ingredients and a sweet, downtown vibe. Speaking of the vibe, the corner locale is hard to miss... it's painted in cool, avocado green. Very fitting!
New Orleans, LA
Louisiana is the place for Cajun cuisine, crawfish, Mardi Gras and gumbo. Chef Ron's is off the beaten path, and rated the best gumbo in the New Orleans area. Make the drive and believe the hype.
Nashville, TN
The south is known for its vast recipes of fried chicken and comfort food. And while you can head to your corner KFC or Popeye's, if you want local, homemade, to-die-for fried chicken… you go to Arnold's in Nashville.
Memphis, TN
Historic Beale Street hosts some of the best blues and jazz music in the country, and it's also one of the best places to get Memphis-style BBQ. Head to the corner of Beale and 2nd Street and smash some ribs at Blues City Café.
St. Louis, MO
The Midwest has some great craft breweries, so it's not surprising that St. Louis wants to give you the best that craft brew has to offer. The St. Louis Hop Shop is your one-stop shop for obscure and well-known brews alike. Next time you have a house party or a backyard BBQ, stop by and pick up something crafty to impress guests.
Chicago, IL
Chicago-style pizzeria, Pequod's, has two locations—Lincoln Park and Morton Grove. Less hype than its fellow Chicago-style pizza counterparts, but locals say Pequod's is the unofficial champion of deep dish.
Fond du Lac, WI
It's the best ice cream in the middle of nowhere! At least that's what Kelly Country Creamery's website says. We're talking about old-fashioned, hand-crafted ice cream from a family owned and operated creamery. They use the best practices for their dairy cows, which makes for a better-quality product. In short: happy cows make better ice cream.
Iowa City, IA
In low-key Iowa City sits a comfort food diner. They are known to take "Midwestern soulfood" to heart, giving a whole new meaning to "the Heartland."
Minneapolis, MN
Street foodies welcome! World Street Kitchen started from a truck, and now serves up street food from around the world, with a restaurant and food truck buzzing around Minneapolis. From Yum Yum bowls to the Moroccan Fried Chicken sandwich, these eats are savory and diverse. Exploration for your palate!
Omaha, NE
Nebraskans will tell you they're absolutely spoiled with some of the best beef you can get. And where do you go in Omaha for a perfect steak? The 801 Chophouse. It offers the best in USDA prime steaks, with a beef standard that precedes itself and a solid word-of-mouth reputation.
Omaha, NE
Hitting the top of the list alongside its steakhouse counterpart is The Drover. If you're an Omahan and you like great steak, then you know about this iconic place. If you can get your hands on the whiskey steak recipe, call me.
Kansas City, KS
I don't think anyone can make a stop in KC without getting some great, old-fashioned BBQ. The one hitting the top of the list is Joe's, tucked unassumingly inside a gas station. But with it's best-rated burnt ends, pulled pork, and collection of awards, it's hard to think of this popular BBQ joint as anything ordinary. Anthony Bourdain named it one of the "13 places to eat before you die" and the Z-man sandwich has a cult following. That's enough for me to turn the car around and make a pit stop.
Austin, TX
Hoover's in Cherrywood has been around for 20 years, slingin' some top-notch fried chicken and chicken fried steak. They have dubbed the phrase "honest-to-goodness good Texas cooking" ... and I believe them.
Boulder, CO
Opened by "Top Chef" winning Hosea Rosenberg, this restaurant serves seasonal, local Colorado-grown ingredients, and uses pasture-raised, sustainable animals. Its accompanying meat shop next door gives you high-quality cuts for home, or an on-the-go killer sandwich when you're feelin' peckish. Blackbelly also has a sister restaurant, Santo, which serves modern Mexican dishes, so that's a place to consider too.
Santa Fe, NM
Oh my gosh, what is a chocolate house?! This immediately piqued my interest, and for good reason: Santa Fe has chocolate nailed down. Specializing in high-quality, authentic and historic drinking chocolate, this place is definitely unique. Some of their recipes span from 1000 BC to the mid-1900s AD, and because it's Santa Fe, you can obviously expect some recipes with chiles. A whole place dedicated to artisanal hot chocolate? Sign me up.
Salt Lake City, UT
We could give you some fancy restaurant list for good ol' SLC, but for this we'll stick to the locals for their recommendations. Hires Big H is a no frills, classic burger joint. It's been around since 1959, offering tasty burgers, fresh cut fries, savory onion rings and frosty root beer. Order a Big H and watch your burger lust come to life.
Boise, ID
Boise has been blowing up with culture and cuisine ever since people figured out this is a beautiful place to live. Since new places seem to be popping up right and left, we thought it fitting to feature a new restaurant, Txikiteo (pronounced chee-kee-tay-o). Don't let the name intimidate you. This Basque-inspired spot is a place for people to gather for coffee, tapas, charcuterie, and wine.
Las Vegas, NV
This bar usually makes to top of the list in Las Vegas. How could it not? With a namesake given from the James Bond cocktail, it has a lot of class to live up to. The Vesper serves two styles of cocktails: classic and Vesper. The Vesper-style cocktails are based on their original recipes, but with an added modern take. They've also mastered molecular mixology and edible cocktails.
Bakersfield, CA
It's almost not even fair to rate tacos in California. All along this west coast state, taquerias, taco food trucks, upscale taco eateries and everywhere in between are serving delicious tacos. I often think a "Cali Taco Tour" would be beneficial, but all internet searches have pointed towards Nuestro Mexico as one of the best Cali tacos and a best kept secret.
Oakland, CA
Give Cali some sugar! Brown Sugar Kitchen serves up southern brunch classics in the Bay area. We heard the Oyster Po Boy Sandwich is top-notch. Well done, Oakland!
Eugene, OR
When you typically think of "comfort food" you don't automatically think vegan, but at Cornbread Cafe, that's exactly what they're going for. They veganize traditional southern comfort food. And they're really stepping it up! I mean, how do you make a vegan reuben sandwich?! Go find out and report back.
Seattle, WA
There's a lot to say for a city known for its coffee. We could probably name about 50 amazing coffee shops in Seattle, but we're hearing great things about this little shop tucked away in Pike Place Market. They serve up artisan coffee from small, local roasters.
Seward, AK
Tacos?... In Alaska? It's an unusual thought, but Railway Cantina serves up some killer burritos and fish tacos with halibut, salmon, reindeer and steak, putting their own Alaskan spin on a Mexican classic.
Honolulu, HI
If you find yourself in this chain of beautiful islands, head to 8 Half Desserts in Honolulu for some of the highest rated ice cream in the country. Their motto is "made in paradise"… and what could be more like paradise than an ice cream sandwich on a beach at sunset?
Honolulu, HI
On the island of Oahu sits a small, obscure Italian restaurant with walls decorated in murals likened to the Sistine Chapel. There isn't much of a social media presence for this place, so it's hard to imagine it made the list… But a little content writer birdie told us that this is hands-down some of the best Italian food she's ever had; she loves pasta, so we believe her. (Who's this birdie? … Oh, it's me. The one writing this. Hi.)
And in case you want to see a map of foodie places we covered, click here. Once you're on the map, click on the spoon and fork to learn more about each location.