Whether you are new to travel or a solid veteran, these packing tips can benefit you! We asked our travelers their top do's and don'ts when it comes to packing up for 13 weeks. In a nutshell, less is more, but here are some of their tips!
Packing Do's and Don'ts
1. Start by packing everything you think you'll need, then take away half. That means taking a minute to think what would be easier to buy when you arrive to your assignment. This is even more important if you are flying to an assignment.
2. Travel-Sized toiletries! Save some room and take just the essentials until you get settled and make a run to the store. You would be shocked at the amount of room they take up! Just like above, this is important for those flying too!
3. Consider your surroundings. For the most part, you will be working, so have your scrubs (or work clothes) and the appropriate shoes as your essentials. Consider a nicer pair for those days off and nights out. If you're headed to warm weather, pack some flip flops, but if you're headed to a colder spot, pack those boots! Seems simple right?
4. Pack enough clothing for a couple weeks of outfits. You will spend many days in your scrubs, so why pack excess outfits? Plus, laundry will be happening!
5. If you are a lover of all things fashion and can't limit yourself, invest in some quality vacuum bags. They save a TON of space!
6. The tools. Pack a few essential tools, like a Phillips Screwdriver and scissors. You never realize how much you need them until you are trying to assemble some cheap furniture or open a package!
7. Consider bringing a folder with you important info, some stamps to pay bills that can't be paid online, and a list of numbers/names you may need while gone. Great tip to keep it all together and safe!
8. Amazon Prime. If you don't already have this as a traveler, do it now! Not only does it take up zero space (haha), but it makes your life so much easier as you can order those things you need and have them within 2 days! Saves time and money! You are busy, busy people!
9. Utilize Goodwill/Thrift Stores/Craigslist for cheap furniture. Yes, it can be a hassle to always get something new, but its much easier than packing it all, especially alone! Do you really need a full living room set with entertainment center? Probably not. Walmart is another great stop for some of those appliances you need. If you do want to travel with your toaster, coffee pot, etc., buy a cheaper version so if it does crap out while you're gone, you won't feel bad tossing it!
10. Bring your RV! Yes, you heard us! So many of our travelers have become big fans of traveling with the convenience of a RV. Yes, we know not everyone will be able to just go snag up a RV, but if travel is something you are looking to do long term, it is a great investment to consider. This advice comes from many of our road warrior veterans, and they swear by it! Then you never have to leave it behind, and packing up is as easy as starting your engine!
Remember, it is 3 months. For the most part, the season will stay they same, so there is no need to feel prepared for the pool and a snowstorm. One of the million great things about travel is you learn how to live simply! If you are a first time traveler and looking for more tips, please reach out to us or chat with one of our recruiters! We can even get you in touch with one of our current travelers for their advice! We are here to make life easier for you!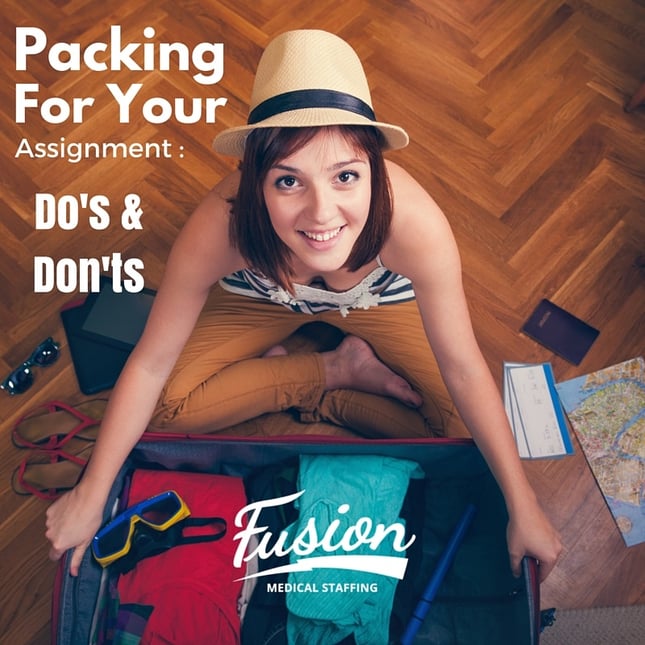 Looking to travel with Fusion Medical Staffing? Apply now!
Looking for tips on blending in and want to know how to live like a local as a heatlhcare traveler? Check out this blog for some tips!