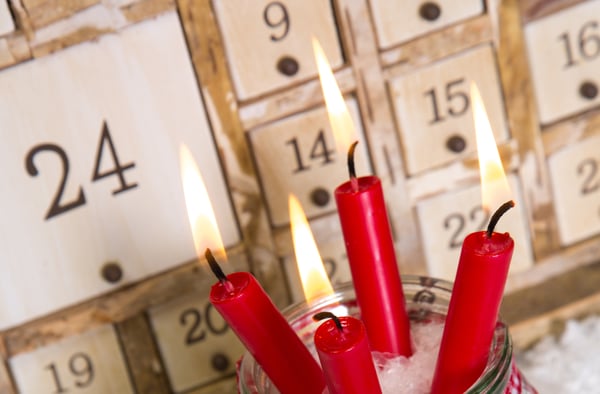 Where do Advent Calendars come from?
Like many of you, I have always just assumed this holiday tradition was, well... just that: a tradition. Turns out, we've been counting down the holidays for quite some time.
The origin of the Advent Calendar can be traced back to the 19th century, with the first known, handmade Advent Calendar being used in 1851. Other Advent styles were the Adventclock or the Adventcandle; a candle for each of the 24 days until Christmas, and Advent wreaths. In some families, little pictures were hung up on the wall, one for each day in December. An another tradition, families painted chalk strokes on the door, one per day until Christmas Eve.
Our history of counting down is a deep-seated tradition. As a child of the late 80s and early 90s, we made paper chains out of construction paper to count down special events, like birthdays or holidays. And now, even Netflix and major broadcast TV stations do it, with their "25 Days of Christmas" movie viewings.
So, as the countdown for the holidays continues, we're bringing you our Traveler's Advent Calendar. If you're wondering what to do over winter break, we've got it covered. This season is all about giving back to others, appreciating what you have, and taking care of yourself... which is why you have 20 days of activities to get you in the spirit!