We know how important your furry friends can be, and Fusion wants to make sure bringing your pet on your next travel assignment is as easy as possible. Whether you have us make your housing accommodations for you or you decide to make them yourself, there are many resources to use when finding the perfect place. We collected a few tips and tricks from current travelers who bring their pets along, from the travel there to your arrival.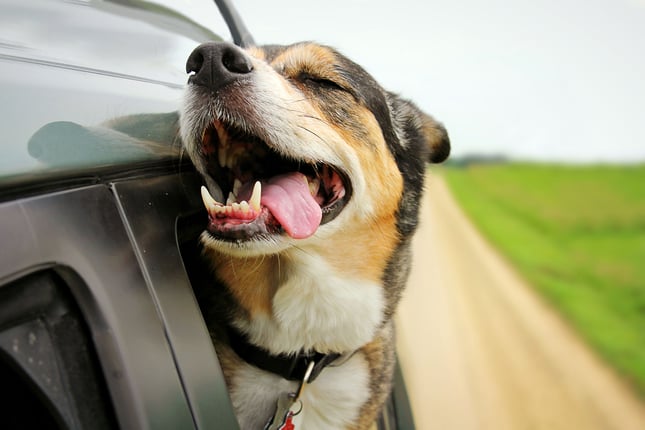 Flying? Book early. Many airlines limit the number of pets that are allowed per plane. Booking early will ensure your pet a spot on the flight.
Ask questions. Most flights have regulations for the type of carriers in which you're allowed to bring your pets. Sherpa Pet Group, a popular pet carrier company, guarantees compliance with airline rules or your money back. Carriers must allow enough room for the animal to sit, stand, and turn around with ease. Make sure you have all the proper documentation that the airline requires.
Calm your pet. Taking your animal for a good walk or run before traveling is always a good idea. This makes it more likely that your pet will fall asleep during travels. Smell association is another good tactic to use. Rub lavender oil on your hand while you are playing with your pet at home, and on the day of your flight put some lavender oil in the pet carrier. This familiar smell with soothe your pet. One of our travelers recommends calming treats!

These treats can also help adapt to the new environment that can be pretty scary to a pet!

Be prepared to pay a little more for housing: This is definitely one of the more challenging parts of traveling with a pet. You will have a smaller selection of pet friendly housing options, and typically will have a pet deposit or monthly fee. However, there are a ton of great resources for finding those spots! Check out this sit to find pet friendly lodging! Pro tip from current traveler: This can be the tough part, but it is definitely not impossible! You do have to work a little harder to find housing, but we all know it's worth it. When you search "pet friendly" VRBO, it eliminates about 90% of your options! So, when we are searching, we never click this option. Do a broad search to see what is available and find out what may work for you. Once you have narrowed down some options (even if they say no pets) call them personally or write a message telling about yourself (healthcare professional) and casually mention your furry friends! Some people will still say no, but more often than not - we have been able to come to many agreements with ones who have said "no pets." Whether this means you pay a little more for the rent, or pay a cleaning fee when you leave, at least now you have a place to live!
Having a Plan: When you are working those long shifts, you will want to know your pet is being taken care of. While doggy daycare isn't always an option, it is one idea to try out on occasion. One of our travelers shared the service rover.com, which is a pet sitting service. If you know the hours you are working are too much for your pet to be left alone, for sure check it out! One of the challenges given to us by current travelers is worrying about your dog barking while you are at work, causing other residents to be upset.
Find the dog park: You will want to make sure you have a place to let your dog(s) run that energy out after being in the house all of your shift. Did know there is a dog park finder app? Stay Organized: Some travelers like to find a vet at each location they travel to. Another pro tip comes from several travelers who use the PetSmart Health Plan, which allows owners to access their pets records anywhere they travel! Be sure to keep their tags or microchip information up to date with your new location.
Traveling with a pet or not, let Fusion answer questions you may have: