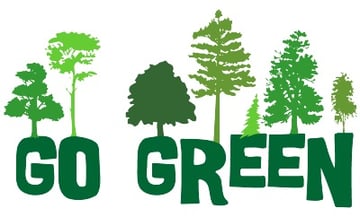 Although Earth Day has already passed, you don't want to forget to stay environmentally conscious throughout the year. As a healthcare professional and leader of the hospital, it is up to you to set the example to live a greener, healthier lifestyle.
According to the World Health Organization (WHO), there are 7 elements of a green hospital:
Food- Consume local organic and sustainable food.
Water- Consume safe, non- bottled drinking water.
Waste- Reduce waste and recycle whenever possible.
Alternate Energy- Use alternate forms of energy.
Green Building Design- Consider green building during the design of new construction.
Energy Efficiency- reduce energy consumption through clean and efficient energy. Make sure to unplug all unused appliances and electronics.
Transportation- Encourage other hospital staff to walk or bicycle rather than drive a vehicle whenever possible.
According to ehow.com, here are some simple tips to help make your hospital a little greener:
Reduce the prospect of respiratory problems by replacing harsh high toxin chemical cleaners with low toxin products, and try to use non-toxic organic cleaners. Buy paint, adhesives and furnishings without irritating odors or fragrances and toxic volatile organic cleaners (VOC) such as formaldehyde
Improve indoor lighting to reduce the level of stress experienced by patients and staff when you green a hospital. Using larger windows, light wells and surfaces that reflect light to bring "daylight" into the hospital improves workers performance, patient recovery and saves energy
Use local farmers and distributors of fresh and organic foods. Besides a savings in the cost of shipping and handling, less gasoline is used which is a green benefit to the environment.
Recycle paper, cans, bottles, plastics, furniture, equipment and other general products to green a hospital. Reuse packing and shipping materials, envelopes for in-house use and choose water-saving and energy-efficient laundry equipment.
Control and reduce the use of contaminates such as mercury and polyvinyl chloride (PVC) used in many manufactured products including IV bags and tubing. The health benefits are a driving force when you green a hospital
Plant a healing garden to promote the health of the patients through the beauty and tranquility of the environment and by cooking with herbal plants from the garden
Incorporate green power and renewable energy in the hospital's energy plan, and increase air ventilation as part of the air pollution plan. Choose a site for a new hospital that can utilize alternative forms of transportation.