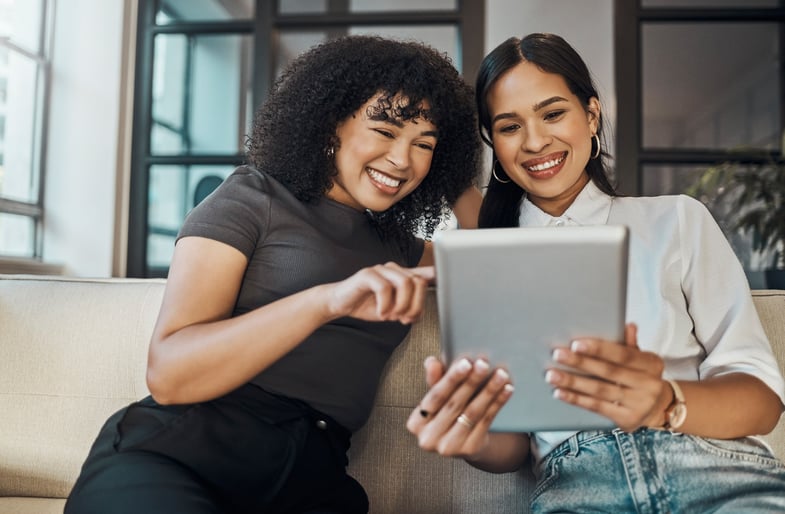 When you only have 13 weeks for a travel assignment, it can be tough to branch out and make friends as a professional med traveler. But that shouldn't stop you from giving it the ole' college try!
6 Ways to Keep in Touch with Your Med Traveler Friends
After you've made new friends, another challenge can be maintaining the friendship and keeping in touch, especially for you since you're constantly on the move. Luckily, thanks to modern-day technology, there are tons of ways to connect with those friends you've made along the way. Here are the top six ways Fusion med travelers keep in touch with their friends.
No. 1: Social media
2004 was a big year for the internet—it was the year Mark Zuckerberg and his friends created what we know today as Facebook. With the rise of this online site, social media started booming. Then came Twitter, Instagram, Snapchat, and then some. Now, our digital world is full of various social media platforms—so much that it's hard to imagine a time without them.
The best part of social media is it makes it easy for you to keep in touch with loved ones who may not live nearby. Have a friend that lives all the way across the country? No worries! Want to catch up with an old colleague? Look them up on Facebook!
Social media like Facebook and Instagram allow you to stay up to date in the happenings of your friends' lives. And vice versa, so you can easily share your travel adventures with your loved ones. In fact, that's what many med travelers do to stay connected!
"I post my adventures on social media," traveler, Carissa, said. And she's not the only one. Krystal said she posts "all [her] adventures on Facebook and Insta."
Social media is an invention that was made to connect people and it performs beautifully to do just that. In fact, research shows that people today are more connected than ever before in human history, thanks in part to the advent of social media.
With more than 4.5 billion people in the world subscribed to social media of some sort, it's an easy and free way to stay connected to those you may not get to see often. Plus, there are various social groups you can join within social media that keep you connected to specific people. Like the Fusion Travelers Facebook group and the Fusion Med Staffing Instagram!
The Fusion Travelers Facebook group is a page dedicated for med travelers who are part of the Fusion family. Here, travelers can connect with one another, seek advice, ask questions, and share their travel adventures with other members of the Fusion fam.
Through the Fusion Med Staffing Instagram, you can see other traveler adventures, answers to common questions, and updates about what Fusion has going on. Interact with other members of the Fusion Fam by tagging the Fusion Med Staffing account in your travel photos and get the chance to have one of your pictures featured!
No. 2: Snail mail
It may seem outdated, but snail mail is a classic way to keep in touch with far-away friends and family. Med traveler, Jackie, sends her friends and family members postcards from each assignment location she visits and says her parents have a "bunch of states" she's traveled to hanging on their fridge and they love them.
In fact, lots of people like to receive mail! Unless it's bills or spam, and in that case, not so much. But getting something in the mail from a friend or family member is one of the best feelings and there's research to support the warm, fuzzy feelings you get when you open an envelope from a loved one. A 2019 Gallup poll found that 94 percent of Americans "love-love-love" getting a letter or card in the mail. And even cooler, 87 percent of millennials place more value on handwritten notes more than digital forms of communication, which just goes to show how special snail mail can be.
Although we live in a largely digital age surrounded by countless forms of communication, there's nothing quite like getting your mail and seeing your name written by someone you love. During the height of the coronavirus pandemic, letter-writing and pen paling became increasingly popular to help people stay connected during times of social distancing. In May 2020, research from the U.S. Postal Service (USPS) found that 65 percent of people felt their spirits lifted when they received mail and 67 percent said they have or would send mail to their own family and friends. So, maybe it's not as outdated as we thought!
Not sure what to say in a letter? Start small! Just imagine the joy it will bring the person you're writing to when they receive your letter in the mail. Try something along the lines of "Thinking of you, hope all is well!" or "Here's a postcard from my last adventure—you would've loved it!" You don't have to be Shakespeare to write something noteworthy.
No. 3: Text messaging and email
Did you know that 7.26 billion people on the planet own a smart phone? That's nearly 92 percent of the global population. Kind of wild to think about, right?
Well, with so many people and so many smart phones, that opens a door to open communication via text messaging. And now that cell phones have gotten increasingly smarter, texting is becoming more convenient to do—just ask the 292 million North Americans that engage in text messaging on any given day.
Not only is texting accessible, convenient, and mostly effortless, but it also allows for instant delivery, higher open rates, and higher chances of engagement. In addition to texting, now there's talk-to-text, which is when you talk to your phone and your phone interprets and texts what you say. It gives you the freedom to be more emotive and spontaneous than with ye plain ole' texting. However, you should know it's not always accurate, so make sure to double-check your messages before you hit send.
Do you remember your old AOL username? Remember back in the day when that was all the rage? My, how times have changed. Instant messaging was extremely popular in 2004 with Facebook and Twitter and today, it's still common but through different channels like WhatsApp or WeChat that allow you to safely connect with people from all over the world.
And then there's email. Back in the day, email was a great written form of communication—it's free, doesn't require postage, and you can include fun things like digital images or links! Flash-forward to modern days and the use of email has declined a bit, but still 4 billion users, aka 50 percent of the globe's population, use email. Which makes it a perfect option for you to keep in touch with the friends you've made along your travel adventures.
No. 4: Phone calls
"Hey Alexa, play "Telephone" by Lady Gaga."
We're all familiar with telephones and phone calls. I mean, it's been a thing since the 1900s and now, 112 years later, phone calls are still a common and beloved form of communication.
A phone call can be powerful. For example, imagine how it feels when you call one of your favorite people and you hear their voice on the other line. It feels pretty great, right? Heartwarming, even. It's a personal way to connect to someone without being with them.
Sure, most people would rather send a quick text or email. After all, it can be more convenient. But studies show that a phone call can create a "significantly stronger bond" versus text or email. That's because chatting on the phone offers us the bliss of "unreviewable, unforwardable, and unsearchable speech," as The Atlantic put it. For instance, if something comes out more awkward than you intended, there's no day-long email thread of you trying to correct your mistake, there's no waiting for the other person to text back and anxiously wondering what they're thinking, and there's no evidence to go back and obsess over once the conversation has ended. There's just something pure about phone calls that you don't quite get with other forms of communication. And our travelers know it.
"I love to text, use Facebook, and talk on the phone to stay connected!" med traveler, Norma, shared. "It's nice to actually talk to someone instead of always texting or messaging."
No. 5: Video messaging
Along with social media, the early 2000s also brought the popularity of videotelephony, or video messaging. Back in the day, we used computer programs like Skype to virtually video call one another. Nowadays, video messaging is built into our smart phones with FaceTime and other communication apps like Zoom or Google Hangouts.
Video messaging and calls are a more personalized communication method because it allows you to see the person you're chatting with, and them you. And depending on the platform you use, you could even add more people to the mix and reunite with a group of friends all at once!
Through video calls, you can feel a closer connection to the person or people on the other end because you can see their body language. Body language may not seem like it makes that big of an impact, but experts say that 93 percent of communication is done through body language. So, video calls and video conferences are uniquely wonderful because they give you that extra insight that fosters a deeper, more meaningful conversation.
Another perk to video calls is gives you the option to virtually attend events you may not be able to make it to in person. Especially for you as a med traveler. You're constantly moving around every 13 weeks or so, exploring new destinations across the U.S., and thanks to video calls, you can stay connected and feel included while on an assignment.
No. 6: Weekend visits
They say home is where the heart is. And nothing quite tops the warm, fuzzy feeling of seeing someone you love for the first time in a while. So, of course, one of the best ways to keep in touch is to plan weekend visits that work with your schedule as a med traveler.
"I keep my contracts close to home and go home around every two weeks or so," said med traveler, Teresa. "When the pandemic started though and no one was traveling anywhere, I actually scheduled Zoom calls with a group of best friends so we could sip drinks and chat like we would if we were together."
Traveler, Allie, does the same thing, as well, and tries to take quick trips back home over a long weekend. When that's not an option, she resorts to video calls, phone calls, and social media to keep up with her loved ones.
Visiting loved ones in person can create a strong bond that you don't necessarily get digitally or over text. In-person visits provide a sense of intimacy, connection, and empathy that's tough to recreate over video or call. Plus, research shows that face-to-face interactions are 34 times more effective than those sent via email.
"It's much easier to ask for attentive listening and presence," said Paul Axtell, author of the book "Meetings Matter." "That creates the psychological safety that people need to sense in order to engage and participate fully."
Needless to say, there's something about being with people you enjoy that just feels good. There's this innate sense of community that helps set the foundation for trust, which makes it easier to talk to and share with others.
Not to mention the fact that seeing loved ones in person gives you the chance to embrace, perform a secret handshake, give a high five or fist bump, or do some other special greeting. Whatever that looks like, you probably engage in physical touch, which is proven to release the feel-good hormone, oxytocin. With every touch, your brain releases oxytocin, which helps form an emotional connection and makes you generally happy.
"That feeling is something so rare, you cannot communicate it digitally," said Rene Shimada Siegel, president and founder of High Tech Connect Consulting Firm. "It's that kinetic energy that people can feel."
Of course, as an in-demand medical professional, you may not always have the luxury to go home or travel to visit friends. So, when an in-person date isn't possible, turn to these other popular ways to stay connected!
Having people you love and who love you in your life is vital for human beings—people need people. Even you, traveler. As it turns out, being connected to loved ones has tons of benefits, too. Like good physical health, healthy behaviors, emotional support, more confidence, and reduced stress. These special people in your life have the power to push you to be the best version of yourself. So, no matter where you are in your travel adventure, make an effort to keep in touch with the people who matter most, and use these six ways to do so.