The most popular question when we meet with therapy students lately has been, "Do you have any sort of mentorship?" While that seems to stump some people, Fusion has decided to welcome all New Grads with open arms and... ta-da!... mentors! I have asked the one and only, Kaleigh Cole, a series of questions regarding mentorship. Kaleigh believes in mentorship programs as she herself started traveling as a New Grad Therapist. Together, we feel that mentorship is important in so many ways. It's just one more perk to your customized travel therapy experience with the Fusion Family!
Q: Why was mentorship important when you started traveling?
As a student, you hear about the importance of mentorship from professors and clinical instructors. As a PT student, you have 3 to 4 clinical rotations and it's not possible to even scratch the surface of PT in those clinical rotations. While students complete approximately 35 weeks of full-time clinical experience, there is no way you can know everything you need to as a clinician. Professors and clinical instructors stress the importance of mentorship to facilitate continued growth as a young clinician.
Q: What kinds of things made you nervous when you were a New Grad Therapist?
As a New Grad Therapist, I was nervous to be a solo therapist in a clinic with high acuity patients. I felt that I needed to have someone available to bounce questions off of when needed (whether clinical, billing, or ethical). I was worried about treating a patient caseload with a majority of Medicare patients. While my clinical instructor from my final clinical affiliation spent time each week going over Medicare billing and coding with me, this is an area that most new grads are not well versed in. I didn't want to make any mistakes.
Q: What qualities did you find in your mentor that you think all mentors should have?
My mentor was an experienced traveler in multiple settings, particularly the settings of my first few assignments. She was kind and always quick to respond when I reached out. She valued professional growth as a clinician and could also relate to challenges specific to a new traveler.
Q: If there are other therapists on staff, why would you also need a mentor?
Having a mentor assigned by the agency serves an added layer of support. Other therapists on-site may or may not be willing to mentor a New Grad traveler. How do you know that the therapists on-site are even good clinicians who will provide sound advice? Not to mention, just because the staffing agency/traveler is told that there will be another clinician on-site, doesn't mean it will stay that way. Staffing changes can occur at any time. This is out of the staffing agencies control. Therefore, it is important to have a mentor assigned through the agency in the event that there are not great therapists on-site who are passionate about mentoring New Grads.
Q: How did you and your mentor communicate most effectively? (Phone? Email? Social media?)
For me, I always reached out to my mentor via text or phone call. I would typically text with a question, and we would set up a time to chat soon after. This was a matter of personal preference of both parties. It's important to determine which communication method matches your learning style and to adjust accordingly.
Q: What was some of the best advice you received from your mentor as a New Grad?
Some of the best advice I received from my mentor was how to handle adverse situations while on assignment. When things went astray and weren't what I was expecting based off of what I was told in the interview, my mentor helped me communicate my concerns effectively and professionally. My mentor also helped me refine my interviewing skills, so that I would have a full and clear picture of what to expect prior to accepting an assignment. She was also invaluable in helping me navigate ethical dilemmas while on assignment. If something didn't seem quite right, I knew I could ask her, and she would guide me appropriately.
Q: Do you think it's important for the company to screen mentors prior to assigning them to New Grads? Or should any traveler who volunteers be able to do it?
Mentors need to be screened prior to being assigned to New Grads. Mentors hold a vital role in the professional development of new graduates deciding to travel. They should be vetted through performance reviews, collected assignment after assignment. By assigning the agencies best clinicians to be mentors, New Grads can feel confident that the advice given by their mentors can be trusted. Mentors also need to be held accountable. Agencies have various tools in place which hold the mentors accountable. This helps ensure that mentors are a reliable lifeline to the New Grads they work with.
Hopefully this has given you a little bit of insight on mentorship as a whole! As students, it's hard enough to multi-task all of the studying, clinicals, and keeping sane—then to add your future career on top of it! Let's ease the stress for you and help soothe the mind, one step at a time.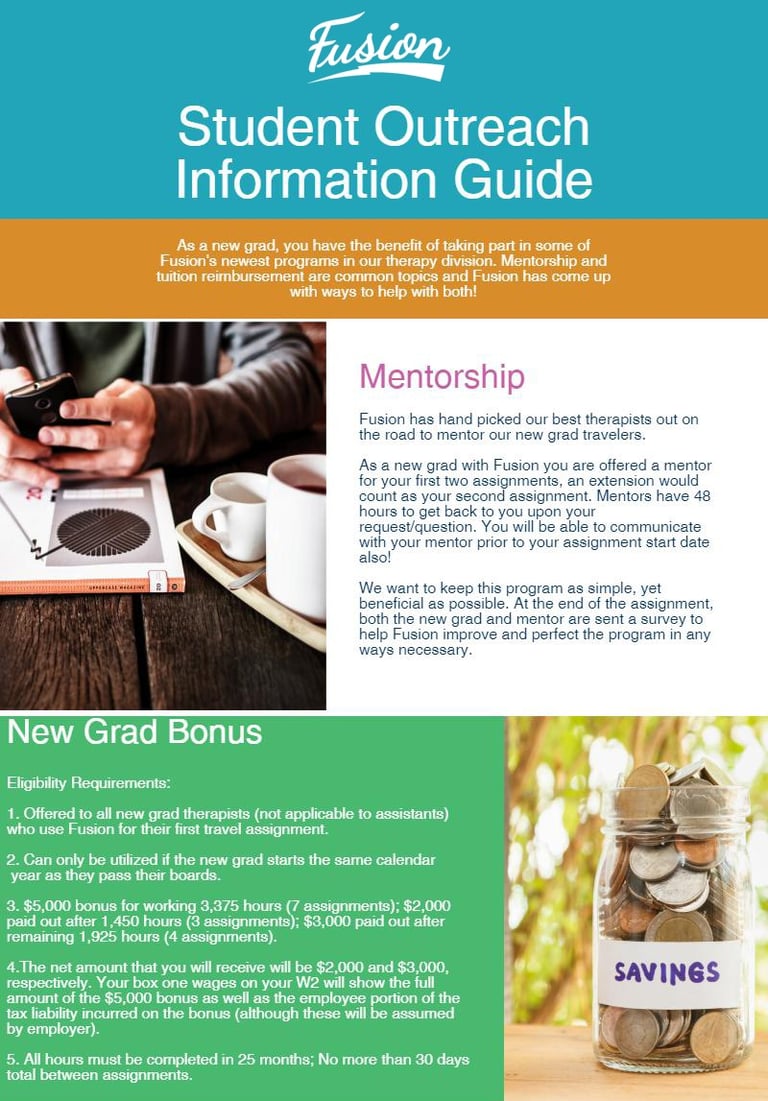 Should new grads travel? Read more and see if you have what it takes.