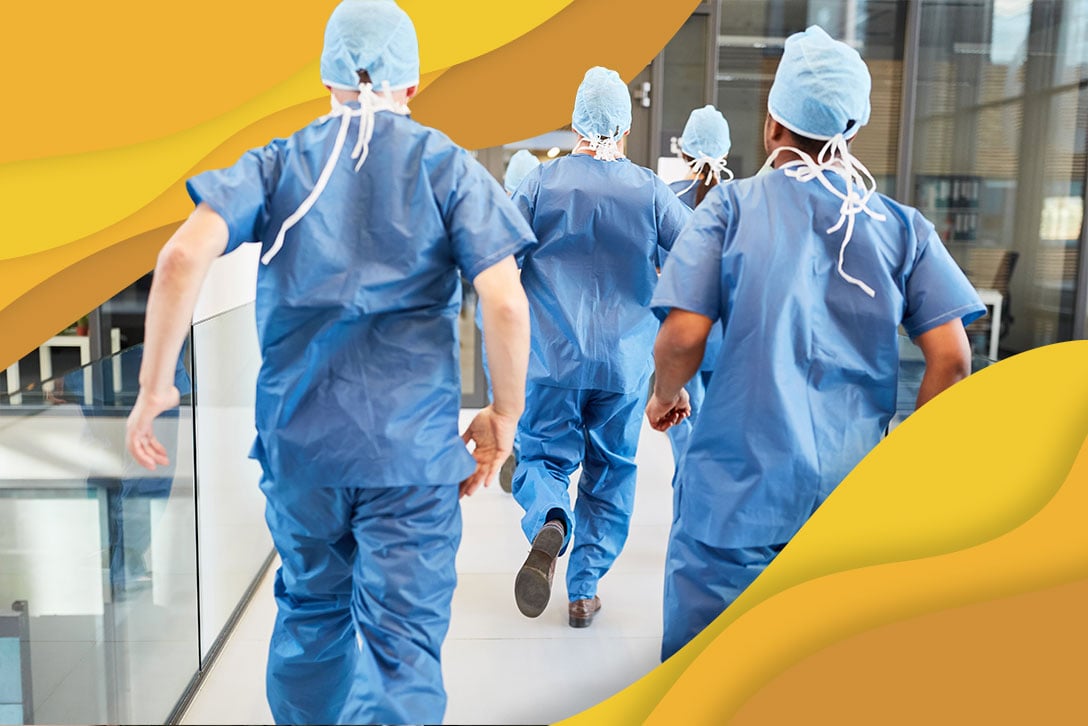 During the COVID-19 pandemic, there is a big flashing sign for medical travelers, with the title "crisis pay." But what exactly is crisis pay and what are the advantages and disadvantages to working a crisis contract? Healthcare professionals are working hard, putting in extra hours, and risking their own lives, so knowing how the pandemic has affected crisis contracts is central to their continued efforts. If you're going to do the work, you need to know the details.
What Healthcare Professionals Need To Know About Crisis Contracts
Traveler contracts have changed since COVID-19. The growing need for traveling healthcare professionals has shifted dynamically in this pandemic. Healthcare professionals are now working in crisis contracts travel all over, at a moment's notice, in frontline healthcare to help alleviate the effects of COVID-19.

How traveling medical professionals can best prepare for a crisis contract
According to reports in the early stages of the outbreak, the average nursing job weekly pay was around $1,700 nationwide in the U.S. With the surge of COVID-19, the average income nearly doubled to $3,000 per week, with different locations and specialties seeing even more increases. Around 60 percent of the growth was seen in California's weekly plan, while there was about a 90 percent surge in other neighboring areas for RN jobs. Despite the many ways to combat pandemics, and the increasing medical advancements we've made to continue to keep people healthy, pandemics will continue to crop up and healthcare crises will continue to exist in the future. It's crucial for healthcare professionals to stay prepared for crisis contracts by having resumes ready, keeping a traveler profile updated, and adjusting to a fast-paced assignment placement. The four rules of thumb when navigating a crisis contract are: Be flexible, be ready, be available, and be supportive.
Be flexible
A crisis contract isn't an ideal time to get specific on hours and shifts you want to work and locations you want to go. Because crisis contracts are filled for where you're needed the most, you might find yourself working weird hours, and days and nights on eight or 12-hour shifts.
Be ready
Facilities need help immediately. If you're looking to work crisis contracts, you'll need to be able to head out to that travel assignment right away. When needs are this urgent, the process moves quickly, so make sure you're physically prepared to drop everything and go. A completed and thorough traveler profile can help expedite this process so you can get to where you're needed most.
Be available
Being a team player is one of the most important traits to have when working a crisis contract. Be ready to help in any way possible, as long as you prioritize your safety and health too. There is always some level of risk involved when working a crisis contract, so being communicative about any arising issues is imperative.
Be supportive
Your role may be different than what you've previously done, or it may evolve and may require different responsibilities. A pandemic like COVID-19 is like nothing most of us have ever experienced, so there's bound to not only be the need of your role as a healthcare professional, but a support for coworkers and patients as well. Support those around you, who are also in this with you and experiencing it alongside you.
Why take a crisis contract?
With the global rise of the COVID-19 pandemic, government officials at the local and national level face difficulties in trades given the health, social and economic challenges that have come from this disease. When this healthcare emergency first started, it increased the need for healthcare professionals, and likewise left some medical workers in specific fields out of work. Multiple reports have suggested that many healthcare professionals with contracts expiring could have a better chance working in a crisis contract, if they have the knowledge needed and feel comfortable doing so. Because nobody is certain when pandemic numbers will fall or rise again, being prepared for another surge of COVID is beneficial to travelers who are looking to stay in the field while we continue to deal with the pandemic.
What crisis contracts are looking like in the future of healthcare
The demand for healthcare workers, supplies and resources has been expanding, even before the pandemic. The mass mobilization of resources to create medical equipment, ventilators, PPE, and testing or screening kits hit us like a ton of bricks once COVID-19 started. With equipment, the need for healthcare workers to administer tests and screening, help patients with ventilators, and run medical equipment to alleviate the pandemic rose even more.
Combatting a shortage of resources
Moreover, to counter these crisis contracts, telehealth services have been introduced. Doctors and healthcare professionals are providing online consultations, which fosters a more holistic approach towards treatment. The use of digital healthcare services has shown impressive results and approach towards the management of chronic symptoms of COVID-19 while offering better healthcare facilities to patients. Today, it seems like telehealth has gone from "ideal to have" to a must-need. In an ongoing Frost and Sullivan report, it was noticed that we're encountering a "radical telehealth extension." The pre-COVID-19 extended 2019-2025 compound yearly development rate was assessed at more than 28 percent in the US. Now, this has gone up to practically 40 percent, with patient checking alone projected to develop 150 percent in one year.
Amidst the COVID-19 crisis contracts, some positive aspects yielded a holistic approach towards patient management. Healthcare leaders and professionals worked as frontline warriors and have been appointed around the world in both public and private settings. This has provided opportunities for healthcare professionals to earn more with extra duty hours and see as many patients to gain more knowledge of the disease pathology and its related symptoms. Crisis contracts have their risks, but the rewards are two-fold with multiple advantages for healthcare professionals working within them.