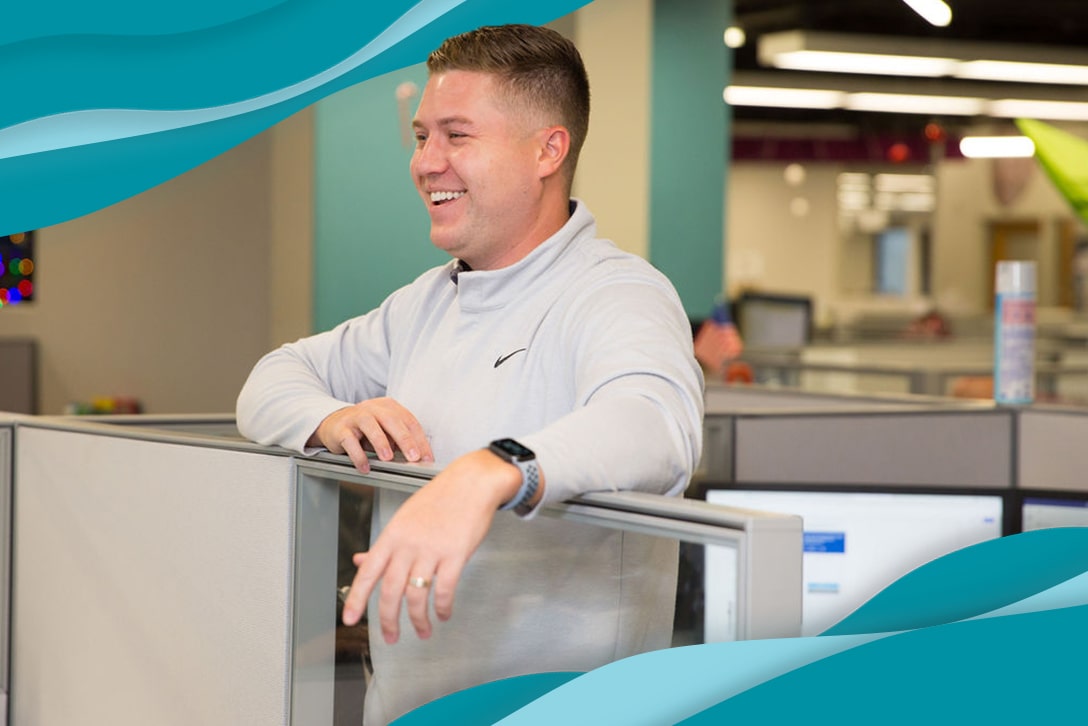 I think it's safe to say that most people want to work someplace they feel valued and rewarded for their hard work—I know I do. And we're not the only ones! According to a recent survey, employee recognition was found to be important to 37 percent of employees and another study discovered that 91 percent of human resources (HR) professionals believe that recognition and reward make employees more likely to stick around for the long haul.
What Makes a Good Workplace: Fusion Edition
But what really makes a good workplace? Is it the paycheck? The environment? The proximity to your home? Here's the thing: a "good" workplace looks different for everyone. Something about your job that makes your day could be another person's deal breaker. So, let's take a deeper dive to find out what defines a good workplace, and as a bonus, learn the things that set Fusion Medical Staffing apart from all the rest.
What makes a good workplace?
If you asked 100 people the same question, "What makes a good workplace?", chances are you'd get about 100 different answers. So, we turned to another expert on this one, Indeed, and found out that there are several characteristics of a good workplace. Here they are:
No. 1: Competitive compensation
Part of being a good workplace is caring about the employees, and that includes financially, physically, and emotionally. Life is tough, but it's a little less tough when you're able to live comfortably and enjoy the lifestyle you've worked so hard to build. One way you can do that is through competitive compensation and other benefits like health insurance, eye insurance, and dental coverage. In addition to the usual perks, some good workplaces may also have creative incentives like:
No. 2: Company culture
What's more important to you—company culture or dolla dolla bills? I don't know about you, but according to recent data, 56 percent of job seekers believe culture to be "more important than salary." Who would've thought?
According to Indeed, company culture can be defined as "a company's mission, objectives, expectations, and values that guide its employees." In other words, it's the way people feel about what they do and how they do it. And there's loads of research out there that shows a positive and strong company culture can have long-lasting perks like improved employee engagement, decreased turnover, increased productivity, healthy team dynamics, and more. Things that may contribute to a company's culture include:
No. 3: A sense of community
Along with an optimistic organizational culture, a good workplace also has a sense of community. That means that the people who make up the company rally together to create an inclusive community vibe where people are celebrated! Have a big, positive life change? Let's celebrate! Land your dream job in your dream location? Party time! A workplace community celebrates milestone moments and special events together, kind of like a family, but one you get to choose to be a part of. When it comes down to it, it's not about what you do or where you do it, it's about feeling a sense of belonging.
No. 4: Solid communication
As hard as it is to receive and give feedback, it's an essential part to the equation of what makes up a good workplace. In fact, information from Indeed shows that open communication develops trust and helps to prevent misunderstandings. When it comes to effective communication in a workplace, look for:
No. 5: Diversity
There are many things that go into who you are—your childhood experiences, your skillset, your passions and desires. And what makes you you may not be the same as what makes me me, and that's okay! In fact, that's ideal because our differences (and similarities) create a diverse atmosphere where these things are embraced and celebrated.
That, my friends, is called diversity. According to a recent CNBC/Survey Monkey Workforce survey, nearly 80 percent of workers want to work for a company that values diversity, equity, and inclusion. A diverse workforce is complete with those who come from backgrounds, experiences, and perspectives that are unique to them. These individual differences are the superpowers that make a workplace worthwhile.

Of course, there's more that goes into building a good workplace, and like we said earlier, something meaningful to you may not have even crossed the mind of someone else. So, before you jump into the deep end of a job all willy nilly, decide what a good workplace would look like for you, and go after that.
Fusion is few and far between
You may have heard that Fusion Medical Staffing made the 2022 ClearlyRated list of Best of Staffing Client and Talent Awards. And the 2022 Baird Holm's list of Best Places to Work in Omaha. Plus, SIA's 2022 list of Best Staffing Firms to Work For. The point we're trying to make is that Fusion is few and far between, and we're not the only ones who think so.
"Fusion is such a great workplace because everyone who works here is given the tools to reach their full potential," said Fusion's Public Relations Specialist, Leah Kemple. "Our differences as individuals are celebrated here, and that helps us learn from each other in the most authentic way."
Just look at the things we talked about earlier that make a good workplace, and you'll see Fusion has it all:
Competitive compensation
Company culture
A sense of community
Solid communication
Diversity
And if that doesn't fit your fancy, then check out what else sets Fusion apart from other medical staffing agencies. You won't be disappointed!
No. 1: The mission
What's your mission in life? Well, our mission at Fusion is to improve the lives of everyone we touch. And when we say "everyone," we truly mean E.V.E.R.Y.O.N.E. Med traveler, internal employee, the friend of a friend of a friend, your distance relative twice removed, we don't discriminate.
Fusion lives up to its mission each day by making a positive impact, both professionally and personally. We may like to work hard and play hard, but we do so with a purpose. Through it all, we strive to remain humble, driven, and positive so that we can continue to do better and improve the lives of those we touch.
Part of improving the lives we touch is being a community leader and advocate. As such, we work to stay active in our community and participate in volunteer efforts to both enrich our lives, but to also improve the lives of others. For example, to celebrate Earth Day, the Fusion family rallied together at local parks and spent a day filling 240 bags of trash. Or another instance is our monthly involvement with the Stephen's Center, a local homeless shelter. Community means a lot to us because without it, there would be no us.
No. 2: The people
Sure, Fusion's mission is a worthy cause, but none of it would be possible without the incredible people who make up the Fusion family, and that includes you, dear traveler! In fact, your wellbeing is at the center of everything we do.
"Fusion is more than a company," said long-time lab traveler, Norma. "It's family! I love the things they do for the community and how they always take care of their travelers."
"You all take care of us and make us feel important and look out for our best interests," fellow traveler, Teresa, agreed. "I love the transparency and how you're all concerned with how we feel about you so you can grow, as well as help us grow."
We know how important people are and we value each of the individuals that complete the Fusion family. Want to join in on the fun? Check out our med travel jobs or internal corporate opportunities!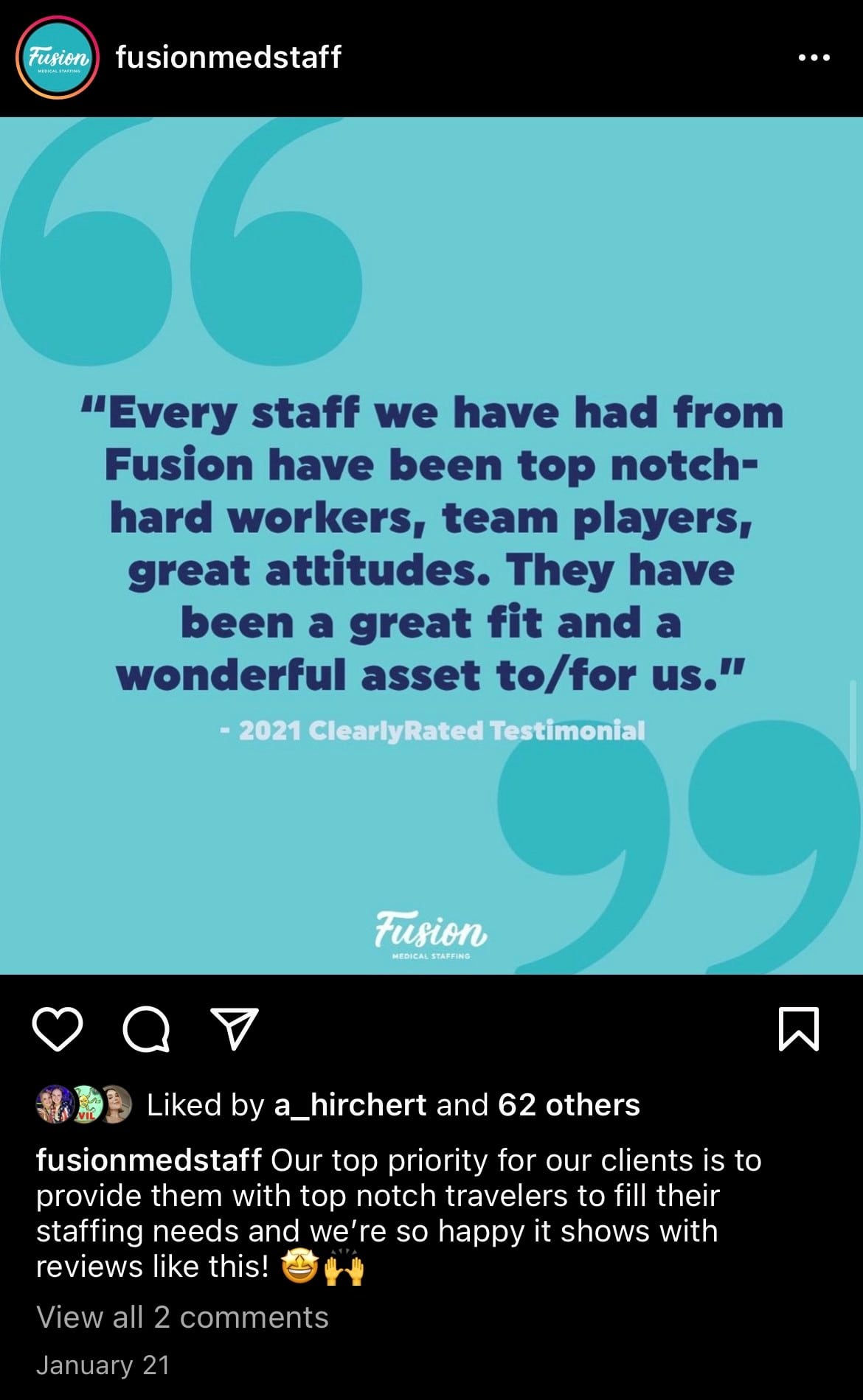 No. 3: The experiences
Being part of the Fusion family is an experience of its own, but the fun doesn't stop there. Because Fusion Med Staffing strives to make a difference in the lives of everyone we touch, we try to expand our reach as much as possible. And the way we do that is through rewarding experiences.
In addition to professional development experiences for both travelers and internal crew, Fusion offers employees the chance to give back to the community and be part of something bigger than themselves. Throughout the years, we've participated in several charitable fundraisers like: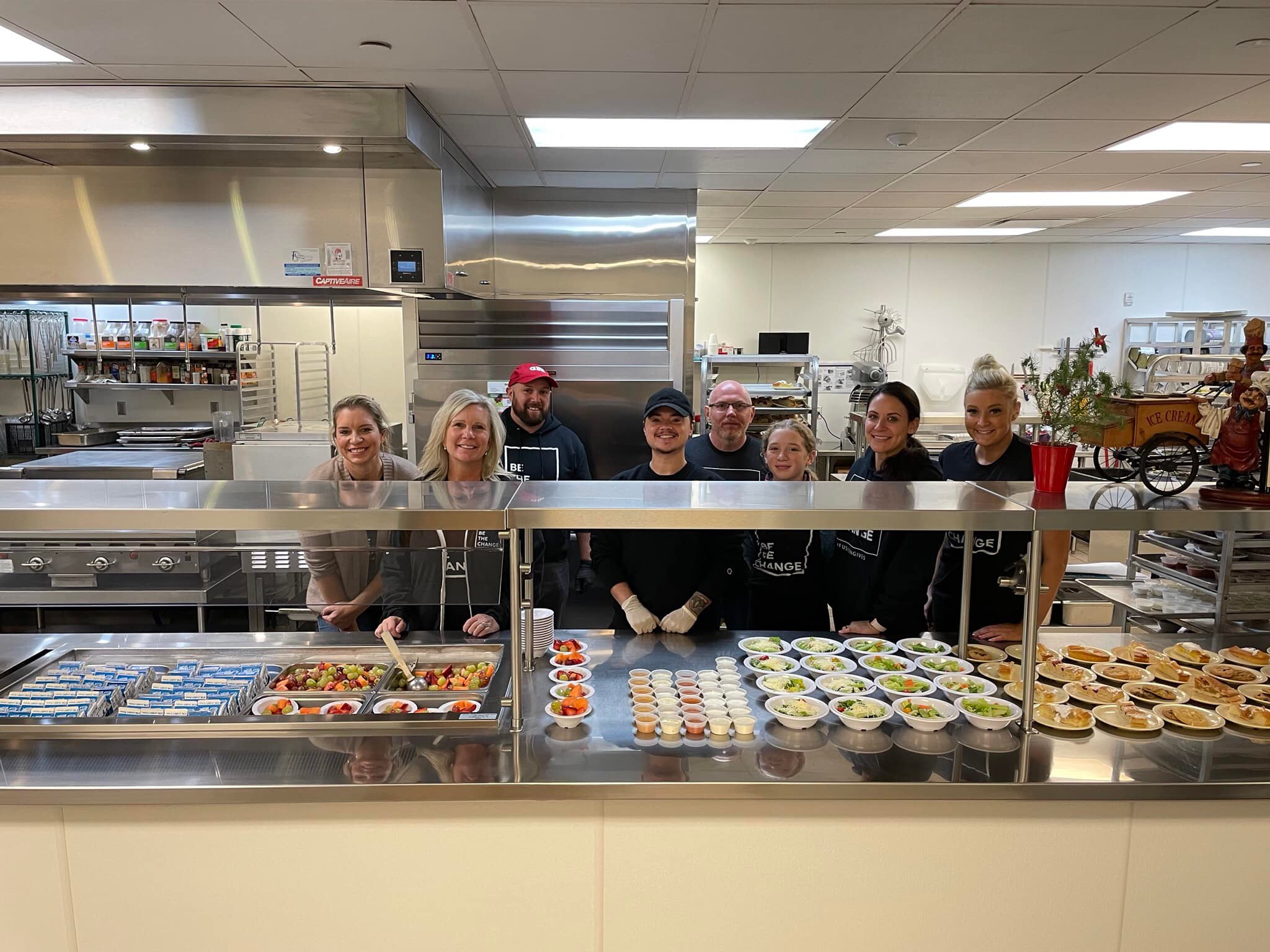 2022 Stephen's Center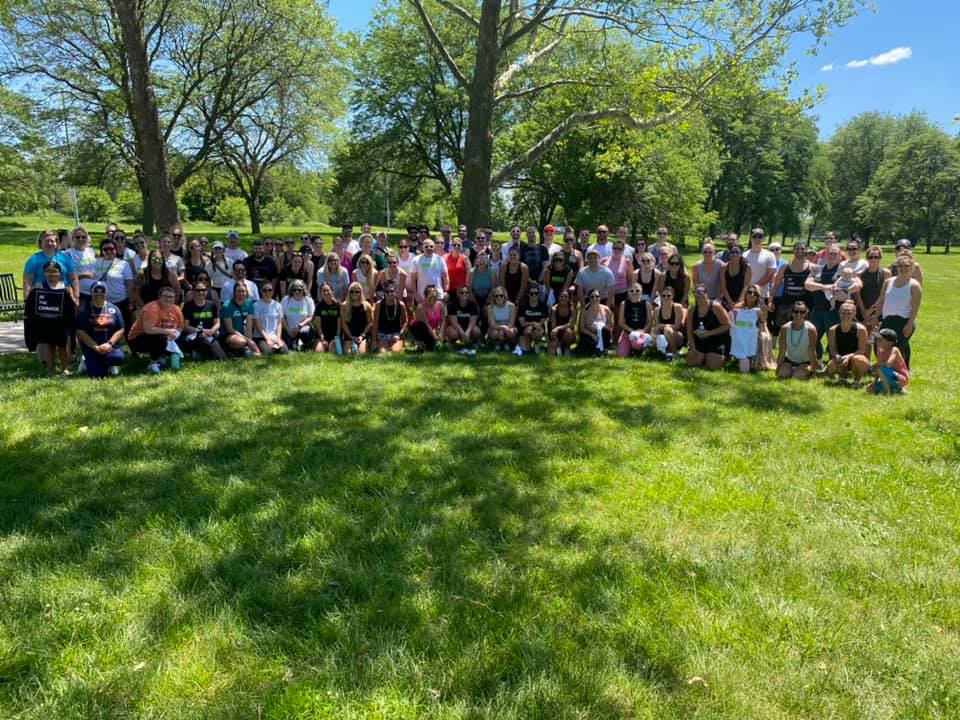 2021 Warrior Walk
"We believe in the importance of social responsibility practices for our company," said Steve Koesters, Fusion's President and Chief Executive Officer. "As well as ensuring that employees have opportunities for community engagement though volunteer opportunities, these events showcase who we are as an organization and our commitment to not only our internal people, but also the communities we serve."
From effective communication to simply feeling like you belong, there's a lot that goes into a good workplace. Sometimes it can be a challenge to find a workplace that checks all your boxes and gives you the full package. Luckily, those places exist, and Fusion Medical Staffing is one of them! What's even better is we're always looking for humble, driven, and positive individuals to become part of the Fusion family.