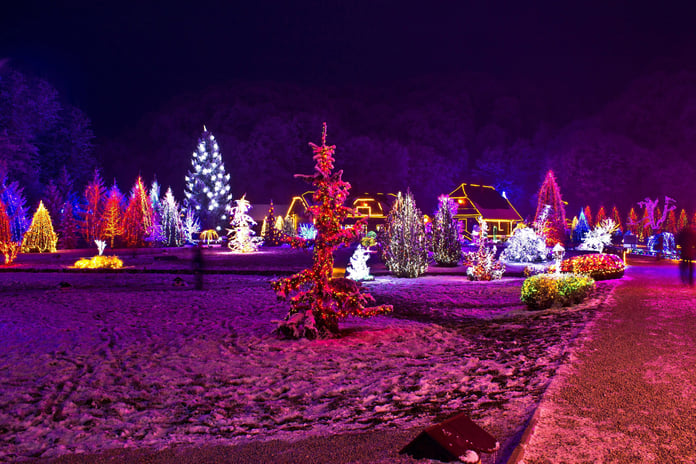 Spend your holidays basking in the warm glow of festive lights! We have a list of beautiful light shows near you, so pack that travel mug of cocoa and hop in the car... it's time to look at some lights! Click on our map here to find a holiday light show near you.

Christmas In Ice - North Pole, AK
With a name like North Pole, this town has a lot to live up to when it comes to holiday festivities. It's a good thing they have Christmas In Ice, a six-week festival that combines Christmas lights with intricately carved ice sculptures, ice slides and ice bowl spin cups you can sit in.
Candy Cane Lane – Seattle, WA
Homeowners in this Seattle neighborhood take the time to decorate with lights and displays. Take a hint, American neighborhoods, and let's spread some holiday cheer!
Christmas Festival of Lights in The Grotto - Portland, OR
A concert and light hybrid of holiday joy, over 160 groups and local choirs perform at this festival for a true immersion experience of Christmas.
Yolanda Lights - Reseda, CA
Yolanda Lights is a winter holiday light display with tunnels of Christmas lights that extend the whole block. Stroll through the tunnels from dark until midnight and get in the festive spirit!
Sleepy Hollow Christmas Lights - Torrance, CA
How cool is this neighborhood!? Located off Robert Road in Torrance, residents decorate their homes with thousands of twinkling lights each year and invite people to drive or walk through and enjoy.
Honolulu City Lights Trolley Tour – Honolulu, HI
Hawaii isn't big on the pine trees, but they do have a trolley tour for the holidays! For 30 minutes, you'll sing Christmas carols and take in the Waikiki neighborhood sights to get into the Aloha spirit! I mean, who says you can't decorate a palm tree?
Illumination Symphony of Light - Phoenix, AZ
With locations in both Phoenix and Tempe, this is the best drive-through holiday light show in the state. With 1.7 million lights sparkle in tune with your favorite holiday music.
Glittering Lights - Las Vegas, NV
Glittering Lights boasts over 2.5 miles of lights and is located at the Las Vegas Motor Speedway. Hop in your car or take the Santa Tram to experience this outdoor adventure. This is a drive-through only event, no walking allowed.
Winter Wonderland - Caldwell, ID
Starting with a pre-Thanksgiving festival, this Winter Wonderland gives you plenty of opportunities to roast s'mores, explore food trucks, and take in the lights.
Blossom of Lights - Denver, CO
Nearly 24 acres of the Denver Botanic Gardens are lit up every year for their Blossoms of Lights.
Austin Trail of Lights - Austin, TX
Austin's largest holiday tradition and second largest event in the city. This annual event in Zilker Park celebrates the holidays with the people of Austin that make this city unique.
Omaha Holiday Lights Festival – Omaha, NE
Turn on the cheer with a season of festivities in downtown Omaha. Kicking things off, there's the Thanksgiving Lighting Ceremony and finishing up on New Year's Eve with fireworks.
Bentleyville Tour of Lights - Duluth, MN
America's largest, free, walk-through lighting display is the Bentleyville Tour of Lights. It has over 5 million lights twinkling across a 20-acre park on the shores of Lake Superior, while enjoying complimentary cocoa, cookies, popcorn and roasted marshmallows!
An Old Time Christmas - Branson, MO
Located in Silver Dollar City, Christmas has been hosted here for more than two decades. More than 5 million lights and 1,000 decorated trees make up this event, along with nightly parades and two musical productions.
Holiday Lights at Garvan Gardens Center - Hot Springs, AR
Tons of light-wrapped trees, a 12-minute musical holiday celebration, an animated light show, ice tunnels, and an ice palace… There's tons to do on this holiday stroll.
Santa Claus Land of Lights - Santa Claus, IN
With a city name like Santa Claus, this town sure knows how to live up to the name. Experience the story of Rudolph, told in lights! Every car gets a free photo with Rudolph too, so be sure to cruise on through!
Lights Under Louisville - Louisville, KY
Each year, the Louisville Mega Cavern transforms into an underground holiday light display. Enjoy a 30-minute ride through underground passageways, featuring over 850 lit displays with over 3 million lights. It's truly one of a kind!
Gaylord Opryland's A Country Christmas - Nashville, TN
An indoor and outdoor display boasts over 3 million twinkling lights, so grab your cocoa and explore the Gaylord Opryland Resort for a true, Nashville-style Christmas.
Oglebay Winter Festival of Lights - Wheeling, WV
Starting in 1985, the Winter Festival of Lights has grown into one of the nation's largest holiday light shows, with more than a million visitors each year. Travel companies and publications have labeled it one of the best holiday light displays in the United States. It features hundreds of acres of twinkling lights over a six-mile drive. Holographic eye wear makes this light show extra special, transforming each light into a dazzling 3-D array.
Eastport Yacht Club Lights Parade - Annapolis, MD
As families and friends gather along the waterfront, boats appear along the water, decorated with thousands of colored lights. The Eastport Yacht Club Lights Parade is one of Annapolis' signature events. Join the crew and celebrate the holidays with this boat parade!
Zoolights - Washington, D.C.
During the holidays, this capitol city becomes a sparkling display of lights. Zoolights turns Smithsonian's National Zoo into a 500,000-LED-light winter wonderland.
Macy's Christmas Light Show - Philadelphia, PA
https://www.visitphilly.com/things-to-do/events/holiday-light-show-at-macys-center-city/
Since 1956, the Macy's Christmas Light Show has been a holiday tradition. More than 100,000 LED-lights and music from the Wanamaker Grand Organ fill the historic Center City store.
Rockefeller Center Christmas tree New York, NY
A true classic, the Rockefeller Center Christmas tree is a must-see for an authentic, New York style Christmas. The Tree will remain lit and can be viewed until 9pm on January 7, 2019.
Bright Nights at Forest Park - Springfield, MA
Bright Nights at Forest Park started with a humble flyer from Carpenter Decorating and has grown and become known as the Northeast's premier holiday lighting experience. It's been listed on People.com as "One of the Top Ten Holiday Happenings in America."
And in case you're wondering if you should take a travel assignment during the holidays, you can read up on that here.