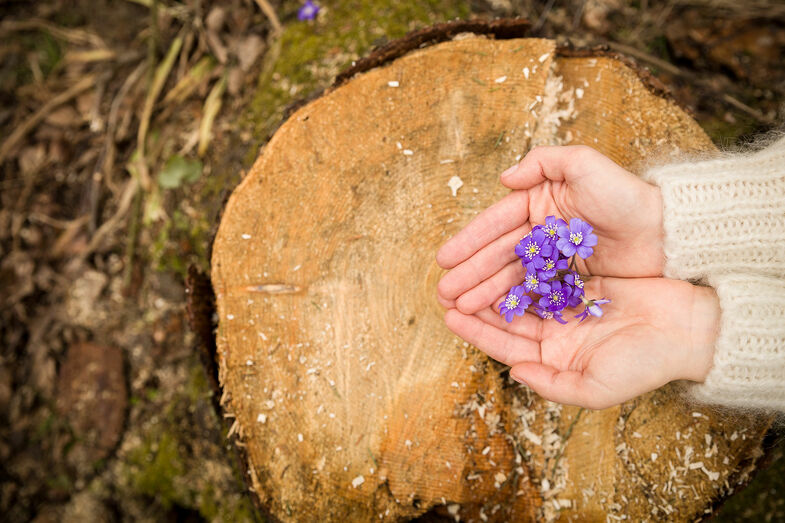 Alzheimer's Association's Facts and Figures report shows that half of seniors in the U.S. who are 85 years and older have Alzheimer's disease, and 1 in 10 people who are 65 years and over has Alzheimer's disease. It's the most common cause of dementia in seniors.
When Caring For Someone With Alzheimer's Gets Overwhelming
Alzheimer's disease doesn't just affect those living with it, but also their friends, family, and the caretakers that surround them. As Alzheimer's progresses, a person's ability to handle daily tasks gets harder to manage for themselves. A skilled nursing facility or a traveling long term care nurse could help with daily care and long-term care. Learn how to recognize communication methods, behavior changes and provide care each day.
Alzheimer's can be overwhelming to deal with on many levels. From a patient's perspective, it can be scary, frustrating and confusing to not understand or recognize the world around them or the people in it. From a caregiver's perspective, each day can bring new challenges and stress, for the patient as well as themselves.
The impact of Alzheimer's on caregivers
It's hard to keep a good nurse for long term care. Long term care nurses and other Alzheimer's caregivers have a laundry list of responsibilities when providing care for someone suffering from this disease. Caregivers can face a multitude of emotions, and their tasks can have an effect on their own well-being, including stress, depression, and burnout. There are a few symptoms to be aware of when dealing with caregiver stress, including insomnia, anxiety, and exhaustion.
According to a 2014 report from McKnight's, the turnover rate in long term care is significant, ranging from 55% to 75%. Three out of four nurses said the effects of stress had an impact on their job satisfaction. The top reasons for long term care nurse turnover are:
• Lack of support and having to handle things solo.
• Being understaffed and overworked.
• Not enough time off to recoup.
• Concern about resident harm or errors in medication management.
So, if family caregivers are dealing with denial, anger, sadness and depression and the long term care nurses are dealing with stress, lack of support, and exhaustion, and both are dealing with burnout… how can caregivers best provide for someone with Alzheimer's?
Create a positive environment.
Making sure an Alzheimer's patient is comfortable and safe is the number one priority of a long term care nurse, but this can be a big challenge if you're a stranger to them. Through the eyes of someone dealing with this disease, they may be frustrated or scared, and that can lead to angry outbursts and sometimes violent behavior. How do you diffuse negative, scared, or angry emotions?
• Help lower their frustration by minimizing distractions. Whether it's turning off the TV during meals, or providing a quiet environment for conversation, this can help them focus on the task at hand.
• Establish a schedule and easy-to-follow daily routine. This can help them feel a sense of familiarity and security and add to their quality of life.
• Give them simple choices. This is a delicate balance. You want them to still have input in their day-to-day, but you also don't want to overwhelm them with choices. Giving them a couple options is best and will help lower frustration and distraction.
• Have patience. As Alzheimer's progresses, a person may become more dependent. Tasks may take longer for them, and certain things they once were fine with could be met with resistance and frustration. Try to adapt to their needs to make the most of it. Adding this level of patience and flexibility to your daily routine can drastically help a person with Alzheimer's.
Establish trust and empathy with family members.
The process in caring for someone with Alzheimer's or dementia is multi-layered. As a long term care nurse, you have a big responsibility to the person your caring for, as well as their family. A nurse needs to establish trust and respect with their Alzheimer's patient, and the family members. But what is the best way to do all of this? How can long term care nurses create a trusting environment for the person they're caring for, as well as the family members involved?
Creating trust with family and reassuring them of your integrity to help their loved one is a huge step in taking care of someone with Alzheimer's. Sometimes it can seem like the family is "helicoptering" over their loved one. Family can be protective and have a lot of their own emotions about the situation, and because there really isn't a lot of information about how Alzheimer's happens or the best way to help, there can be a lot of fear: fear of the unknown and how to be there for their family member.
As the medical professional caring for a person with Alzheimer's, it can be helpful to explain to family how you'll care for them, and direct them to the best ways in which they can help. Getting some key information from the family about the Alzheimer's patient (like their favorite foods, topics, and personality quirks) can help you establish a better bond. Family members look to their healthcare professionals for guidance, so reassuring them on everything that's happening is very important.
Understand how family members accept trust.
As a family member, it can be hard to watch someone else step in to care for your family member during a time when you feel you should be doing more. Family members feel responsible for their loved ones on all levels. When family delegates some of the care-taking tasks to a facility or caregiver, it's important that they focus on their own emotional health. Helping family members find a way to emotionally cope with an Alzheimer's diagnosis is very important, so that they don't get overwhelmed while making decisions about a loved one's care.
Take care of yourself, and each other, too.
Providing care for someone with Alzheimer's can be overwhelming as both a personal caregiver or family member, as well as a professional long term care nurse. It's important to share the work as well as the empathy. Long term care nurses need to understand the complex emotions of a family member, like guilt, sadness, anger and fear that family can feel when faced with an Alzheimer's diagnosis. Family members need to keep in mind that professionally skilled nurses are there to help alleviate some of the stress and provide care to their Alzheimer's family member. Working together, each person involved can get the self-care they need, manage their stress and emotions in a healthy way, all while providing the best care they can to someone with Alzheimer's.
What's next for Alzheimer's research?
Alzheimer's was first discovered in 1906, with Alzheimer's awareness only effectively recognized and gaining meaningful awareness as late as the 1980s, when the Alzheimer's Association was founded. In 2015, the Alzheimer's Accountability Act was signed into law, which allows scientists to submit an annual research budget directly to Congress. The most recent milestone for Alzheimer's research is the historic funding increase in 2017, which is a $400 million increase for research funding being signed into law. This brings annual Alzheimer's research funding to $1.4 billion.
The Alzheimer's Association is the world's largest nonprofit of Alzheimer's research. They fund independent researchers worldwide through the International Research Grant Program and are currently investing over $165 million in more than 450 projects in 25 countries. You can see a list of the studies that have been funded through Alzheimer's Association here, including the development of Pittsburgh Compound B (PiB), which has helped determine if certain drugs decrease the Alzheimer's protein and gives more information about disease progression.
Other current Alzheimer's research focuses on restoring brain function. In a recent Johns Hopkins study of mice, research shows that removing cells that aren't dividing can reduce brain damage and inflammation, and decrease the pace of cognitive decline. This could be a viable path for treating Alzheimer's in people.
For decades, researchers and scientists have worked tirelessly to understand and effectively treat Alzheimer's. Alzheimer's continues to grow as the population ages. With aging baby boomers, this disease continues to skyrocket, making Alzheimer's research crucial. By 2025, the number of seniors (65 and older) with Alzheimer's is estimated to increase 40% from 2015 to 7.1 million. By 2050, Alzheimer's could triple to a projected 13.8 million. We need long term care nurses and professional caregivers for support now more than ever.
Reading up on senior care tips and keeping these points in mind can help you make the best decisions as a caregiver for both the patient and the family members involved. It's important to remember that Alzheimer's isn't usually something people truly prepare for. In fact, most people don't talk about it until it becomes prevalent, and even then, there never seems like there's enough information out there to help them cope and manage this news. It's understandable—a deteriorating mental status can be a hard topic to discuss, especially for older generations who may end up with Alzheimer's and dementia. Practicing empathy, support and self-care are the best ways to help someone with Alzheimer's accept their diagnosis and keep their life as healthy, comfortable and long as possible.