It's International Podcast Day, the perfect time to talk about our first year launching and running Paper Airplanes Podcast, Fusion's storytelling podcast just for travelers!
But wait, what is a podcast?
A podcast is a digital audio (or sometimes video) series that you can listen to by downloading or streaming it to your computer or smartphone. It's like internet radio on-demand! Podcasts can be made by just about anyone wanting to share their content. They don't require big, fancy media companies to create!
But before we start talking about podcasts, let's first talk about time. I know it seems a little off topic, but trust me, we'll circle back.
For several people, their biggest roadblock is time. How do we use it? How to we allocate it? Who do we give it to? No matter who you are or where you work, time gets to us all. There's not enough time to converse or make friends or sustain relationships that we already have. Combine the time crunch with the daily competition for our attention via social media, digital news, the world of memes, and our brain's need for instant gratification and it's difficult to get tuned in.
Medical travelers are even more crunched for time. Between long shifts, new cities, and putting patients at the forefront of their minds each day, it's hard to decompress or pay attention to much else.
What could I do to make it easier for them to be informed and inspired in their field?
I wanted to give medical travelers and those interested in this career path something that would educate and motivate them within their career. I had a challenge in front of me. How can I meet medical travelers at their mark?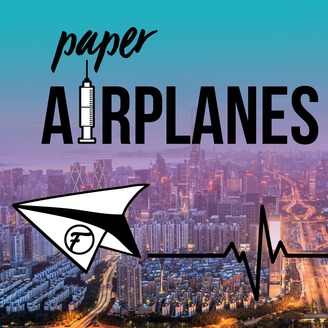 So, about a year ago, I got the idea to host and produce a podcast.
We launched Paper Airplanes Podcast in August 2018, with the idea that medical travelers could tune in, but also share their own stories with us. I wanted to find a way for healthcare travelers to share their stories and inspire others in a way that is both easy and accessible for the traveler lifestyle.
What makes podcasting so great?
Have you ever tried reading an article while showering, watching a video while pushing a lawn mower, or riding a bike while scrolling through your favorite lifestyle blogger's newsfeed? It's… not the best idea. That's because visual learning is direct, so multi-tasking doesn't always pan out well. (And could probably land you a trip to the hospital if you're not careful.)
Podcasting is the type of medium that encourages your brain to absorb info indirectly, meaning that while you're listening to a podcast, music or an audiobook, you can do other activities too. In a world where multitasking is prevalent and, if we're being honest, unavoidable, passive listening means you can learn what you need to from a podcast while driving, working out, filing paperwork at work, cleaning, etc. And to a medical traveler, this multitasking factor is a golden ticket!
So here we are, a little over a year into our storytelling podcast. We've heard so many different stories from healthcare travelers across the country, some who travel with Fusion Medical Staffing and some who don't. From heartfelt, life-saving experiences to light-hearted tips for traveling with kids, the different stories that have come through on the Paper Airplanes Podcast have really magnified the many reasons a healthcare professional chooses to travel, and what becoming a medical traveler can teach someone about themselves.
Our travelers have become a part of something within their career and community and inspired others in the medical traveler lifestyle. The results have been inspiring to me as well, and we hope to continue showcasing the different lives of travelers and how their career has shaped where they are and where they're headed.
Tune in to Paper Airplanes Podcast on Apple Podcasts, Spotify, Stitcher, or wherever you get your podcast streaming services. We have more stories to share!
"And in the meantime, happy travels."