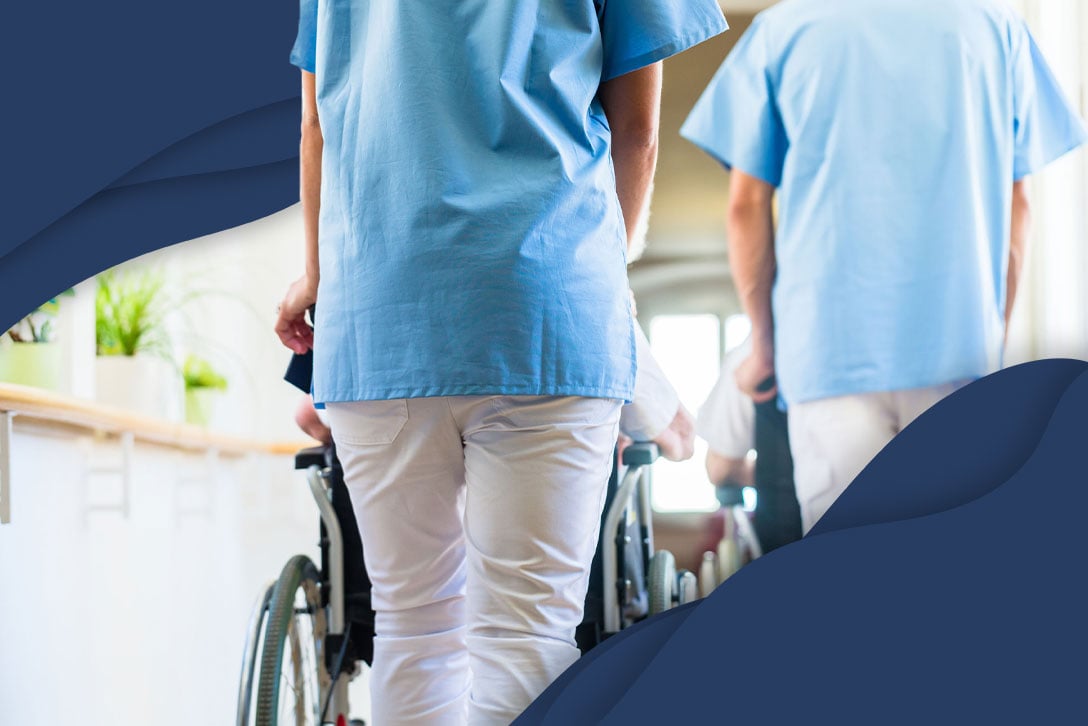 During the pandemic, everyone is wondering about COVID case counts, online learning, if we should travel or not. We're all thinking of the health of our family and friends and the health of our economy. As we all adjust to everything going on and work through the pandemic together in our day-to-day lives, healthcare workers are doing the same.
Fusion launched Workplace Safety Solutions as a way for employees to stay safe in the workplace throughout the pandemic. Traveling medical professionals handle COVID-19 screening and help maintain a healthy work environment. Rachel Thompson is a CNA working in direct patient resident care. Here's her perspective on working in healthcare during a pandemic.
Working In Healthcare During A Pandemic: A Healthcare Traveler's Perspective
**This was a recorded phone interview; some responses have been condensed for clarification.
SG: Prior to the COVID-19 outbreak, where were you working?
RT: "Before the outbreak I was working in home services as a CNA. I've pretty much done that my whole entire life. I worked in the hospital, then worked in long term care, small assisted living. Then I went to cosmetology school because it was something different. And then I went back into the medical field, because, well, that's when the pandemic happened."
Talk about your experience a little bit working in a workplace safety environment.
"I've been more financially secure working with your company [Fusion] than I have been in months. I found stability. I have a weekly check. Taxes fluctuate every paycheck, but other than that I pretty much know exactly what I'm getting. So, I can prepay my bills and everything. I'm just 100% caught up with my bills."
That's so good to hear! Working at Fusion, it's our goal to make sure that healthcare travelers we have are getting what they want out of their career.
So, onto the tough questions—what are some of the risks working in this kind of environment? With the pandemic going on and the fact that a lot of essential healthcare are in it? How do you feel about being in that kind of environment?
I'm afraid of it. Some people aren't listening to medical professionals and taking it seriously. There's an ICU doctor in Tennessee and him and his colleagues (12 other doctors) were talking about this virus. He said he has been studying critical care for 30 years and that he was dumbfounded by it. He tries to throw all this medication at these people and nothing is working. These people's lungs are turning to stone. Your lungs can only take so much before they collapse, and they put you on these ventilators to give your lungs a rest and so the machine can do the breathing for you, but it's not good enough for the virus. Can you imagine being in a coma for however many months and waking up finding out you needed to get a lung transplant? This pandemic is serious. More people have died from this virus in one month than the flu. People need to get their numbers straight. It's why it keeps spreading.
It's a very polarizing issue, not just with healthcare professionals but just with everybody in general. Some people are just not on board with it and there are other people yelling it from the rooftops.
Right! It was a big discussion with my coworkers. I was telling people they need to start listening to medical professionals. They know a lot more than we do. Anyhow, we are exposed and get tested, and I have been very lucky with my health.
It still concerns me with the senior facilities and hospice. It's important to have visitors but not during this time. Do video chats, do over the phone calls, do whatever you need, but don't come in through the building. You don't know what you're bringing into these people.
Yeah, we need to get more creative with that kind of stuff, rather than the in-person visits. We have a whole world of virtual means, we can figure it out.
The only people I can understand is a big deal to be in-person is if their family member is actively dying. But if a patient is there, not in critical, they haven't changed, then people shouldn't be coming into the facility.
So the current facility you work at is hospice care?
It's a nursing home facility.
As far as precautions go, do you think there have been enough precautions put in place with workplace safety or do you think there need to be more?
They're doing great with the precautions. At the facility, we need to gown up in PPE. I always make sure I'm wearing my mask. It helps. We need to keep patient rooms so hot, so even before you get started, you're pouring sweat, but we're doing what we're supposed to be doing. We even have the eyewear. We're doing everything we need to do in order to protect everybody.
Especially considering that those facilities are more high risk because of seniors. They're more high risk and then with people being in such close quarters.
Right.
With outbreaks among staff and residents in these facilities, I've heard of some places needing to shift rooms for their residents to quarantine. Being a senior in a facility and not having a lot of control over your lifestyle anyway, I think that adds a lot of resistance and unhappiness to them. But it's important to remember that these things are for safety and that everyone is just doing their best.
We are! There have been residents that have been nice to us and we just ask for them to patient for us during this time.
What are the most common precautions that you do at your facility?
We consider them in zones. Green zones you wear a mask. Yellow zones you need to wear the N95 masks, you have a gown on, you do the glasses and everything. And then there's a red zone where it's a COVID positive zone, which we have not yet had. None of our residents have gotten this virus.
That's great news!
Yes! That's one of the things I asked in my interview—"What are you doing during this time to keep everybody safe?"
That's the most important question right now.
Yes. We have an area prepared so if we do have any sort of signs, symptoms, positive tests, then we can separate them. And we have an area for people that are in and out for rehab. I'm on the long-term care unit, so I don't go anywhere else beyond my floor. So everybody is doing what they're supposed to do and there's a lot of precautions.
Has this changed how you feel about your career at all? Is this something that has made you feel more passionate about doing what you do? Since the pandemic, what are your thoughts on this?
It's a little bit of both sometimes. To me, it makes me more cautious with everything, especially what I bring in and out of the facility. It's more what I bring back with me, especially staying at someone's house who has a 1 year old. She's a nurse too, so either one of us could bring something back at any time. I'm just more cautious, and I pay more attention to signs and symptoms. I pay attention to people. I want to see them taken care of.
At the end of the day, we all want to make sure everyone is taken care of. Through on-site temperature checks, work force screening, CDC checklist completion and more, Fusion provides qualified staff to do exactly that. Because remaining safe during this pandemic is what's important.