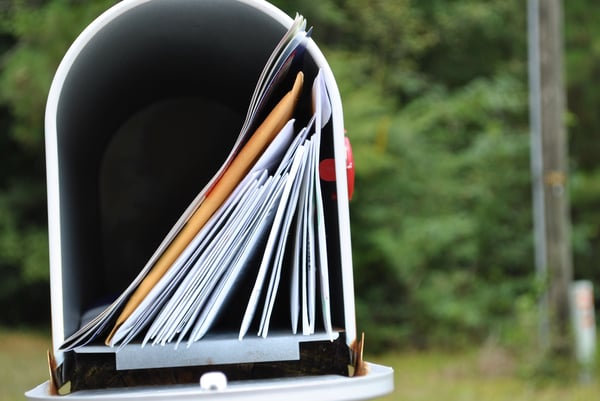 Every time I get home, it seems I have a mountain of mail—some important, some not—waiting for me. After I drop my bags and take off my shoes, I sift through the endless piles. This is daily. Some of it seems tedious and unnecessary. (Hey AARP, I'm 34 not 80, ok? Slow your roll.) While some of it is important—a new credit card or a tax statement I need to hold onto. Most of my actual bills are paperless, so that's not often an issue, but nevertheless, my paper pile seems to add up anyway. I got to thinking: Where does your mail go? What do travelers do about their mail? Do they get as much mail as I do? More? What's the deal?
You've Got Mail
Onward, with research!
Have it forwarded.
Obviously, you can just have your mail forwarded every 13 weeks (or however long your assignment is) to your new address. The USPS has a site with mail-forwarding options here.
The Pros +
It's super-simplified with just a few clicks on the site.
You have options: Regular forwarded mail and premium forwarding service. As far as I can tell, the premium service includes packaging up your mail weekly and sending it to you, rather than forwarding your mail piece-by-piece.
The Cons -
There's really no guarantee that your mail won't get lost in the shuffle.
If you're still figuring out housing for your assignment, you may not know your address yet.
What's that saying? Convenience is never free? Well according to the USPS, convenience costs $1. This is for the regular forward mail option and is charged each time you change your address. Which is, you know, just $1, but still a bit of an eye roll. The premium service is between $18-$20/week. In my opinion, this seems a little steep and, truthfully, unnecessary. But whatever floats your boat (or, mail.)
Remote control your mail.
There are a few different services that offer a "view" of your mail online. This isn't the same as your email or online bill viewing, but somewhat similar. Your mail is scanned and sent virtually to your inbox. From there you can determine if you'd like to have it opened and scanned, shredded, or sent to you at your forwarded address. Here are some frequently used mail services:
The Pros +
It's like you're opening your mail from afar! Without the pile of paperwork! Joy!
Other services offered with this are virtual check cashing.
Most of these companies deal with business travelers frequently, so they understand the plights of your mail predicament.
The Cons -
If you aren't tech-savvy, this just isn't the system for you.
Let family and friends deal with it.
You can always leave your mail service setup as is and have family or friends pick it up for you. Or have it forwarded to their houses instead of your assignment for a more semi-permanent solution that doesn't end every 13 weeks.
The Pros +
Your mail is safe and sound with people you trust, and you know exactly where it lands every day.
The Cons -
Your family and friends might get a little tired of becoming your personal mail keeper.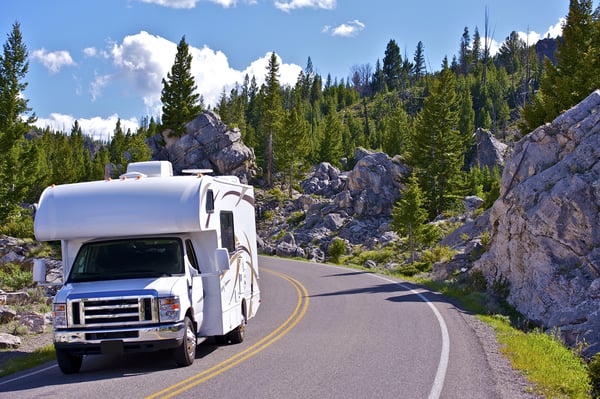 Mail and Your RV
If you travel by RV or trailer, you may have a whole new mail situation on your hands. Whether you're a seasonal RV'er or it's more permanent, one of the big challenges with RV traveling is how you get your mail while you're on the road... literally.
A lot of suggestions are similar to the ones above, with one more added solution: the PO Box. If you're a more permanent traveler, a PO Box in your "home base" may be a good solution for you. We also researched some how-tos when it comes to getting mail in your RV. Escapees RV Club really nailed it with this article, which we summarized below:
Where RVers Get Their Mail
Not all RV parks will accept mail for those staying there, so it's a good idea to check ahead of time, if you know you'll be staying there and also to make a reservation. You can also request that people forwarding your mail write "Hold for Arrival" on your mail, so that you can still get it, even if it beats you there.
If the park doesn't accept mail, the next best thing is USPS general delivery. They suggest you choose this option in a smaller town if you can, because picking a big city will direct all your mail to their downtown location. You don't really want to navigate your RV in traffic and busy side streets to grab your mail, right?
Some businesses and hospital locations will accept mail for you. Check with them before ruling this option out.
Friends and family are always a safe, reliable method to getting your mail. Have your mail forwarded to their address, and then have them hold it for you, or package it all up and send it through one of the methods above.
So, hey. What're you doing with your mail? I created a Facebook poll in one of our traveler groups to see what's up with your postage. Here are the results: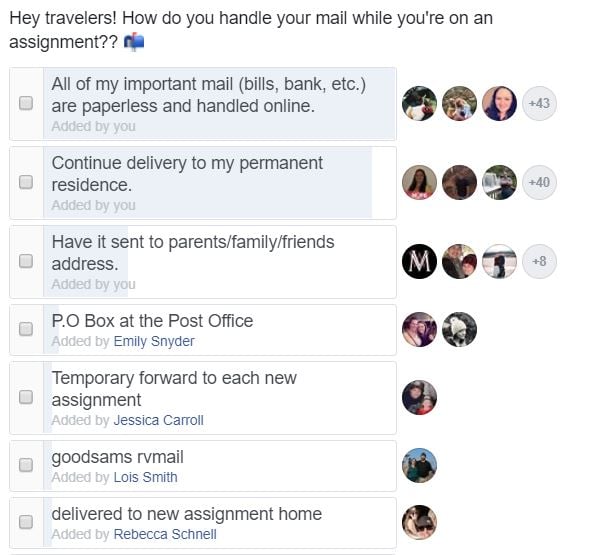 A majority of all of you responded with the option of doing everything online, or you continue delivery to your permanent home. Additionally a few comments were posted:
"Check with a UPS store and see if you get a box there will they forward it to you. I did that for quite sometime." -Kristine
"I have a mailing service and we call them and they send it us." -Gerda
"Most of my mail goes straight to my house back home. Anything important my son or daughter in law send me....but most of my bills are set up on line." -Martha
I was also curious as to what "goodsams rvmail" was in the second to last poll option, since I hadn't heard of it. So I dug a little deeper, full research mode! Turns out it's a handy mail forwarding service called Good Sam Mail Service. According to their website, you can get your mail forwarded starting at $9/month. They advertise their services for travelers, RVers, armed forces, missionaries, boaters/yachters, business travelers, and anyone else who is on-the-go. If you're considering using a professional service, this is worth a look.
Oh, and speaking of mail... if you like sending it, I could use some more fun postcards and letters. (I hardly get the "fun mail" anymore!)