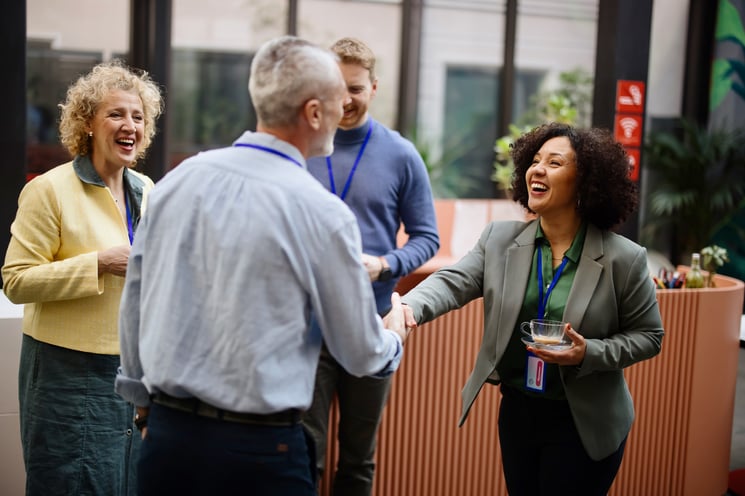 Are you a registered respiratory therapist (RRT) longing to connect with other RRTs? Then you're in luck! Each year, the American Association for Respiratory Care hosts a conference called the AARC Congress to bring together respiratory care professionals, like Fusion traveler (and event attendee!) Robyn Walden.
AARC Congress Recap with Robyn Walden, RRT
What's the AARC Congress?
The AARC Congress was created for respiratory therapists of all levels and specialties to enhance medical knowledge and learn new tools and skills. Taking place over four days, this medical conference includes 139 sessions complete with keynote speakers, specially designed lectures, symposiums, networking events, research presentations, and exhibit hall browsing.
Session topics ranged from general knowledge to management to leadership and more, including:
Diagnostics
Adult acute care
Education
Neonatal/pediatrics
Pulmonary function
Transport
Sleep
Ambulatory and post-acute care
Ethics
Speakers
🗣️ Wes Ely, MD, MPH
🗣️ Kathy Rye, EdD, RRT, RRT-ACCS, RRT-NPS, FAARC
🗣️ Dean Hess, Ph.D., RRT, FAARC
🗣️ Robert Chatburn, MHHS, RRT, RRT-NPS, FAARC
🗣️ Jie Li, Ph.D., RRT, RRT-ACCS, FAARC
Q&A with Fusion traveler, Robyn Walden
To find out the dirty details of this year's events, we sat down with Fusion traveler and event attendee Robyn Walden. Here's what she said.
Megan Bebout: Hi Robyn! Thanks for chatting with us about the AARC Congress. Can you tell us a little about yourself to get started?
Robyn Walden: My name is Robyn Walden and I'm the mom of two daughters. I look forward to sending them all of my adventures on my days off.
l started traveling two years ago, but I have been a Registered Respiratory Therapist since 2014. Currently, I have worked for Fusion for six months. I enjoy the company and the places I've been to so far!
MB: Incredible! Is this your first time at the AARC Congress?
RW: Yes, this is my first year attending an AARC Congress. One of my top priorities was learning new information for the upcoming year and meeting fellow respiratory therapists in the field. This Congress has allowed me to experience different viewpoints on respiratory care. The main point of the Congress I looked forward to was the expo.
Editor's note: the AARC Congress expo was an exhibit hall of health care-related businesses, including Fusion Medical Staffing! At the expo, conference attendees had the chance to network and meet a diverse group of professionals. Plus, the expo is the perfect place to pick up swag!
MB: Oh yes, we're very familiar with those expos. They're so much fun! For those who have never attended, what can they expect from the conference?
RW: New attendees to the congress should expect a fast-learning experience. Make sure the first thing you do is find an AARC helper.
The second thing to do is download the AARC mobile app. This is where you're going to sign up for your classes to earn your continuing education units (CEUs). Plus, you're able to create a calendar so you will not overlap classes. Once you have finished your classes for the day, evaluate them in the app. After you finish each day, claim all your CEU points on the AARC website.
MB: Claiming CEUs is super important, thank you for sharing! What else is there for attendees to do at the AARC Congress?
RW: While attending the Congress, you can network with fellow like-minded individuals, share your experiences, and learn. There are vendors set up with different types of snacks for purchase, as well as a step challenge to see who can walk the most to earn a prize. Just by attending the Congress, you are entered into a raffle. This raffle is then drawn at the end of the AARC and the winner gets a special prize.
MB: And who doesn't love prizes? Why would you recommend the AARC Congress to other respiratory therapy professionals?
RW: One of the biggest reasons to attend the AARC congress is the expo. At the expo, you can network with people and see new inventions. Companies offer access to state-of-the-art equipment, the best they have to offer. You can be hands-on with these devices to learn. You can speak with a variety of different reps ranging from traveling companies, hospitals, and equipment vendors. This is a must-see stop and learning experience for all new attendants of the Congress.
MB: Thank you so much for chatting with us, Robyn! We appreciate you!
RW: Of course! Thanks for having me.
The AARC Congress provides a safe space for RRTs to join together and learn from one another. Don't worry if you missed this year's event! Mark your calendar for the AARC Congress 2023 dates — November 4th to 7th in Nashville, TN.