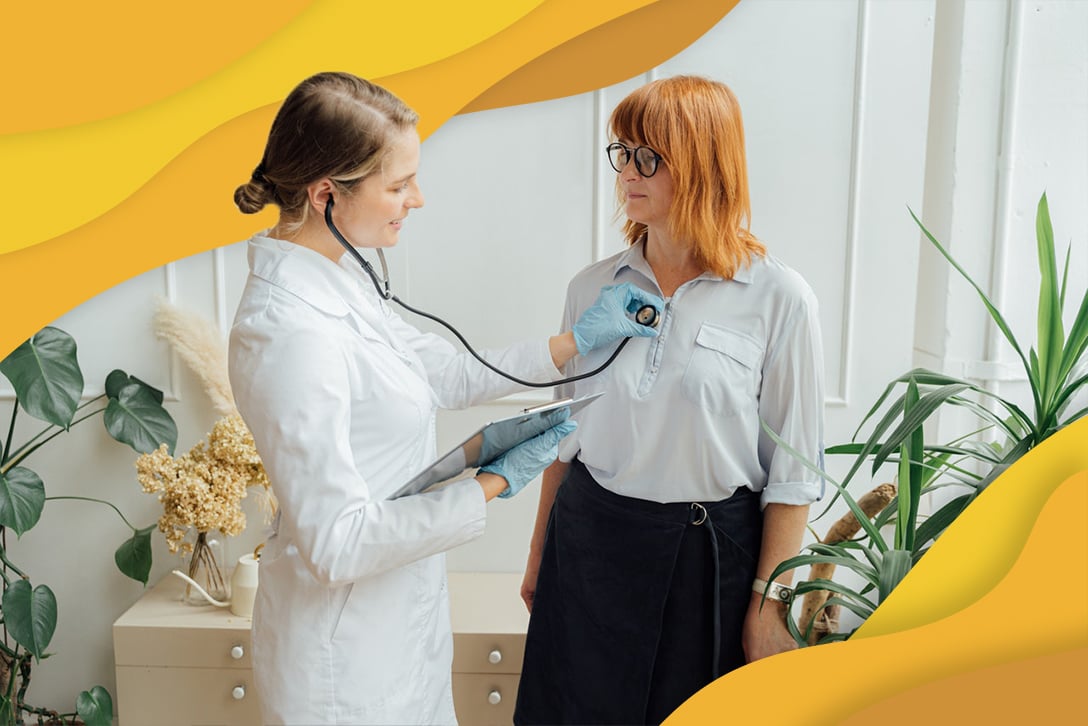 Breathe in through your nose, hold, and exhale through your mouth. Repeat at least twice a day, as needed.
Deep breathing exercises are crucial to our health because it triggers our brains to tell us to calm down and relax by reducing our blood pressure and slowing our heart rate, but you already know that—and more—as a Respiratory Therapist (RT).
While there's no doubt that you know all the ins-and-outs of cardiopulmonary health, how familiar are you with medical travel?
Start Traveling as a Respiratory Therapist
Hold up. Medical travel?! Like, for money? You got it! And we've outlined everything you need to know in order to pack your bags for a travel assignment as an RT. Buckle in, friend!
What's all the hype with travel respiratory therapy?
Okay, so, let's first start with the hype about travel respiratory therapy—I mean, what's the big deal? Here's the thing, RTs play a significant role in a person's overall health because these medical professionals are experts when it comes to the heart and lungs. After a year of experience, these RTs travel across the U.S. to offer a helping hand to a diverse collection of medical facilities in need and treat a wide variety of patients.
So, if you or someone you know suffers from asthma, chronic obstructive pulmonary disease (COPD), lung cancer, or another acute or chronic cardiopulmonary condition, RTs are the MVPs of your healthcare team.
"A travel RT is a unique creature," said travel RT, Robynn. "One of my bosses refers to us as the 'firemen' of respiratory therapy. Most experienced travel RTs are licensed in more than one state and they have worked in a variety of hospitals, and with every patient population imaginable."
Not only do RTs work with patients who have a heart or lung condition, but travel RTs are also trained on how to save patients in a life-or-death situation, such as heart attacks, shock, or drowning. That's right, traveling respiratory therapists literally save people's lives. Like Meredith Grey, but better.
"My RT career has been, by far, the most personally challenging and gratifying career of my life," Robynn shared. "I've been privileged to help a dying patient pass with dignity, and equally privileged to tenderly hand a newborn baby to a mom's eager arms. Not every day is amazing, but most of them are."
Real-life rewards of being a traveling RT
Sure, you're already this super cool respiratory therapist, kicking ass and checking pulses. You know the perks of life as an RT—but do you know about the real-life rewards that come with traveling? We thought we knew it all until Registered Respiratory Therapist (RRT), Alex, schooled us in a game of cardiopulmonary travel trivia.
"Being a travel RT can provide some extremely rewarding experiences," Alex said. "You're able to help hospitals and their patients at their greatest time of need, see different parts of the country, make great money, and avoid all the politics of the hospital that we all know and love."
Alex knows what's up. And he agreed with our added 2 cents (score!). Without further ado, these are some, but far from all, of the benefits you could look forward to as a traveling RT:
Experience the sweet life of a traveling RT and take pride in the ways you change and improve lives. However, like everything, there will always be tasks that we don't love. Needless to say, the pros definitely outweigh the cons, but we should look at both, and let you decide.
Occasional obstacles for travel RTs
The thing about travel RT challenges is they're very similar to general med traveler drawbacks and some will differ depending on your personality. Downsides to being a traveling respiratory therapist include:
Feeling homesick while on an assignment


Job expectations can be higher for medical travel workers


You're on your feet the majority of the day


You are more likely to be exposed to illnesses
Some would say that the likelihood of being subjected to infectious diseases is the biggest obstacle for travel RTs. Certain medical procedures, like intubating, can release contagious aerosols and put RTs at risk, plus endanger the health and recovery of patients.
Since we know that endotracheal intubation procedures are more hazardous than being around a sick patient's cough, sneeze, or normal breathing, travel RTs utilize personal protective equipment (PPE) as needed. Their PPE includes protective clothing, N95 face masks, goggles, and other garments to enhance safety. With these sleek outfits, it's only a matter of time before RTs walk the fashion runway, and you wouldn't want to miss that, would you?
Captain your own travel cardiopulmonary career
Here you are, well-versed in all things med travel, so it's time to let you in on a little secret—this life could be yours with just a bit of help from Fusion Medical Staffing.
Fusion isn't your average medical staffing company. We're not going to tell you what to do or where to go because this is your journey. You already have the tools, passion, knowledge, and drive to earn a star on the Medical Traveler Walk of Fame, we're simply here for added support and the occasional "dad joke."
No matter where you choose to captain your cardiopulmonary career, Fusion will have your back each step of the way. With compensation transparency, a weekly, tax-free per diem, 401k matching, certification reimbursement, and a plethora of insurance coverages, let us take care of you while you take care of your patients.
Plus, Fusion offers tons of options for you to increase the amount of money you feed your piggy bank. In addition to living your dream as a traveling RT, you could also become a social media influencer or earn referral bonuses when you bring friends to the travel side.
Make the leap and explore new cities, take adventures, meet new pals, and create memories that will last a lifetime. One day, you'll look back and tell stories to the younger generation about how you kicked ass and saved lives—a real hero.
You are truly one-of-a-kind, traveler. As an RT, you already treat and work with all patient types, critical care, acute care, long-term care, home care, and diagnostic, sometimes all in one shift. Take your cardiopulmonary career a step further and add "professional traveler" to your resume.