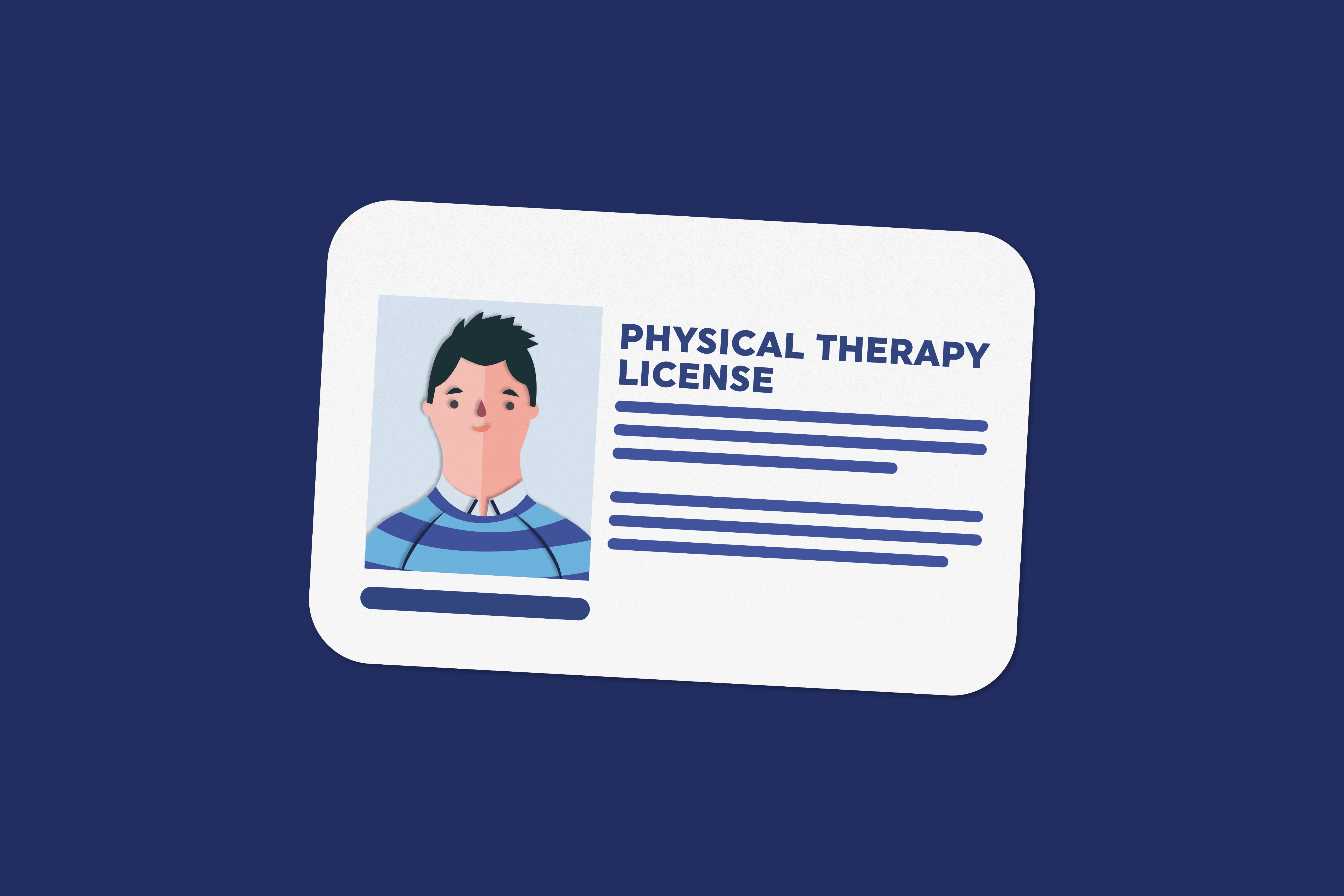 Ever thought about combining your love for adventure with your career as a physical therapist (PT) or physical therapist assistant (PTA)? Or are you a travel PT professional tired of applying for individual state licenses with every new assignment? Advance your travel physical therapy career and get a PT compact license. Here's what you need to know.
Advance Your Travel Physical Therapy Career with a PT Compact License
What is a PT compact license?
It can be a pain to apply for a new state license with every travel job. That's where the PT compact license comes in handy. The physical therapy licensure compact is a special type of healthcare license that allows PTs and PTAs to practice their skills in multiple states under one license. With a PT compact license, you can kiss goodbye the days of collecting single-state PT licenses.
Currently, there are 29 PT compact license states with even more enacting legislation in the future. And that means even more travel job opportunities are on the horizon. By streamlining licensure requirements, the PT compact makes it easier and more efficient for you to work where you want.
What are the benefits of a compact PT license?
So, why should you get a PT compact license? One reason is that a PT compact license is a great way for you to expand your reach as a PT or PTA. With this license, you can enjoy increased mobility and greater flexibility when it comes to finding employment opportunities across the country.
Outside of the ability to work in multiple states, other benefits of getting a compact PT license include increased job security, the unique chance to grow your skills in a wide variety of healthcare settings, and the potential to save money on licensing fees. Ultimately, having a PT compact license gives opens doors to more opportunities and makes you more marketable in your field. If you're looking to advance your travel PT career, apply for a physical therapy compact license.
Related: Want To Grow Your Career from PTA to PT? Here's How!
How do I apply for a PT compact license?
Now that you know what the physical therapy compact is, as well as its benefits, it's time to find out how you can apply for one. Thankfully, the steps are simple but may require some time and preparation. This is what you need to do to apply for a compact PT license through the Federation of State Boards of Physical Therapy (FSBPT).
1. Determine your eligibility
The first step toward getting your PT compact license is determining your eligibility. All physical therapists and physical therapy assistants who live in a compact state can apply for a PT compact license. Additionally, you must also meet the following criteria:
✅ Hold a valid PT or PTA license in your home state
✅ Have a valid driver's license in your home state
✅ No active encumbrances or disciplinary action against your license within two years
Once these boxes are checked, you'll be on to your next step in the application process — the jurisprudence (JP) exam.
2. Pass the JP exam, if applicable
The JP exam is a comprehensive assessment of your knowledge and understanding of physical therapy regulations and guidelines. This test consists of multiple-choice questions that test a variety of topics like medical ethics, risk management, legal responsibilities, and professional boundaries.
The thing about the JP exam is it's not required by all states, but it's preferred by most. Plus, taking the JP exam can provide other benefits that could lead to improved job prospects or other career advancement opportunities.
3. Submit your application
You've passed the JP exam — now what? Now it's time to submit your licensure application. Venture over to the PT Compact website and enter your FSBPT ID and password (hint: this is the same information you used to register for the National Physical Therapy Exam or NPTE).
If it's your first time applying for a physical therapy compact license, click the "Purchase" button and follow the steps to verify your eligibility. To make the process as efficient as possible, have a copy of your driver's license uploaded and ready to submit. Then, pick the state(s) you want compact privileges in, confirm you've passed the jurisprudence exam, and pay the associated licensing fees.
Voila! Just like that, you've received your PT compact license. Instead of receiving a paper certificate, you can use your assigned unique compact privilege number(s) to start practicing your physical therapy skills in multiple states.
What are the PT compact license states?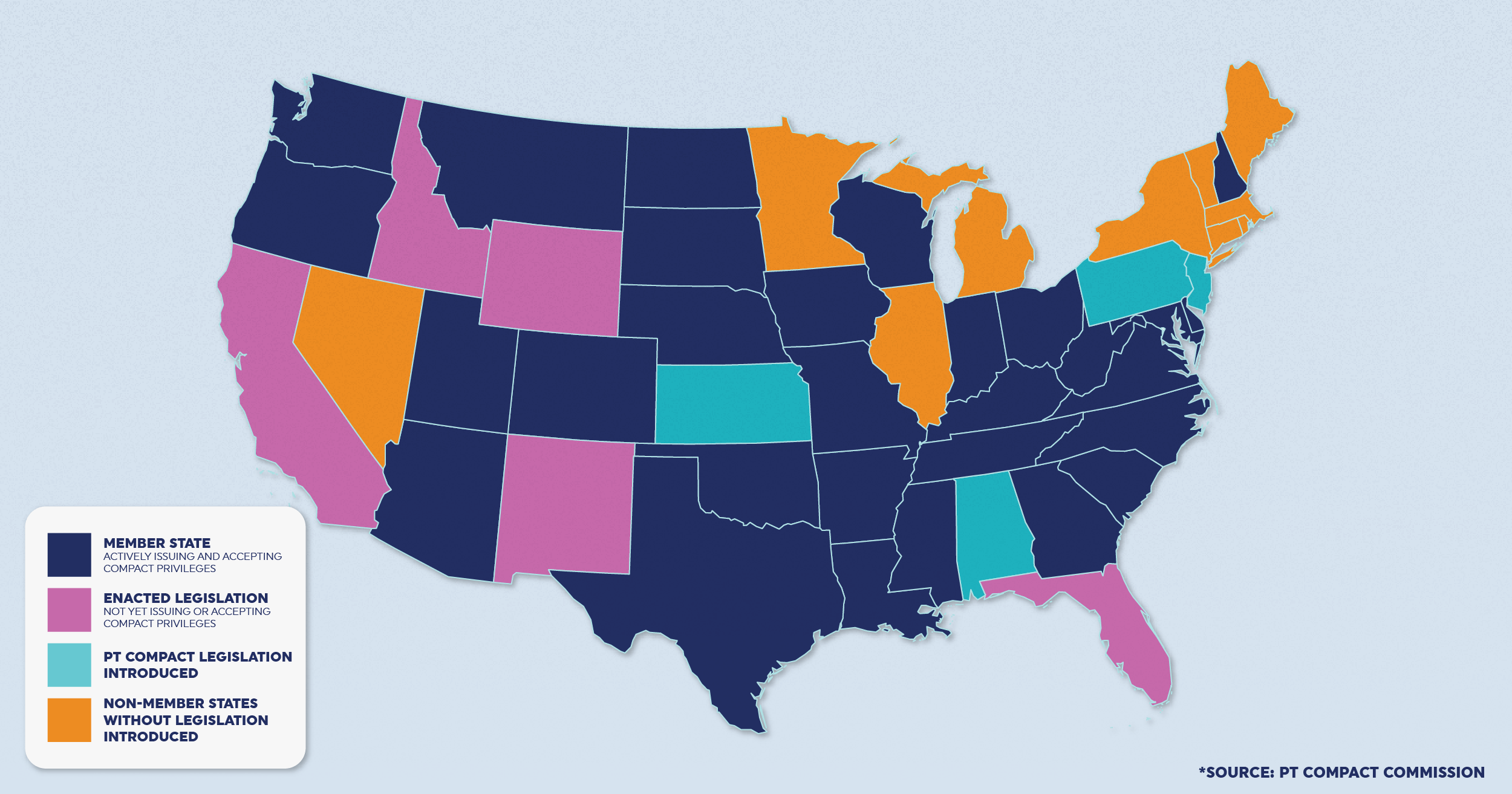 PT compact license states
*indicates if the state requires PTs and PTAs to take the JP exam
🌏 Alabama (law passed and awaiting implementation)
🌏 Georgia*
🌏 Kansas (law passed and awaiting implementation)
🌏 New Jersey (law passed and awaiting implementation)
🌏 Pennsylvania (law passed and awaiting implementation)
Noncompact states
🌏 Wyoming
Take your physical therapy career to the next level with a PT compact license. Not only does it open opportunities for working across multiple states, but it also provides greater versatility and autonomy with the freedom to practice — without having to transfer licenses each time you take on a new assignment.
Whether you're just starting out as a PT or PTA or are a seasoned expert, obtaining a physical therapy compact license can help advance your PT career. Take your physical therapy profession even further and start traveling with Fusion Medical Staffing! Search for travel physical therapy jobs and begin your travel journey.